Sports
Clarkston's Trevon Allen aims for another repeat
Wed., March 2, 2016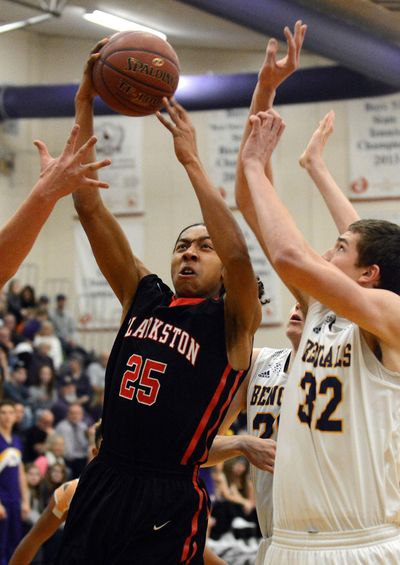 CLARKSTON – Trevon Allen perfected his championship winning ways long before he cut down the nets as a state champion for Clarkston at the Yakima SunDome last season.
Back in the day, Allen ran the blacktop at Spokane's Hoopfest. From second grade through fourth grade he led a four-man rotation of current Clarkston teammates Davion and Jett Sobotta and football teammate Blake Rimmelspacher – the Sun Devils – to a three-peat championship run in 3-on-3.
His repeat experiences will probably serve him well as he gets ready to lead the Bantams' repeat efforts, beginning Thursday against Woodland in the state quarterfinals.
Allen poured in 25 points in Clarkston's 76-47 dismantling of Renton on Friday night, earning the Bantams another trip to Yakima – a casual scoring performance for the University of Idaho bound senior guard.
"I've always told him he's kind of our ace in the hole a little bit," Clarkston coach Justin Jones said. "We don't want to have to pull that ace out very often but when we do we really need him, he's delivered every time. He's going to walk away from here as one of the best players to ever play here."
Allen has been logging minutes on the court since he was a toddler playing on toy tykes hoops. Allen grew up in Lapwai, Idaho, where basketball is more of a way of life than something you do when you're bored.
Players in Lapwai compete year-round in tournaments around the Pacific Northwest and have developed a reputation for an up-tempo, athletic style of play.
"It's culture," Allen said. "If you weren't doing anything else you just say let's go to the courts and play. It's kind of always been a year-round thing."
Football is one sport that got Allen and other Lapwai natives to put down the basketball for a while every fall, but not for very long.
"I mean we did another sport in there for a little bit but then it's right back to basketball," Allen said. "It's just kind of how we're raised I guess and you know always playing the game."
Sure enough, his friends at Lapwai High are in Boise this week for the Idaho State 1A tournament, and are the favorites to claim the first state title for the Wildcats since 2006.
As for Allen, he only has up to three games left to finish his precollegiate career the same way he started it way back in second grade – as a repeat champion.
After that, he'll join Don Verlin's Vandal program and join a crowded backcourt competition. While his father played football for the Vandals, it's unknown if Idaho football coach Paul Petrino is prodding Allen to be a two-sport athlete in Moscow.
Allen anticipates a combo-guard role, with the potential of a point guard move later in his Idaho career. His skillset is eerily similar to current point guard Perrion Callandret.
"Watching him for my entire life now this is crazy to see each year he's taken big steps and has become a complete player and can do everything on the court," cousin Davion Sobotta said. "I'm happy he's on my team and not the other team."
That growth is Idaho's gain.
"He wants to get better, he wants to be coached," Jones said. "You know a player of his caliber, sometimes that's not always the case. But, if he's doing something wrong he wants to know about it and that is just a coach's dream as far as that goes."
Local journalism is essential.
Give directly to The Spokesman-Review's Northwest Passages community forums series -- which helps to offset the costs of several reporter and editor positions at the newspaper -- by using the easy options below. Gifts processed in this system are not tax deductible, but are predominately used to help meet the local financial requirements needed to receive national matching-grant funds.
Subscribe to the sports newsletter
Get the day's top sports headlines and breaking news delivered to your inbox by subscribing here.
---