Reviving the urban forest: Advice for replacing trees lost to windstorm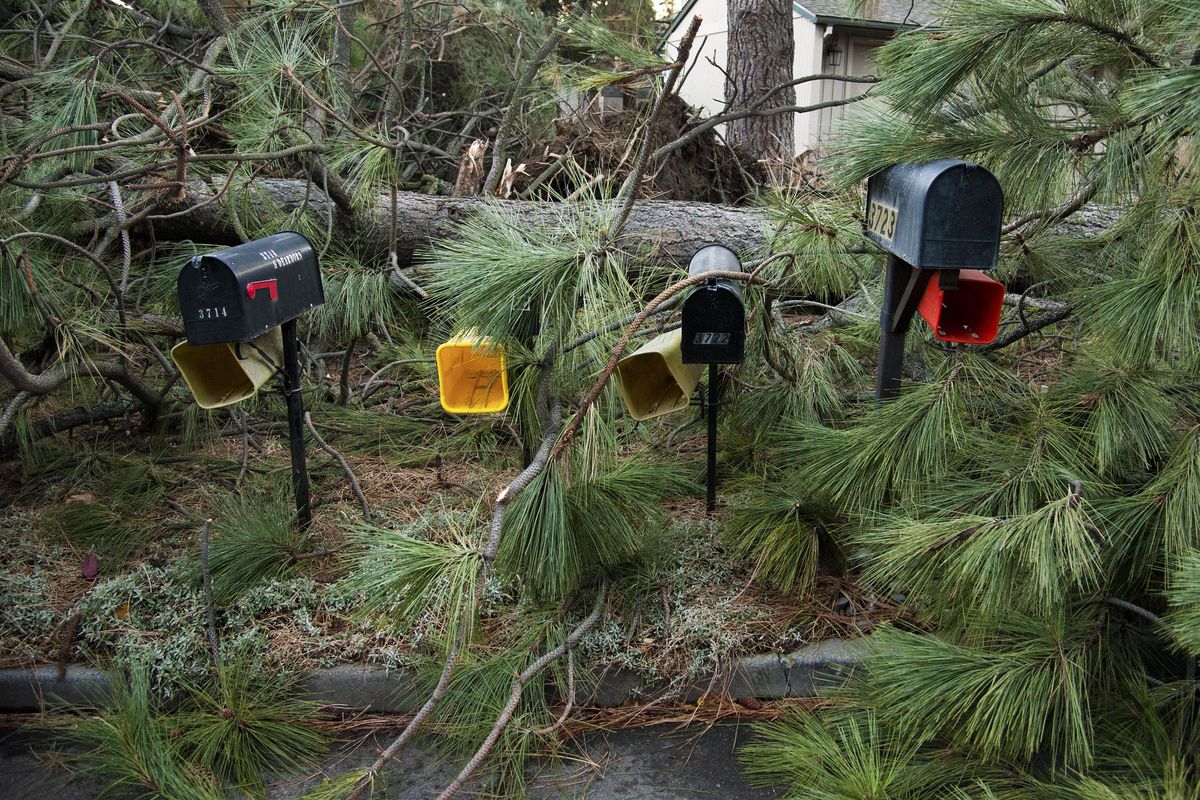 On Nov. 17, Spokane was hit with a severe windstorm that caused hundreds of trees to topple. Many homeowners are now faced with the task of replacing those trees while wondering if a windstorm of that magnitude will hit again.
Angel Spell has been assessing the damage and often hears that concern.
As urban forester for the city of Spokane, Spell manages the trees within the city's parks and other public property, along with trees planted on street rights-of-way.
The Parks and Recreation Department has been compiling statistics of tree failures attributed to the windstorm, and the numbers are quite interesting.
"Evergreens were the predominant failures," she said. "Sixty-five percent were pine trees, 21 percent were spruce, 9 percent were fir trees, and the remaining 5 percent were other trees hit by falling pine, spruce or fir trees during the course of the storm."
Those statistics might imply evergreens are not the tree to plant in windy regions, but that's not the case at all.
"Neither evergreen nor deciduous trees withstand wind better than the other," she explained. "In a big wind event like this, the trees that were damaged were more exposed."
As Spell visited the parkland throughout the city limits, she observed how the damaged trees tended to be on more exposed sites. If a tree was taller than the surrounding trees, it sustained serious damage. But it goes beyond this.
"A tree's ability to withstand strong winds isn't about the root system, it's more about the soil structure surrounding the roots," she said.
Trees planted in sandy or gravelly soils, or those planted above basalt rock where there's a minimal amount of soil, uprooted easily.
Even so, Spell made an important recommendation for watering trees planted in lawns.
"Water those trees more deeply and less frequently than you do your lawn to encourage deeper root development," she advised. "And don't have the lawn surround your tree; give it some turf-free space under its canopy. That will provide a visual reminder that there is a difference in what our trees need versus our lawns."
Spring is an ideal time to plant trees. Many homeowners are likely puzzling over which types of trees would make good replacements. Spell suggests they consider their goals for adding a tree first.
Some might have a need for shade or a fondness for spring-flowering varieties that add color and beauty. Others want to increase their property value, improve air quality, or add privacy and screening from traffic noise. And still others would like to attract birds and wildlife.
Spell also recommends looking at the surrounding elements that dictate how large a tree to plant.
"Think about how much space you have, taking into account underground and overhead utilities, nearby sidewalks or driveways, and other trees that would compete for sun and space," she suggested.
Once those items have been addressed, homeowners should take advantage of the detailed "Approved Street Tree List" on the Urban Forestry website for ideal choices (refer to the resources list).
It includes trees for planting beneath overhead utility lines, and small, medium and large trees that fit within various widths of parking strips and in other settings. The list itemizes each tree's mature height, light and moisture needs, fall foliage colors, growth rates, hardiness, and potential pest or disease problems.
Many on the list have moderate drought tolerance, such as flowering crabapple, Peking tree lilac, hackberry, giant dogwood and littleleaf linden.
Spell would like to see homeowners choose trees other than maples, if possible.
"Spokane is heavily overpopulated with them," she said. "The next problem we face might not be a storm but rather a pest that hits maples or other trees, and then wipes them out. Diversity is so important."
For those who are concerned about the stability of their partially damaged trees, Spell suggests having a certified arborist come out to assess the tree. There is a list of certified arborists available on the Spokane County Extension's website.
One thing she worries about, however, is that many homeowners will have perfectly healthy trees cut down out of the fear that another windstorm will bring them down.
"The important thing to remember is that, in fact, those trees survived the strongest windstorm in history, with 71 mile-per-hour winds." she said. "In the city, there are well over 100,000 trees. I estimate about 1,900 trees came down, which isn't that bad."
Susan Mulvihill is co-author, with Pat Munts, of "Northwest Gardener's Handbook." Contact her at Susan@susansinthegarden.com and follow her on Facebook at facebook.com/susansinthegarden.
---