News > Features
Restaurant, bar design features test hearing, patience
Mon., March 14, 2016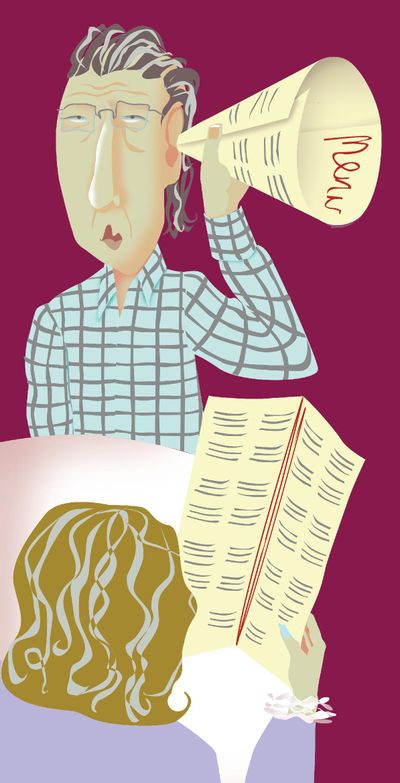 The world is getting noisier, says Les Loiseau, the chief audiologist at Spokane Audiology Clinic. He means not just at work or at the movies. It's apparent in wine bars, coffee shops, restaurants and beer pubs.
Loiseau and others see a trend toward decibel hell inside clubs and dining places because of building design that emphasizes bare walls, metal columns, concrete floors and open ceilings.
The result is more people hang out in places where the sounds of TV, music, and conversation rattle the walls, bounce across the ceiling and reverberate like the inside of a drum.
"I've had to ask a maître d' to turn down the music or TV at a restaurant," said Loiseau, who's 54 and has normal hearing.
He thinks more people should do the same, or quit frequenting bars or businesses with sound levels that are increasingly uncomfortable, he said.
As he diagnoses ear disorders and identifies ways to offset hearing loss, Loiseau hears the same concern from people 50 and older. While older people typically start losing the ability to distinguish sounds at higher frequencies, many also develop a related hearing disorder called presbycusis.
Instead of deadening high frequency sounds, that condition ends up exaggerating loud sounds, making loud places even more uncomfortable.
He said there's a gradual acceptance by people of loud places. They go to popular hangouts with friends; the place starts to fill up, and people raise their voices to be heard.
If a dozen or more people inside a business all are raising their voices to make themselves heard, most of the customers accept the higher volume as the new normal, he said.
It's not just those older than 50 who are finding themselves confronted by intrusive and disruptive sounds inside food businesses, said Gail Chermak, professor of audiology and chair of the Department of Speech and Hearing Sciences at Washington State University Spokane.
"As a normal-hearing person I experience the same problem at those places. I have to lean in and I talk louder and direct eye contact with the person I'm talking to. That's a bit of a stressful situation, which is why I don't like to go to restaurants that are noisy," said Chermak.
Chermak noted that subjectivity and biology play a part in how people hear sounds. What someone in their 20s finds acceptable is likely to be heard far differently than a person 60 or older, she said.
Like many others who pay attention to sound levels, Spokane resident Frank De Lis, 73, has a list of places to visit if he wants a good meal, minus the rock music in the background.
The list also takes note of time of day. For instance he will have lunch at Manito Tap House, when the South Hill pub is far less busy than at other times. He won't go there on Friday or Saturday night when the decibel level climbs above 95. (The federal standard for unsafe workplace sound is an average of 85 decibels over eight hours, according to the National Institute for Occupational Safety and Health.)
De Lis, who previously was owner of the Rusty Moose restaurant on Highway 2, said he prefers a club or a restaurant that's busy but not excessively loud.
"If it's got that activity, it's because there are a lot of people there. And people like that feeling, the sense of activity going on around them," De Lis said.
Restaurant owners do what they can when customers complain about excessive sound. David Blaine, who in 2012 opened Central Food in the Kendall Yard development near downtown Spokane, heard complaints shortly after opening the doors.
Blaine didn't have full control of the design of the restaurant before he moved in, but he said he was committed to dampening the sound to a reasonable level.
He considered installing an overhead "shroud" or lowered ceiling to block the sounds of pans clanging and dishes being prepared at the main food-prep area near the center of the room. But he couldn't justify spending nearly $20,000 for something that might only provide modest sound reduction, he said.
Using suggestions from others and using his own Web research, Blaine added a variety of wall features and interior items to provide softer surfaces. He added plants, cloth-covered dampers in wall corners, and acoustic panels on the ceiling to control the high frequencies bouncing around the dining area.
Blaine made the changes and used a phone app to measure the decibel level inside the restaurant.
"After making enough changes, we felt it was OK and we stopped getting complaints. Sure, some people chose not to come back. It just wasn't going to be their place," he said.
Blaine said he followed some ideas adopted by Patrick McPherson, who runs Manito Tap House and Blackbird, two of the city's busier pubs. One hidden-from-view trick is to add soft cushions to the underside of chairs.
McPherson said he landed on that idea researching sound-dampening tactics. He added fabric cushions under nearly 80 seats at Manito Tap House. They help by catching some of the sound bouncing off the concrete floor, he said.
He also added acoustic panels to the concrete ceiling plus a group of hanging burlap sacks that hold acoustic panels inside.
"When we opened (Manito) the sound level was at a 10. I'd say it's down to 5 or 6," McPherson said.
Bill Alles, owner of downtown Spokane's Churchill's Steakhouse, says the trend toward clean hard surfaces for social hangouts started about 20 years ago.
"Thirty years ago you'd never see a restaurant that didn't have carpet and tablecloths, which helped absorb the sound," Alles said.
The shift toward a modern industrial look – with an emphasis on clean, hard surfaces and few decorative elements or sound-absorbing fabrics – seems the result of both economics and design fads, Alles said.
"Part of it is to save money, I'm sure. If you can spend $40,000 instead of a lot more to set up a new place, that's what people will do," Alles said.
He said many owners believe customers are going to enjoy themselves whether or not their ears hurt after a few hours dealing with high-volume background sounds.
Architects who design restaurants, bistros or coffee hangouts say it's hard to create a contemporary look if they include components – rugs, carpets, wall hangings – that have acoustic-softening value.
In addition to installing those items, owners have to deal with the cost of ongoing maintenance costs, said Armando Hurtado, architect with Spokane-based HDG Architecture. That includes cleaning, dusting and degreasing fabrics or wall and ceiling surfaces, he said.
He and partner Josh Hissong have designed or remodeled a number of area food places and hangouts, including Nudo Ramen House, Fire Artisan Pizza, the Volstead Act, the Boiler Room, Revel Coffee Shop, and Timber Gastro Pub.
Hurtado said every project includes a discussion of sound levels. One of the driving factors is the demographics the owner wants to attract.
When designing a hangout like the Volstead Act, the target clientele is meant to be mid-20s to mid-40s, Hurtado said. The leads to a design with less concern about acoustics than a more sophisticated dining establishment, he added.
"The market doesn't have lot of good alternatives for acoustics," Hurtado said. "We try to augment (the solution) by creating surfaces that mitigate some of the sound," including creating angles within the structure of the room.
He also said his firm never recommends adding a carpet to any entertainment club or business. "From a maintenance and health standpoint, that becomes a nightmare," he said.
Hurtado said the design industry is constantly adding new products and acoustically beneficial materials for architects to use in commercial buildings. But they cost more than standard products.
"It can be hard to convince a client to spend 75 dollars per panel versus something that's far less expensive," he said.
WSU's Chermak is among those diners and customers who feel that current dominant design trend toward industrialized interiors leaves few choices for people who want quieter escapes.
When she's meeting with people in Spokane, Chermak said she prefers places or hangouts that feature carpeting or traditional dining decor, such as the Davenport Hotel Palm Court.
She wishes there were online ratings systems that in addition to rating food quality or price also allowed customers to rate noise.
"I'm not sure the restaurants would be thrilled by that, and no doubt younger people might think the noisier a restaurant is, the cooler. But it would be good to find a way to identify places that cater to a quiet or more intimate experience," Chermak said.
Local journalism is essential.
Give directly to The Spokesman-Review's Northwest Passages community forums series -- which helps to offset the costs of several reporter and editor positions at the newspaper -- by using the easy options below. Gifts processed in this system are not tax deductible, but are predominately used to help meet the local financial requirements needed to receive national matching-grant funds.
Subscribe now to get breaking news alerts in your email inbox
Get breaking news delivered to your inbox as it happens.
---