A&E > Entertainment
Bloomsday 2016 a sunny, sweaty birthday party for thousands
Sun., May 1, 2016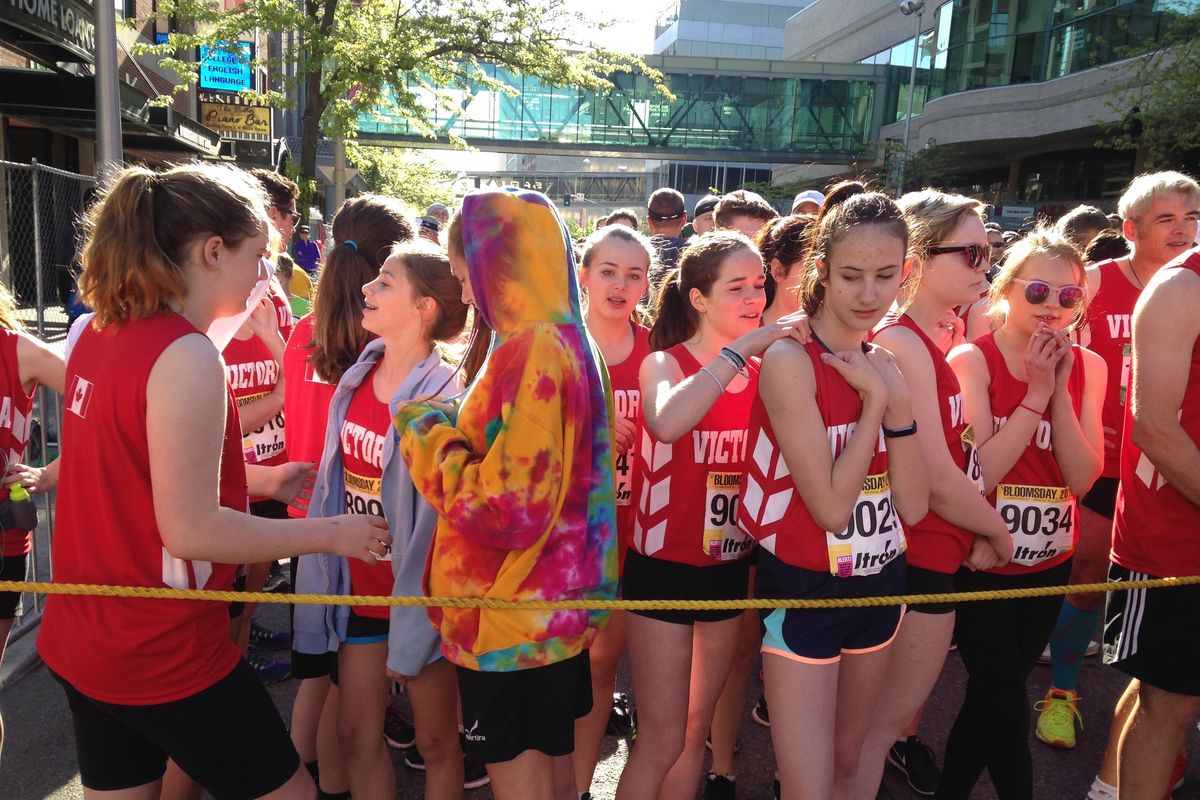 Participants line up for Bloomsday 2016. (Liz Kishimoto / The Spokesman-Review)
Nearly 50,000 runners and walkers swarmed downtown Spokane on Sunday for the 40th running of the annual Bloomsday race, and thousands more lined the streets of the Lilac City to cheer them on.
The sunny spring day brought out hopes for fast times as well as the expected partylike atmosphere.
"We have a job: We're cheering," said Marcy Bennett, 55, in the yard at a house on the corner of Broadway Avenue and Lindeke Street, where there were biscuits and gravy – and beers – for breakfast and, after that, barbecue.
As the first of the elite runners whizzed by, another cheerer, 46-year-old Eric "Kid" Phillips, said in awe, "Wow. They are fast."
Cynthia Limo, of Kenya, set a course record for the women's elite group. Also the 2015 champ, she ran the 12-kilometer course in 38 minutes, 3 seconds, beating the previous record by seven seconds. Philip Langat, of Kenya, who like Limo was the top seed prerace, won the men's elite division for the first time at 34:26. Langat finished fourth at Bloomsday 2015.
Susannah Scaroni, of Tekoa, Washington, won the women's elite wheelchair division. James Senbeta, of Savoy, Illinois, was the men's elite wheelchair winner.
"What a great day," said Phillips, who moved to Spokane last summer and watched Bloomsday for the first time Sunday. "The weather's perfect. And I just happen to be at the coolest party. This is really cool. I love how the community embraces everything."
Residents who live along the route gave Bloomsday runners and walkers – Bloomies, as they are affectionately known – everything from free doughnuts and frozen treats to bottled water, ice cubes, cooling spray from sprinklers and garden hoses, and words of encouragement.
"Almost done!" Phillips called out from behind the fence, lined with T-shirts from Bloomsdays past. "You got this!"
Warm weather and injuries
Temperatures rose to the 70-degree mark by noon, and medical officials said at least two people were transported from the finish line with heat-related symptoms.
That number could have been greater, but it appeared most people had acclimated to the higher temperatures thanks to a warmer-than-usual early spring.
"We had a good week of warm weather a couple weeks ago," said Bob Lutz, the event's medical director. "I think people trained a little bit for higher temperatures."
One person was taken from the finish line to a hospital after medical professionals performed CPR. The patient's heart was beating when they left the medical tent, medical staff confirmed.
Medical staff also said the number of people with tweaked ankles or muscle injuries likely would be greater than in years past, based on how many were treated at medical tents around the course.
"I would expect our volumes to be up a little bit," Lutz said.
Midway through the morning, at the medical tent at the top of Doomsday Hill, registered nurse Bryan Garrett said he mostly had seen runners and walkers in need of sunscreen or blister control. This was his second year volunteering along the course, "trying to be visible so they know we are here if they need help and scanning for people that might be confused or need help but not know that they need help."
Garrett said he has never run the race. Instead, "I like doing this," he said. "This is what I got into health care for: helping people, getting them back on the road and helping them finish."
'This is our corner'
Isabella Rounds, 90, of Millwood, and her daughter-in-law Marilyn Rounds, 67, of Spokane Valley, got to the corner of Broadway Avenue and Walnut Street by 7:30 a.m.
"We beat everybody," Marilyn Rounds said. "This is our corner. We're always here."
The pair walked the race two times about 30 years ago. Now, they camp out with coffee, muffins and folding chairs to watch and cheer.
"You've got to go to these things and watch the people and how much fun they're having," Isabella Rounds said. "Some are on their last legs. It's great. You see people older than we are that are doing it."
18th Bloomsday
for Canadian school
Clad in red singlets emblazoned "Victoria," about 130 teenage students from the Victoria School of the Arts in Edmonton, Alberta, crowded near the yellow ropes of the starting line at Riverside Avenue and Wall Street just before 9 a.m. The school has been bringing students to the road race in Spokane each of the past 18 years.
"It's about the participation and getting them active," said Shaylyn Lewis-Saganiuk, one of the trip sponsors.
"It's just about health and wellness. We don't make it an elite thing," said Ray Jorgensen, another sponsor.
Eighth-grader Morgen Bennett was about to run her first Bloomsday and got an up-close look at the dreaded Doomsday Hill on Saturday.
"We drove up it yesterday, and I was like, 'Oh my gosh, that's so scary,' " said Bennett, who ran up and down stairs with her group as part of their cardio workouts.
"I think it will be OK," she said. "Not that it will be easy."
Eleventh-grader Asha Stalker wore a lilac singlet, signifying her position as the second-fastest runner in her age group by entry time. The 17-year-old completed the course in just over 55 minutes in 2015.
"I'm really nervous, but I'm always really nervous," she said, pausing when predicting how she'd do this year compared to last year.
But Jorgensen didn't hesitate. "She will beat that today," he said. "She'll have a good race."
Dressing to the nines
While many runners were focused on the stopwatch, others showed by their attire they intended to make the 40th Bloomsday a party.
Steve Heron donned a frizzy, yellow wig and American flag shorts he joked were swiped from Rocky Balboa. He christened his alter ego "Fro Bro."
"I'm big in Japan," Heron said, grinning behind a pair of white sunglasses.
His friends, Sharon Cain and Lori Powers, opted for more traditional looks, picking Batman- and Superman-inspired costumes. The group ran as fairies last year.
"The energy in this city is what's so cool," Powers said.
A few blocks back, Joyce Wilkens, 60, again donned Raggedy Ann makeup and worked a Raggedy Andy puppet she bought at a thrift store some years ago. She gave young runners hugs with the puppet and showed off the handle and copper rod that has Andy perpetually waving to those on the sidelines.
"One year I got really warm, and I thought, I'm going to dump some water on this," said Wilkens, pointing to the wig of red yarn hair that complemented the rouge on her cheeks and simple, blue and white dress that completed the outfit she originally bought for a church play. "That was a mistake. It got really heavy."
Wilkens said she runs the race as the popular doll for the children, picking them out of the crowd and handing out actual dolls with the year of the race written across the apron. She pinned her number from 2015's Bloomsday on the front of Andy this year.
"People asked, 'Where's his ticket? You should get him a ticket,' " she said. "And I thought, not for $25."
Friends Joshua Diacogiannis, 25, and David Burkett, 24, also turned heads on the Bloomsday course. Clad in coconut bras and grass skirts, they said they were looking several years ago for a costume that wouldn't get in the way while they ran.
"We get noticed," Diacogiannis said.
"It's very motivating. Every quarter-mile …" Burkett began.
"Every 10 feet, it seems like," Diacogiannis cut him off, "Somebody yells, 'Nice coconuts!' "
A mounting thirst
Spokane firefighter Rustie Stewart, 59, has only walked Bloomsday once, "in like '93 or something." But he's been in charge of Water Station No. 4 at Broadway Avenue and Nettleton Street for five years now.
Volunteers – about 50 firefighters from Local 29, plus another 75 friends and family members – fill paper cups with water from the fire hydrant on the corner. They go through about 40,000 cups by the end of the race, Stewart said.
The elite runners usually don't bother to stop.
"We don't really start giving out water until the masses come by," Stewart said just after 8 in the morning. "We've got to be ready. It's going to be hot. They're going to be hurting."
In Tune
Dick Gardner, 71, and his four-person band In Tune was playing a mix of country, folk, bluegrass and 1950s rock on Lindeke at Dean Avenue. This was the second year the band participated in Bloomsday.
"We'll probably do this again next year," Gardner said. "We like playing music for them. We like when we can get them to jump in the air and twist around or something."
He walked Bloomsday once but said he prefers to watch and play music from the sidelines.
Does he think Bloomsday will be around for 40 more years?
"I won't be," he said. "But I'm sure they will."
Cheering at a pivotal point
Back at the house at Lindeke, Bennett boasted, "This is the best place to be." The band The Hitmen was playing a mix of rock and funk – even a Bruno Mars cover – from a raised stage right where the course turns onto Broadway.
"The 6-mile marker is right down there," Bennett said. "This is like 6 and a quarter. You're getting them when they're putting in their push" toward the finish.
Celebrating the finish
Colville resident John Kaschmitter, 37, stopped to touch his toes in the middle of Riverfront Park after finishing the race. His young family was surrounded by the sights, smells and sounds of post-Bloomsday: doughnuts, rock music, cheeseburgers and the cheers of massing crowds.
"It was better than last year," Kaschmitter said of his time, echoing the claims of personal bests by many who crossed the finish line Sunday. As Kaschmitter stretched, his son, J.D., and daughter, Lilly, ran up and touched his arm, but avoided a hug with their sweaty dad.
On the corner of Monroe Street and Broadway, Rhonda Van Horn had set up shop before 8 a.m. in hopes of seeing her 26-year-old daughter, Jordan Clyburn, complete her race in the wheelchair division. Van Horn said Clyburn had been finishing the race solo for the past 14 years.
"I can usually see her head bobbing from a ways away," Van Horn said.
About an hour and a half later, the proud mother was all smiles with the rest of her family. She said Clyburn had finished well.
"She beat her best time, I think, by at least a couple minutes."
Local journalism is essential.
Give directly to The Spokesman-Review's Northwest Passages community forums series -- which helps to offset the costs of several reporter and editor positions at the newspaper -- by using the easy options below. Gifts processed in this system are not tax deductible, but are predominately used to help meet the local financial requirements needed to receive national matching-grant funds.
Subscribe to the Spokane7 email newsletter
Get the day's top entertainment headlines delivered to your inbox every morning.
---