News > Spokane
Spokane Rep. Kevin Parker won't seek re-election
Tue., May 3, 2016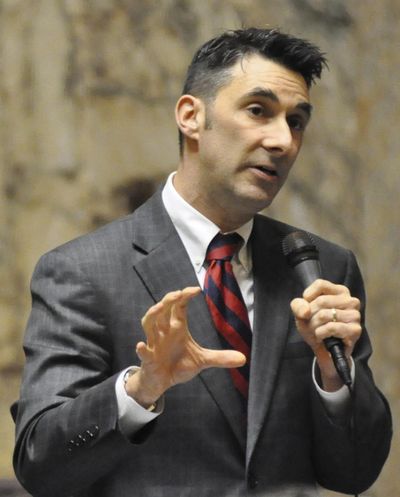 Rep. Kevin Parker, a Spokane Republican who rose to his party's No. 2 spot on the powerful Appropriations Committee, will not seek re-election this fall.
Parker, a four-term member of the House from Spokane's 6th District, said he is stepping away from the Legislature to spend more time with his wife and three children, ages 11, 8 and 6.
"Things are great with the family, but I've been doing this for eight years," he said, adding they had encouraged him to run again but he decided it was time to concentrate on activities in Spokane.
The Parkers own seven Dutch Bros. Coffee outlets in Spokane, and he is an adjunct instructor for Master of Business Administration programs at Whitworth and Gonzaga universities, teaching courses in economics, entrepreneurship or leadership at different times.
First elected in 2008 by defeating Democrat Don Barlow, Parker has faced relatively easy re-election campaigns in succeeding elections. He was mentioned last year as a possible candidate for Spokane City Council president against incumbent Ben Stuckart, but declined to get into the race.
Candidates for the 2016 elections must formally file for office with the state or county elections offices later this month. Lynnette Vehrs, former director of professional development at the Washington State University College of Nursing, has filed paperwork with the Public Disclosure Commission to run as a Democrat for that 6th District House seat.
Parker wouldn't rule out another race for elective office at some point, but said he has no current political plans: "It's not on my radar screen at any level."
In Olympia, he rose to the position of assistant ranking Republican on the Appropriations Committee, a spot that put him in the middle of budget discussions in recent years.
"I will miss working on the budget," Parker said Tuesday, because those discussions involved all the issues confronting the state.
Over those eight years, he said, he learned that members of both parties in both chambers as well as state employees throughout the system have "good intentions, and everyone cares about the state."
His biggest disappointment, he added, was discovering that a few people are so rigidly partisan that they won't budge on issues, no matter what.
"Both sides have them," he said.
Local journalism is essential.
Give directly to The Spokesman-Review's Northwest Passages community forums series -- which helps to offset the costs of several reporter and editor positions at the newspaper -- by using the easy options below. Gifts processed in this system are not tax deductible, but are predominately used to help meet the local financial requirements needed to receive national matching-grant funds.
Subscribe now to get breaking news alerts in your email inbox
Get breaking news delivered to your inbox as it happens.
---