Sports > Outdoors
Heli-skiing to debut in Idaho Selkirks
Thu., Nov. 10, 2016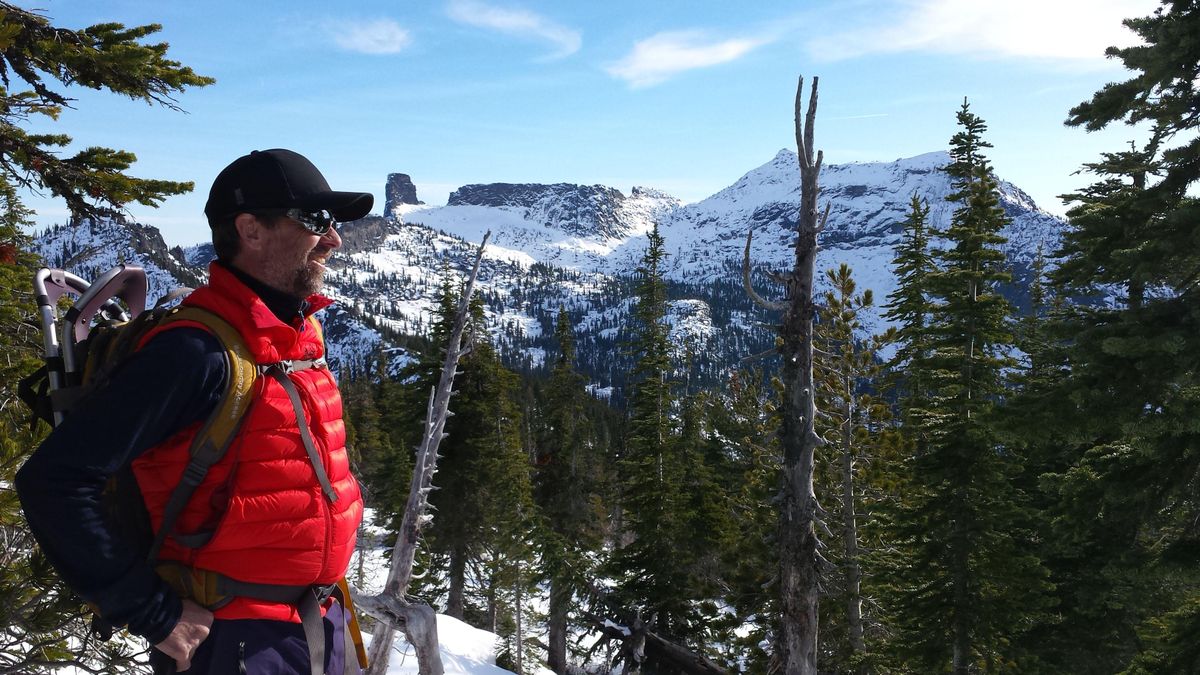 Ken Barrett of Selkirk Powder Company explores an area in the Idaho Selkirk Mountains targeted for helicopter skiing starting in March 2017. (Courtesy photo / Courtesy photo)
Update: Idaho Department of Lands officials say testing and evaluation will be conducted this winter before final decisions will be made on permitting a heli-skiing operation on state lands.
Helicopter skiing will finally get off the ground in the Selkirk Mountains in North Idaho this season.
Selkirk Powder Co., based in Sandpoint, has acquired permits from the state Department of Lands and is taking reservations for a 17-day season in March, said Alf Cromwell, company marketing director.
"We've been working on this for nearly two years," he said, noting that the company will be the first heli-skiing operation to fly in the Idaho Panhandle.
Selkirk Powder has provided snowcat skiing out of Schweitzer Mountain Resort since the company was founded in 2003.
"Much of our cat skiing is permitted for state land and we have a good partnership with the state, Cromwell said. "The heli-skiing has branched from that relationship, which makes it easier because we're pioneering something new up there."
The skiing company has teamed with Lohman Helicopter, an experienced family business based in Clarkston, Washington, to initially access three zones along the Selkirk Crest north of Sandpoint and east of Priest Lake in the first season.
"We're limiting ourselves because we want to be very much on top of our game in terms of the terrain we ski and how the snow behaves during our season," Cromwell said.
The zones include Sundance Mountain-Lost Peak, Hunt Peak-Mount Roothaan and Lookout Mountain.
National forest land will not be used. "We have plenty of state forest land to work with, but we may pursue the Forest Service in the future," Cromwell said. "There's a longer paper trail to work through."
While the snowcat skiing runs through the season, the heli-skiing window is March 3-19 to take advantage of more reliable weather and more stable snow conditions. "When it's snowing hard or foggy you're not going to fly," he said.
March provides more daylight hours, more sunny days and typically provides cold nights and warmer days for powder and corn-snow slopes depending on elevation and exposure.
"We want to take our best shot at everything going our way," Cromwell said.
The helicopter will be flying out of Sandpoint airport and shuttling guests from Schweitzer's alpine village.
"We'll be learning how to move around," Cromwell said, acknowledging that snowmobilers and backcountry have been using some of the same terrain for years.
"We'll be accessing runs from 1,000 to 2,000 feet with great fall-line skiing," he said. "It will be very different from the round-top terrain we ski at Schweitzer. As we turn people on to the helicopter terrain, people who thought they knew what was out there are going to say, 'Wow!' "
They'll pay for the experience.
Up to 20 skiers or riders can pay $425 apiece or $3,800 to charter a snowcat for 4,350-acres of Schweitzer-area backcountry.
Heli-skiers will pay $1,975 each or $7,900 for a private charter for up to four people with quick, easy access to nearly 200,000 acres of terrain.
"We could take five and provide just one guide like many heli-operations do, but we're taking up to four clients and using two guides for safety and to make clients feel special," Cromwell said. "It's more money out of our pocket. We might go with a bigger bird down the road, but not now."
"Unlike operations in Canada, we won't be taking two groups out and lapping with one helicopter. It's more expensive and we have to cover our costs, but with us it's one bird, one group all day long. That's a pretty exclusive deal."
Local journalism is essential.
Give directly to The Spokesman-Review's Northwest Passages community forums series -- which helps to offset the costs of several reporter and editor positions at the newspaper -- by using the easy options below. Gifts processed in this system are not tax deductible, but are predominately used to help meet the local financial requirements needed to receive national matching-grant funds.
Subscribe to the sports newsletter
Get the day's top sports headlines and breaking news delivered to your inbox by subscribing here.
---