News > Education
EWU unity rally underscores precarious position of undocumented students
Tue., Nov. 15, 2016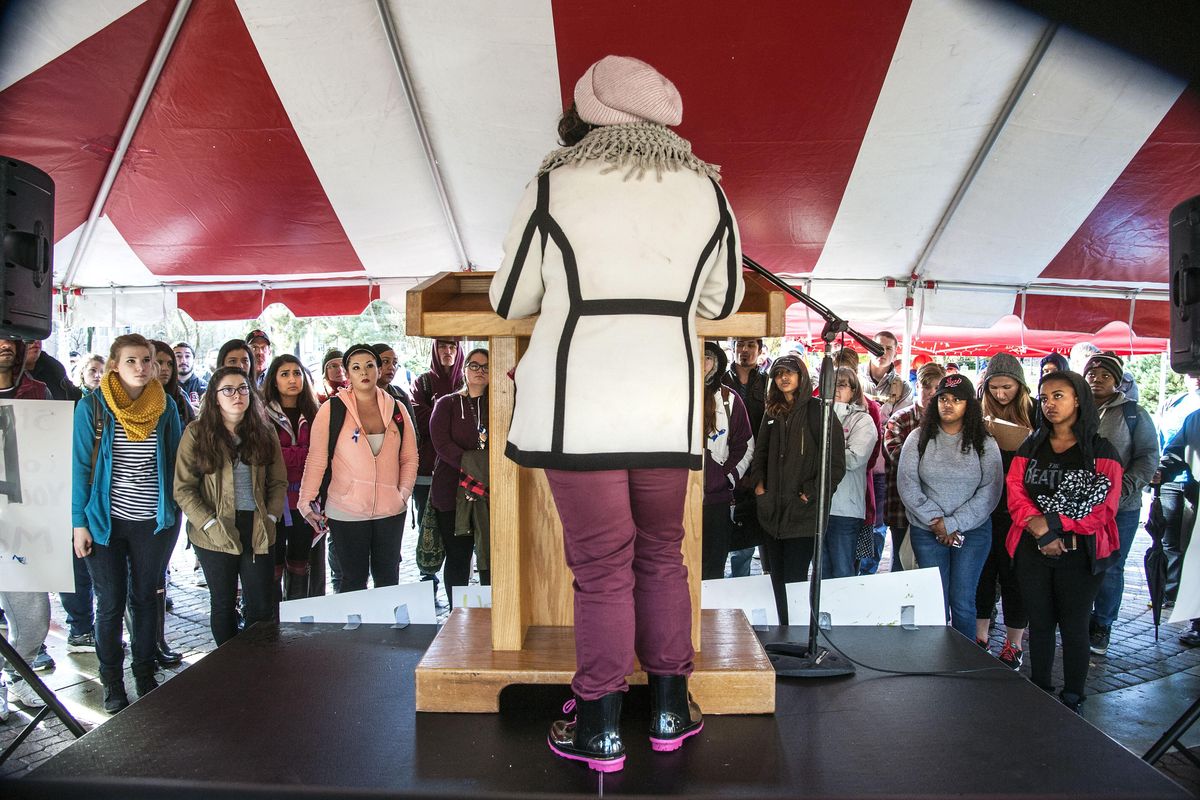 Eastern Washington University student Dulce Gutierrez Vasquez addresses the crowd on the Cheney campus mall during the Unity Rally hosted by the Multicultural Coalition of EWU. (Dan Pelle / The Spokesman-Review)
On a rainy Tuesday afternoon, Dulce Gutierrez Vasquez addressed a group of about 70 Eastern Washington University students, faculty and staff. The 25-year-old was eloquent and blunt.
"I'm someone who is undocumented," she said. "I don't know what will happen to my family. I don't know what will happen to my future."
Gutierrez Vasquez is one of about 700,000 undocumented immigrants who have gained certain legal protections under the Deferred Action for Childhood Arrival (DACA) policy, an executive order passed by President Barack Obama in 2012. These students are often referred to as Dreamers.
There are about 200 undocumented students at EWU.
The policy allows people who entered the United States before their 16th birthday to apply for renewable two-year work visas and makes them exempt from deportation.
By receiving a work visa, DACA students are able to get a Social Security number, which can help them when applying for state or college financial aid through programs such as the Washington Dream Act.
Although it does not lead to citizenship, DACA does allow students like Gutierrez Vasquez to attend college and get jobs without fear of deportation.
President-elect Donald Trump has said he would repeal the DACA policy.
Gutierrez Vasquez moved to the United States from Mexico as a 2-year-old. She grew up in Leavenworth. When she graduated from high school in 2010 she attended community college for three years and worked between one and three jobs to save money for college.
"I've never left the country," she said. "I have nothing waiting for me in Mexico."
Trump's promise to deport all illegal immigrants startled and scared Gutierrez Vasquez. She and her roommate, who is also an undocumented student, watched the election nervously.
"The night of, we were cracking jokes about it," she said. "There is no way. There is no way this man is going to be elected."
As it became clear that he would win, she said they grew silent and eventually started crying.
"I woke up the next day, Trump is our president and my eyes were all swollen," she said.
Gutierrez Vasquez and other students who are part of EWU's multicultural coalition asked university President Mary Cullinan to address the university following Trump's victory.
On Tuesday, Cullinan addressed the gathering, emphasizing that EWU will accept, respect and protect all students. She has not heard any reports of election-related harassment or intimidation since the election.
"The values of EWU are over 100 years old," she said. "This isn't about politics, this is about students."
Other faculty and staff spoke to the assembled students. Angela Jones, the president's chief of staff, encouraged unity.
"No matter how we voted last week, we are one Eagle nation," she said. "We are not going to be the campus that's in the media for anything except our greatness."
Alonso Martinez' family is undocumented, although he is a citizen, and lives in Wenatchee. He attended Tuesday's rally.
"My parents came here at a young age," he said. "I don't want them to leave."
While one speaker addressed the group, someone yelled "Trump" from across the EWU quad. Members of the crowd visibly tensed and muttered to themselves, looking in the direction from which the yell came.
That response, fear mixed with anger, is something professor Elisa Faccio has seen often in the last week.
"There were Muslim students on this campus who did not attend class (after the election)," she said. "The first couple days people were not able to focus."
Faccio is the director of the Chicano Education Program at EWU.
"A lot of individuals feel that their own personal livelihoods are going to be threatened," she said.
Gutierrez Vasquez and others also expressed concern about Vice President-elect Mike Pence's stance on homosexuality, particularly his support of conversion therapy.
Sarahí Gutierrez is also an undocumented student at EWU and has lived in the United States for 17 years. Both her parents work as cooks in Wenatchee.
She first started attending EWU in 2014, but had to take a year off to work and save money. She came back to campus this fall. Now, she's worried it will be for naught.
"It's going to affect me tremendously," she said.
Local journalism is essential.
Give directly to The Spokesman-Review's Northwest Passages community forums series -- which helps to offset the costs of several reporter and editor positions at the newspaper -- by using the easy options below. Gifts processed in this system are not tax deductible, but are predominately used to help meet the local financial requirements needed to receive national matching-grant funds.
Subscribe now to get breaking news alerts in your email inbox
Get breaking news delivered to your inbox as it happens.
---