Sports
WSU running backs are the Pac-12's most productive
Tue., Nov. 15, 2016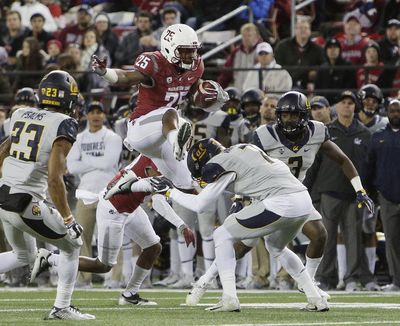 PULLMAN – Here is a difference between Colorado coach Mike MacIntyre and the casual college football fan: They look at the Washington State offense and see different things.
Your average fan hears the term "Air Raid" and his or her eyes are immediately drawn to Luke Falk's passing yards, Gabe Marks' historic reception totals and maybe the savvy ones will remark on how few sacks the Cougars give up per passing attempt.
But here is the secret that MacIntyre knows: The WSU offense works so well because its running backs are the most productive in the Pac-12. The Cougars have rushed for 200 or more yards three times in 2016, and each member of the primary running back trio of Gerard Wicks, Jamal Morrow and James Williams is averaging at least 5.7 yards per carry.
"Not only are they trying to run it (more), they're really good," MacIntyre said. "They really make people miss so we have to tackle well in space. They get you in space with those big, wide linemen splits so our guys have to make open-field tackles. Their running backs are making plays."
WSU coach Mike Leach frequently says that running backs receive the heaviest workload in his offense, and that the position is where he wants his most athletic playmakers.
He's received his wish in 2016. The WSU running backs are not just WSU's most productive position group – they're the most productive position group in the whole league. The trio has emerged as group of high-hurdling playmakers and account for many of WSU's most explosive plays.
While WSU's running backs have run for 1,400 yards, which ranks No. 8 among Pac-12 running back units, their 2,299 total yards from scrimmage lead the conference.
The Cougars also lead the Pac-12 with 28 touchdowns scored by running backs. Oregon ranks No. 2 with 25 touchdowns scored. The next best teams, Stanford and Washington, have only scored 14 touchdowns with running backs each.
WSU has also has superlative balance from its running back trio. Position coach Jim Mastro devised the concept of the "Nevada Back" while he was at the University of Nevada, where he became the first coach to have three running backs run for 1,000 yards in a season.
The concept is to have each player be a Renaissance man, equally capable of rushing, receiving or blocking, and that the players be interchangeable. This keeps the defense off its toes, and increases competition within the unit since the players cannot rely on their specialties or varying strengths alone to get them situational playing time.
And how is this for balance? Wicks has the fewest carries among the trio with 71, and James Williams leads the group with 82. But it is Wicks who leads the team with 11 rushing touchdowns, the most by a WSU junior and only five short of the school's single-season record.
Morrow leads the group with 42 passes caught, though Williams is right behind with 40. Wicks has caught 24 passes himself.
So when you're watching the Pac-12's No. 2 scoring offense, realize that Air Raid can be a bit of a misnomer. The Cougars are putting up points thanks to their running backs.
Local journalism is essential.
Give directly to The Spokesman-Review's Northwest Passages community forums series -- which helps to offset the costs of several reporter and editor positions at the newspaper -- by using the easy options below. Gifts processed in this system are not tax deductible, but are predominately used to help meet the local financial requirements needed to receive national matching-grant funds.
Subscribe to the sports newsletter
Get the day's top sports headlines and breaking news delivered to your inbox by subscribing here.
---