Sports
Jim Mastro ends Nevada speculation
Tue., Nov. 29, 2016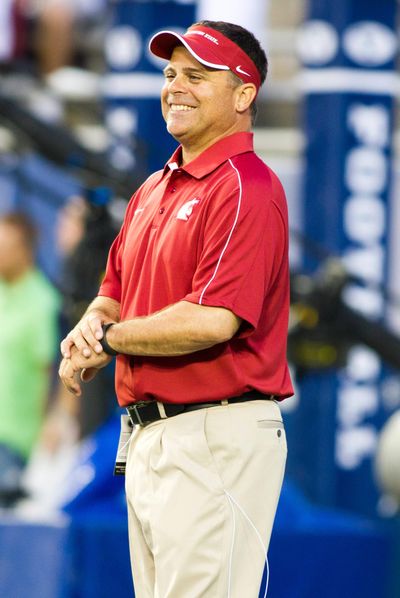 PULLMAN – Jim Mastro was a key player during the Nevada football team's heyday and has the endorsement of the patriarch of Wolf Pack football, so his name is at the top of speculative lists whenever Nevada needs a new football coach.
But the running backs coach quickly ended any speculation he might leave Washington State to coach the Wolf Pack, who need a new head coach after Brian Polian and the school parted ways.
"(I) haven't talked to Nevada, (I'm) not going back to Nevada," Mastro wrote in a message to the Spokesman-Review on Tuesday. "My family loves it here, I love it here. I have a group of RBs that I would never, ever do that to. We still have a lot of unfinished business here. I have said it many times before: I have the best job working for a great boss and athletic director. Go Cougs."
Mastro was at Nevada for 11 seasons (2000-10) where he built one of the nation's most productive rushing attacks. The Wolf Pack led the country in rushing in 2009, ranked third in 2008 and had a running back lead the Western Athletic Conference in rushing in five seasons.
While at Nevada, he and Chris Ault created the Pistol offense. Ault, who served three stints as the UNR head coach (233-109-1) and served as athletic director, told the Spokesman-Review during a 2014 interview that he had recommended Mastro for the vacant head coaching position at Nevada in 2012.
Under Mastro, the WSU running backs have enjoyed considerable success, particularly this last season when the Cougars rushed for more than 200 yards three times. The trio of Gerard Wicks, Jamal Morrow and James Williams is poised to become the first-ever running backs corps under head coach Mike Leach to rush for 1,500 yards and have 1,000 receiving yards.
Leach and Mastro trace their roots all the way back to Leach's first coaching position, a graduate position at Cal Poly where Mastro was playing running back. After graduation, Mastro was also hired as a graduate assistant on the Cal Poly staff, putting the two coaches in the same coaching room for a brief stint.
Local journalism is essential.
Give directly to The Spokesman-Review's Northwest Passages community forums series -- which helps to offset the costs of several reporter and editor positions at the newspaper -- by using the easy options below. Gifts processed in this system are not tax deductible, but are predominately used to help meet the local financial requirements needed to receive national matching-grant funds.
Subscribe to the sports newsletter
Get the day's top sports headlines and breaking news delivered to your inbox by subscribing here.
---