Sports
Jimmie Johnson heads to Kansas with weight off his shoulders
Fri., Oct. 14, 2016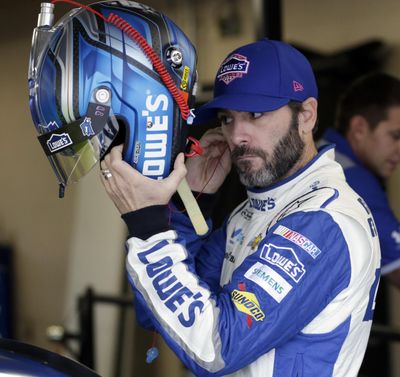 KANSAS CITY, Kan. – Jimmie Johnson could feel the pressure mounting all season as he continued to turn into the garage area rather than Victory Lane after failing to win Sprint Cup races.
Sweet relief came last weekend at Charlotte.
And it's made this weekend at Kansas feel a whole lot better, too.
The six-time champion made a big move in his pursuit of a record-tying seventh when Johnson won the opening race in the round of 12 of the Chase. It locked him into the round of eight, taking the pressure off not only at Kansas Speedway on Sunday but unpredictable Talladega next week.
Four drivers will be eliminated following the third race of the round.
"A victory is a huge boost, there's no way around that for myself, my crew members, everyone at Hendrick Motorsports," Johnson said. "But this Chase, some felt like it got off to a calm start and last weekend, with half the Chase guys having issues, it just shows that anything can happen."
Indeed, the pressure is now ramped up on the 11 other drivers trying to advance to the next round, and especially the five that finished out of the top 30 at Charlotte.
Engine trouble, wrecks and all kinds of misfortune conspired to doom Denny Hamlin, Kevin Harvick, Joey Logano, Chase Elliott and Austin Dillon. For them, with a big points gap to make up on the rest of the Chase drivers, there is even more desperation to win at Kansas.
Eight points separates Hamlin in eighth place from Harvick in 12th.
"The only one not worried about Talladega right now is Jimmie Johnson," said Chase contender Martin Truex Jr. "You just never know. You could finish 40th there, anyone could. We're doing to do the best job we can this weekend and hopefully have a shot at winning, but there's no guarantees."
Johnson is certainly aware of that pressure.
"You worry about yourself," he said, "but if others have trouble, when they have trouble – it's chaos. When the first round starts, sure, you worry about points, but as each race goes by, one mistake, it's just tough. And there's no clear-cut path to the final four at Homestead."
The closest thing to a clear path is winning.
Johnson also knows that quite well.
It was only a year ago that his Chase ended in the first round. He blew a tire at Chicago and had to salvage a decent finish there, then blew another tire at New Hampshire before ending up sixth. Everything came to an end at Dover, where a broken drove line knocked him from title contention.
"We were disappointed, especially the way it happened," Johnson acknowledged on a gloomy Friday at Kansas, where mist forced dryers to spend the morning on the track. "It was unfortunate we didn't have a chance at the championship. I heard the term 'second-class citizen' used."
Johnson still intends to race for wins the next two weeks, he just knows that there's a little bit more margin for error. If anything, it makes him even more dangerous at Kansas, where he won the spring race a year ago and where Hendrick Motorsports has had plenty of success.
Last year, Logano won the opening race of the second round at Charlotte, and that gave him carte blanche to race Kenseth hard in the closing laps and win the race at Kansas.
Meanwhile, the win also gives Johnson some wiggle-room to lend a helping hand.
Elliott, his teammate, has been knocking on the door of wins all season, and the rookie led 103 laps at Charlotte before a wreck ruined his afternoon. Now, Johnson can work with him at Kansas and Talladega to get another Hendrick car into the next round of the Chase.
"From an on-track standpoint, Talladega is the place where I could help him or could work with him," Johnson said, referring to the restrictor-plate style of racing. "You know we want to win the race here and do all we can, and if we can't of course we want the 24 to, and they need to have a great day.
"But if there's a duel between us and the 24 car, I want to win," he added. "We've all been leaning on each other tremendously so that will be there, but come race time, we still have to race."
Local journalism is essential.
Give directly to The Spokesman-Review's Northwest Passages community forums series -- which helps to offset the costs of several reporter and editor positions at the newspaper -- by using the easy options below. Gifts processed in this system are not tax deductible, but are predominately used to help meet the local financial requirements needed to receive national matching-grant funds.
Subscribe to the sports newsletter
Get the day's top sports headlines and breaking news delivered to your inbox by subscribing here.
---
Subscribe and log in to the Spokesman-Review to read and comment on this story