Sports
WSU's Luke Falk dismisses NFL draft rumors
Mon., Oct. 31, 2016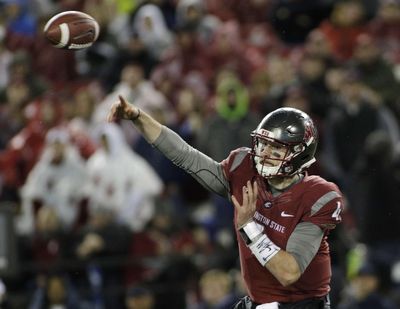 PULLMAN – Luke Falk dismissed a report by Bleacher Report that he intends to enter the NFL draft after the season. Falk told The Spokesman-Review that he has not yet made a decision but "if I had to make a decision now, I would definitely be staying."
Falk also addressed the report during Washington State's Monday press conference, saying "I don't know where the sources are coming from at all. I have not said anything, nobody in my family has said anything like that. If anybody knows me, I focus one day at a time really just trying to help my team win."
Falk, a junior, was named a semifinalist for the Maxwell Award given to the college football's player of the year. He expressed anger at the report saying, "It's frustrating that someone said something I didn't say. I don't like dishonest people."
Matt Miller, the reporter for Bleacher Report who made the initial report, said that in his opinion Falk would be drafted in the third round if he were to enter the 2017 draft. Miller speculated that the perception is this is particularly weak class of quarterbacks, and that Falk would seek to capitalize on that.
CBS Sports currently ranks Falk as the seventh-best quarterback in its 2018 draft rankings. But many of the quarterbacks CBS ranks ahead of Falk, such as North Carolina's Mitch Trubisky, Clemson's Deshaun Watson and Miami's Brad Kaaya, are likely to enter the draft this spring rather than wait another season.
The redshirt junior ranks No. 2 nationally with 365.8 passing yards per game, eighth in passing touchdowns (24) and his 72.6 completion-percentage is the best of any FBS quarterback.
Coach Mike Leach is always critical of players who let outside influences distract them from their upcoming games and said that Falk is better than most at ignoring such distractions. Still, in the past he has had to come up with special countermeasures to prevent agents and the like from getting access to his players.
"At Texas Tech I had a bounty on agents: $500 for information contributing to the arrest and conviction of an agent, and banned them from our building," Leach said. "It hasn't been a problme here, but if it gets to be a problem I'll probably post a sign on this building and offer a bounty again."
Local journalism is essential.
Give directly to The Spokesman-Review's Northwest Passages community forums series -- which helps to offset the costs of several reporter and editor positions at the newspaper -- by using the easy options below. Gifts processed in this system are not tax deductible, but are predominately used to help meet the local financial requirements needed to receive national matching-grant funds.
Subscribe to the sports newsletter
Get the day's top sports headlines and breaking news delivered to your inbox by subscribing here.
---