Sports
Blanchette: Colton's Josh Straughan overcame obstacles to be D-I QB
Tue., Sept. 13, 2016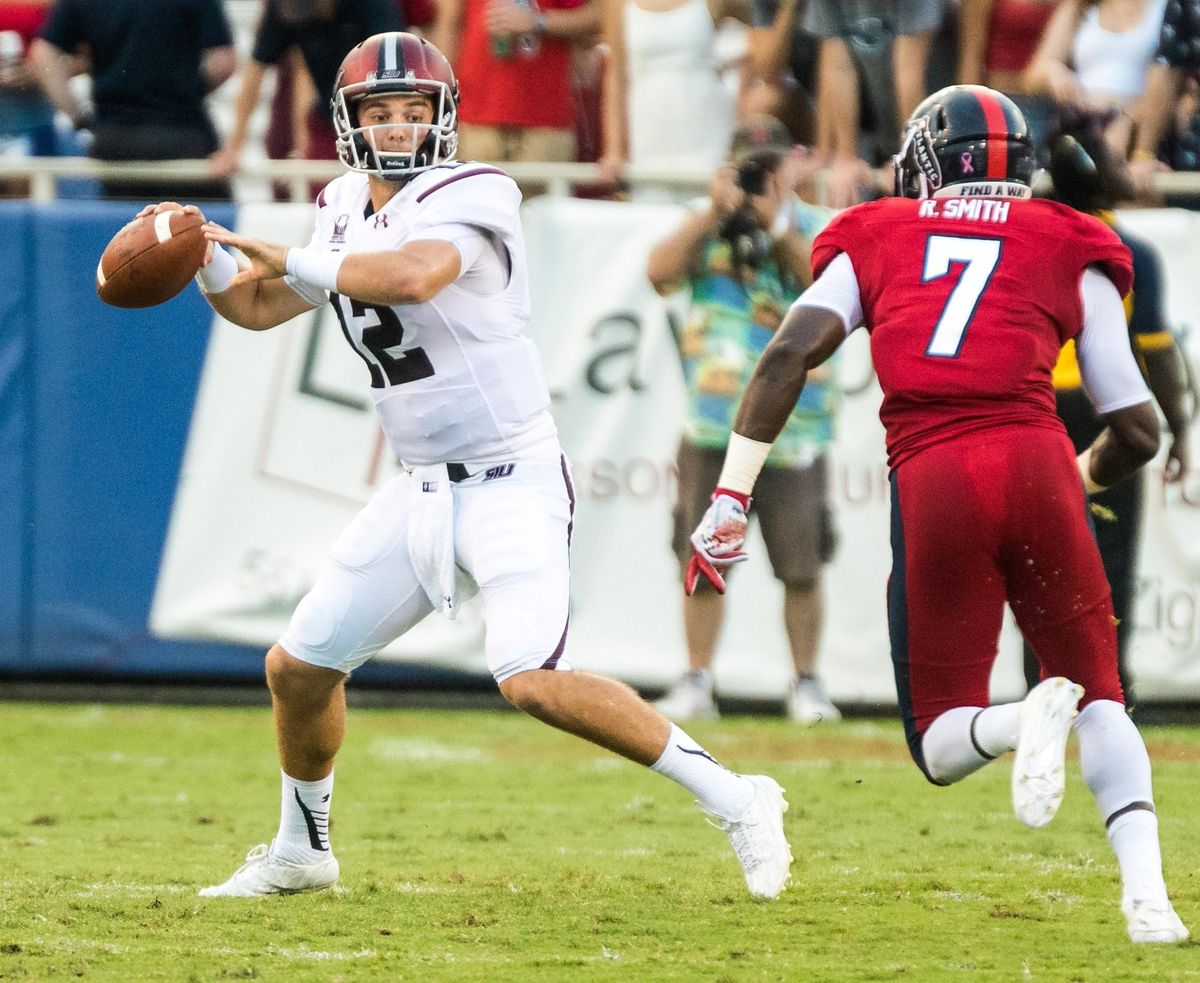 Southern Illinois quarterback Josh Straughan has had an unsual ride through his college football career. (Courtesy of Southern Illinois University / Courtesy of Southern Illinois University)
When Josh Straughan talks about his football odyssey being on the road less traveled, he's not kidding. Makes the sleepy state highway that runs past his old high school look like the China 110.
Let's review the AAA Trip Tik:
– Quarterbacking his 8-man football team in Colton.
– Accepting a full ride to Stillman College, an NCAA Division II school in Tuscaloosa, Ala., and one of America's 100-plus historically black colleges and universities.
– Sprinting off the bench in the fourth quarter of his first college game to pass the Tigers out of a two-touchdown deficit and into a victory.
– Without a scholarship or a team on Christmas 2015.
– Throwing for 265 yards in leading Southern Illinois to a 30-22 victory over Southeast Missouri, his first victory as a Division I quarterback.
There was a broken collarbone and labrum surgery and other zigzags along the way, too.
"That was just my journey," Straughan said. "It was just a little different than most."
Maybe he could come up with more big-picture appraisals, except he has Murray State coming up on Saturday and after that a run through the Missouri Valley Conference, the best – apologies to the Big Sky – FCS league in the land. Too busy to see his story for what it is: a subtle inspiration, at least, for all the 165-pound wonders whose communities barely show up on Google Maps, much less a college recruiter's itinerary.
Now, the fact is, Straughan was nobody's secret, even if he came from a town with no hat size. This wasn't due to his stats – more than 10,000 yards passing and 114 touchdowns at Colton High School – but the fact that his family got him to nearly every football camp between Cape Flattery and Cape Cod.
Where, inevitably, he was identified as "the 8-man kid."
"A lot of big-time places talked to me," Straughan reported. "Places in the Big 12, even Notre Dame."
But the talk always ended with the words "preferred walk-on" – and Straughan decided, "That meant a lot of money. And the big thing was, I wanted to play."
So in sifting through the other possibilities, he settled on Stillman, in the football shadow of the University of Alabama and in many social respects a moonshot-and-back from Whitman County. Yes, things have surely evolved from the days that spawned a movie like "Grambling's White Tiger," but not all of the awkwardness has gone away when a rural whitebread kid shows up in an HBCU locker room – or when a rare minority athlete arrives at an overwhelmingly white school.
"I'm sure some of the Stillman guys are thinking, 'He's the kicker – white guys are kickers,' " said Straughan's father, Gene. "But you know how it works in sports – what matters is how you can play."
And Straughan answered that question early. In Stillman's 2012 season opener at Central State with the Tigers trailing 20-7, Straughan threw for 143 yards and three TDs in fourth-quarter relief. At game's end, the Tigers had won 28-27 and he was handed a trophy for being MVP of the Dayton Classic.
Eight-man football seemed very far away.
In three years as a starter, Straughan would throw for 5,470 yards and 53 touchdowns "and get a chance to meet people and deal with things and make friends I'll have for the rest of my life." There were also grits ("I'd never seen a grit before," he said, sounding very "My Cousin Vinny"). But the labrum surgery forced a redshirt year, and early graduation allowed him to assess his options and D-I dreams as a graduate transfer – and then Stillman dropped its program anyway.
Back in the recruiting tumbler, Straughan picked Austin Peay – only to see the football staff fired and his scholarship offer yanked on Christmas eve. Out went texts and Facebook feelers to 50-some coaches. On Christmas, SIU coach Nick Hill called to say he was interested.
And on the first week of the season, he justified that interest with a 367-yard, no-turnover performance in a 38-30 season-opening loss to FBS member Florida Atlantic.
"It's been a dream to play Division I and here I am," Straughan said, "but if you make it bigger than it is, it'll overwhelm you. And when you lose, you aren't thinking about anything other than what you have to do that week to win."
Now the transitions are behind him – the tighter throws with 11 men on the field, the jump in athleticism, his added physical strength, the social and competitive adjustments.
Back when he was trying to sell big-time programs on his small-stage gifts, a coach put it bluntly: If he could find a quarterback like Straughan with 11-man experience, why would he take the 8-man version?
"He just never accepted that," said Gene Straughan.
Not just the road less traveled, but a rare traveler.
Local journalism is essential.
Give directly to The Spokesman-Review's Northwest Passages community forums series -- which helps to offset the costs of several reporter and editor positions at the newspaper -- by using the easy options below. Gifts processed in this system are not tax deductible, but are predominately used to help meet the local financial requirements needed to receive national matching-grant funds.
Subscribe to the sports newsletter
Get the day's top sports headlines and breaking news delivered to your inbox by subscribing here.
---