News > Spokane
Ozzie Knezovich blasts Matt Shea podcast that links sheriff's office to triple murder
Sun., Sept. 18, 2016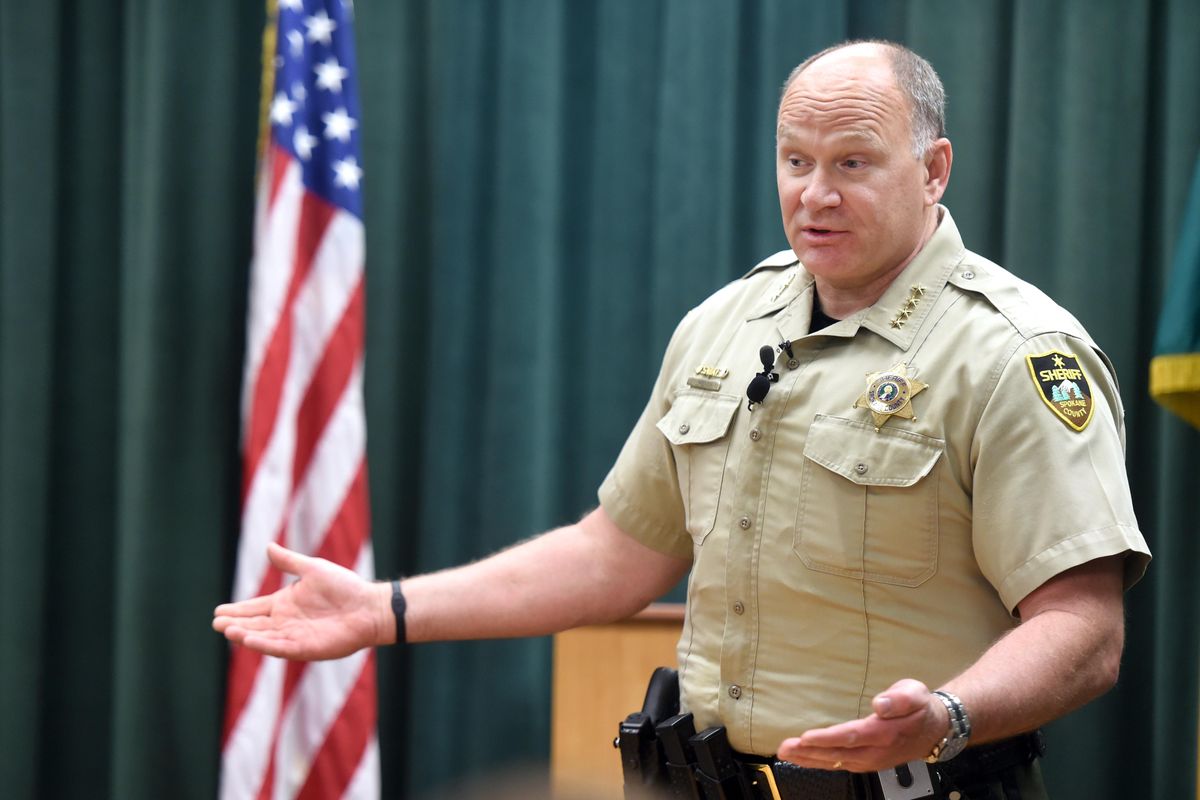 Knezovich (Jesse Tinsley / The Spokesman-Review)
A state legislator's claim that a fiery triple homicide north of Spokane is connected to the Spokane County Sheriff's Office drew a furious rebuke and threat of political payback by Sheriff Ozzie Knezovich.
Rep. Matt Shea's assertions – based on rumors and writings by critics of the sheriff – prompted Knezovich to call on fellow GOP officials and political hopefuls to disavow the controversial Shea or he will yank his election endorsements.
Shea represents Spokane Valley in the state Legislature and is a favorite of the tea party and far-right-leaning groups. He jumped into the national fray on issues including support for the ill-fated occupation of the Malheur Wildlife Refuge in Oregon. The establishment wing of the GOP has failed in attempts to unseat him.
Knezovich has strong support among the different Republican factions splitting the party and has cruised to re-election twice, retaining widespread support of more centrist Republicans.
The two have sparred for years, but Shea's latest salvo, linking Knezovich and Spokane County sheriff's Deputy Travis Pendell to murder suspect Roy Murry, has been met with outrage.
"This is the most egregious thing Shea has ever done," Knezovich said. "I would like to know how long the Republican Party is going to tolerate Shea's actions."
Knezovich said Tuesday that Shea's allegations, made in his podcast, are untrue and just the latest in a series of attacks.
Here's an excerpt from Shea's Aug. 16 podcast:
"Roy Murry was arrested for a triple homicide – that triple homicide occurred in north Spokane. Now, that investigation has been going on for a while. There were rumors that Roy Murry was somehow connected to Ozzie Knezovich and the Sheriff's Department. Well, it was reported by a source that Deputy Travis Pendell, when they ran the firearm that Roy Murry had, that firearm came back to Deputy Travis Pendell, who has a federal firearms license and is now the subject of an investigation because apparently when asked where the gun was he didn't know, and he didn't know how it got where it got.
"That is unbelievable, folks. Somebody that's in jail right now charged with a triple homicide, the gun traces back to a sheriff's deputy and substantiating at least some of the rumors anyway that there is a connection between Ozzie Knezovich, the Sheriff's Department and Roy Murry. So we are going to continue to follow this as the facts come out on it, but my goodness, I mean, an investigation is the least that needs to be done there – there needs to be some serious review. Um. Yikes."
Shea uploaded the podcast the day after Scott Maclay, who runs the "Dump Ozzie" and "The Rattlesnakes Motorcycle Club" Facebook pages, posted the same allegations on Facebook:
"Sources close to the Rattlesnakes have reported that Lt. Terry Canfield, his wife, and a third person were murdered at the Canfield home by a handgun provided by Deputy Pendell … The weapon was last registered to Deputy Pendell, before being transferred into the hands of murder suspect Roy Murry."
Knezovich called Maclay's statement "a blatant lie" and said the weapon used to kill Terry Canfield, Lisa Canfield and John Constable has not been found. The bodies were recovered from a house that was set on fire right after the killings.
"Pendell never had a federal firearms license," Knezovich said. "He is not under federal investigation."
It is true, however, that Murry and Pendell knew each other.
They met when Murry was a Sheriff's Office volunteer for one month in the spring of 2010. Murry later gave some weapons to Pendell because a court order prevented him from owning firearms.
"There were weapons transferred between Roy and I through a local gun dealer," Pendell said. "But we followed the rules. All the paperwork was done."
"If Shea knows where the murder weapon is, he's welcome to hand it in," Knezovich said. "That sure would make life easier for our detectives."
Pendell said he ended Murry's volunteerism with the SCOPE program because Murry brought a gun into the Spokane Public Safety Building.
"He violated our policy and I had to let him go," Pendell said.
Maclay emailed the same allegations he posted on Facebook and that Shea used in his podcast to the Medical Lake School District, where Pendell works as a school resource officer.
Pendell said he was stunned. He has never met Maclay and had never heard of the murder allegations connecting his years-old dealings with Murry.
"I've been with the school district for two years," Pendell said. "We've done a great job there. I can't really say anything else."
Timothy Ames, the Medical Lake school superintendent, said the school district viewed the email seriously and addressed Maclay's allegations with the Sheriff's Office.
Maclay, who sought appointment to the Spokane Valley City Council this year, did not return requests for comments regarding his statements about Pendell or his other Facebook posts.
Shea, who's running for re-election in Spokane Valley's 4th Legislative District, did not return calls nor answer an email asking for comments regarding his podcast and claims about Pendell and Knezovich.
On Wednesday evening, however, Shea seemed to back away from linking Pendell to Murry. He wrote on Facebook: "Deputy Pendell is completely innocent of doing anything other than being there and doing the right thing."
In the same Facebook post, Shea denies having a close relationship with Murry and goes on to speculate that Knezovich is the one who has direct political ties to the murder suspect.
Yet Knezovich said it was Shea who once was very close to Murry.
In 2011 Shea, already a state representative, as well as Jeff Baxter and Murry, were selected by the county Republican Party to be finalists for a state Senate seat left open after Bob McCaslin resigned as a result of failing health. Critics of the process alleged that party members rigged the process by selecting two mostly unknown or unqualified candidates and Shea so the Spokane County Commission would be more likely to choose Shea.
Even so, county commissioners picked Baxter over Shea and Murry.
Knezovich said Shea introduced him to Murry during the selection process.
"Shea built a slate consisting of himself, Baxter and Murry and made sure he had enough (precinct committee officers) at the meeting that it would pass," Knezovich said. "There was no question Murry was a close associate of Shea's."
Knezovich said he attempted to stop the commissioners from choosing among the slate of candidates to replace McCaslin because Murry had multiple contacts with police.
"I didn't feel like (Murry) should be on a list of people the county commissioners should pick from," Knezovich said.
Knezovich said he would like to have a public town hall meeting to challenge Shea and the allegations surrounding the ties to murder suspect Murry.
Shea, however, has not returned his calls.
"Shea and Maclay are in this together," Knezovich said. "This is an orchestrated attempt on their behalf to tear down the Sheriff's Office."
Local journalism is essential.
Give directly to The Spokesman-Review's Northwest Passages community forums series -- which helps to offset the costs of several reporter and editor positions at the newspaper -- by using the easy options below. Gifts processed in this system are not tax deductible, but are predominately used to help meet the local financial requirements needed to receive national matching-grant funds.
Subscribe now to get breaking news alerts in your email inbox
Get breaking news delivered to your inbox as it happens.
---