News > Spokane
Conservation Futures program buys land, Spokane River shoreline from the Sisters of the Holy Names
April 21, 2017 Updated Fri., April 21, 2017 at 10:14 p.m.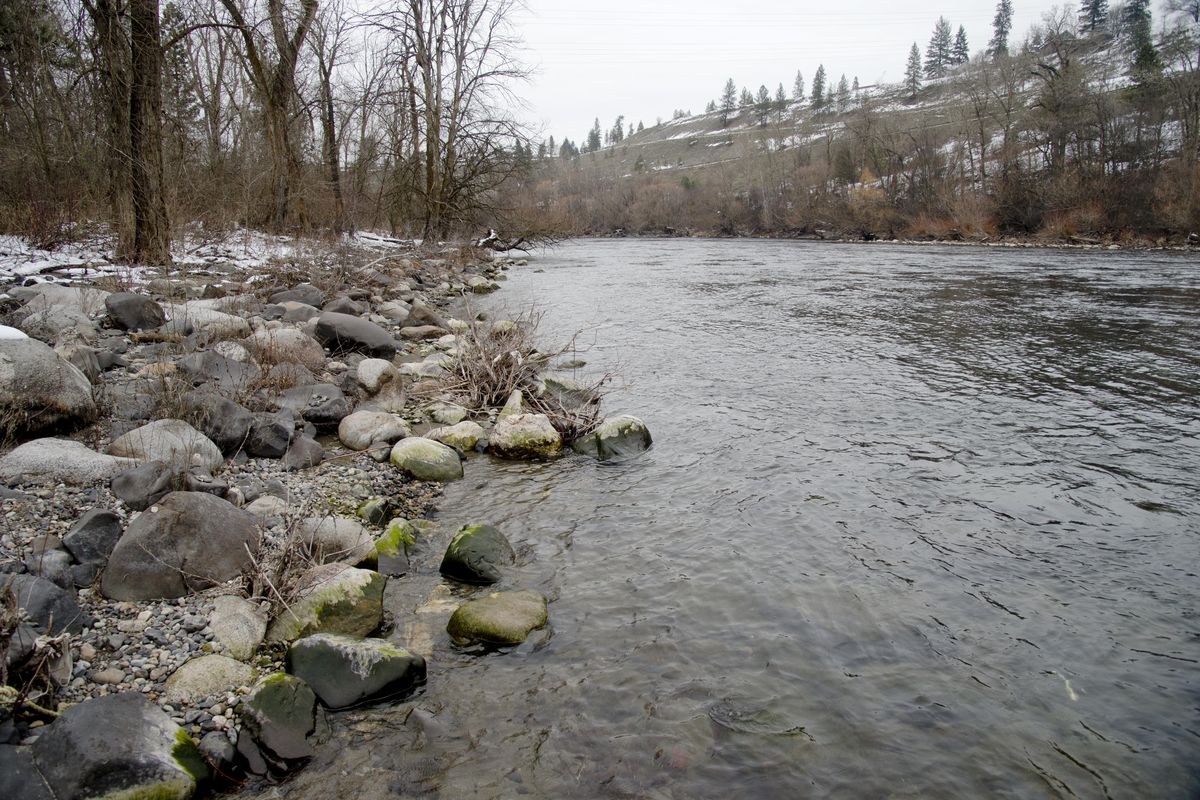 Conservation Futures money will be used to preserve this mostly forested bank of the Spokane River across from Pettet Drive, shown in January 2016. (Jesse Tinsley / The Spokesman-Review)
The purchase of land on Fort George Wright Drive, including 4,500 feet of Spokane River frontage, from the Sisters of the Holy Names of Jesus and Mary is complete.
The city of Spokane will manage the land, which was purchased with $2.65 million from the Spokane County Conservation Futures Program. The Spokane County commissioners voted last year to make the purchase of the property their top priority.
Sister Kathleen Hilton said she and her fellow nuns wanted to keep the undeveloped land preserved and available to the Spokane community.
"We are grateful that the Spokane River frontage and the surrounding lands will be preserved and protected for generations to come," she said.
The Conservation Futures project is funded by a small property tax levy approved by voters that collects $1.8 million a year to buy land to be protected from development. It's not unusual for Conservation Futures land to be managed by another jurisdiction, such as the city of Spokane, said Doug Chase, Spokane County parks, recreation and golf director.
There is already an informal trail on the land that will continue to be used and the city has plans to put in a small parking lot and add more trails, said Paul Knowles, Spokane County park planner.
"A deed restriction was recorded that ensures that the property will be managed in accordance with Conservation Futures (rules)," Knowles said.
The property must be left in its natural condition, with the exception of trails and parking. Two-thirds of the 31 acres is inside the shoreline buffer and could not have been developed, but the remaining third of the property is zoned high density residential, Knowles said.
No funding has been identified for trail and parking improvements and the city is still considering what to do with the property, said Fianna Dickson, Spokane Parks and Recreation Department spokeswoman. But in the future, any new trails could connect to Riverside State Park and the Centennial Trail.
"That was one of the key reasons why this property was so appealing," she said.
There have also been discussions about putting in an ADA-accessible fishing access area, which does not exist on the river, Dickson said. "It wasn't something that was in our inventory and it sparked some interest," she said.
Spokane County and the city of Spokane have been jointly applying for grants to help pay for the property, Chase said. Their application is ranked No. 1 for a $1 million Washington Wildlife and Recreation Program Water Access grant and is ranked No. 2 for a $1 million Aquatic Lands Enhancement Account grant.
Any grant money received would be used to reimburse the Conservation Futures program, which would allow the program to purchase additional property to be protected from development, Chase said.
Last fall, the Sisters of the Holy Names sold an additional 34 acres, which included a convent and administration building, to Catholic Charities. The organization has used the property to launch a new social services program called Rising Strong that works to reduce the number of children removed from their homes by Child Protective Services. Affordable housing units are also planned for the land.
Money from the sale will be used to care for and house the remaining sisters and continue the order's work of education, pastoral services and social service outreach.
Local journalism is essential.
Give directly to The Spokesman-Review's Northwest Passages community forums series -- which helps to offset the costs of several reporter and editor positions at the newspaper -- by using the easy options below. Gifts processed in this system are not tax deductible, but are predominately used to help meet the local financial requirements needed to receive national matching-grant funds.
Subscribe now to get breaking news alerts in your email inbox
Get breaking news delivered to your inbox as it happens.
---