News > Business
Dirty jeans, not dirt cheap
April 25, 2017 Updated Tue., April 25, 2017 at 8:43 p.m.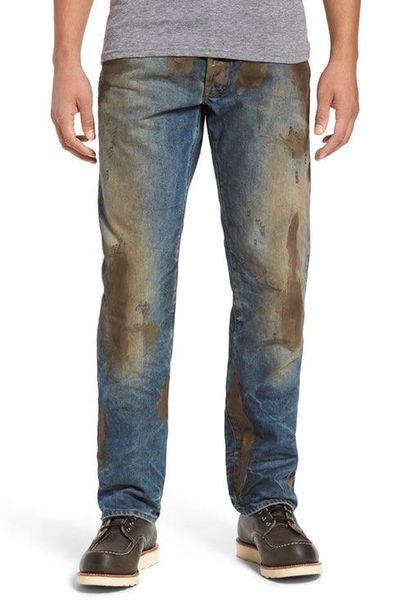 Perhaps you should hold off washing your dirty jeans this weekend. That grubby look is in, according to the style wizards at Nordstrom and other fashion houses.
The Seattle-based retailer is offering muddy-looking, "heavily distressed" Barracuda Straight Leg Jeans online – for $425. (That's $425 per pair, buckaroo, not truckload.)
The all-cotton, medium-blue jeans "embody rugged, Americana workwear that's seen some hard-working action with a crackled, caked-on muddy coating that shows you're not afraid to get down and dirty."
Or you could do a little yardwork and car repair and achieve the same look, but then what would you blow this month's food budget on?
Nordstrom, Neiman Marcus and Saks Fifth Avenue have been selling the filthy-looking fashion for some time now. But Twitter blew up over it this week after ubiquitous TV narrator Mike Rowe, host of "Dirty Jobs," took note on his blog:
"I offer further proof that our country's war on work continues to rage in all corners of polite society," Rowe wrote Monday. "Behold the latest assault from Nordstrom's. … Finally – a pair of jeans that look like they have been worn by someone with a dirty job…made for people who don't."
Manufacturer PRPS also makes paint-splattered, ripped dungarees. One pair is named Destroyed.
Rowe vented, "I saw a pair of jeans at Macy's the other day that looked like they'd been bathed in boric acid, hung up and shot multiple times with a 12-gauge, and then pounded on a rock down by the river. They too, were on sale, for $249."
And how does one care for customized dirty jeans that make you look like you've spent the better part of the day under a house?
"Machine wash cold, line dry," advises Nordstrom.
Local journalism is essential.
Give directly to The Spokesman-Review's Northwest Passages community forums series -- which helps to offset the costs of several reporter and editor positions at the newspaper -- by using the easy options below. Gifts processed in this system are not tax deductible, but are predominately used to help meet the local financial requirements needed to receive national matching-grant funds.
Subscribe now to get breaking news alerts in your email inbox
Get breaking news delivered to your inbox as it happens.
---