Sports > WSU football
Washington State fall camp: four observations from Day 1
UPDATED: Wed., Aug. 2, 2017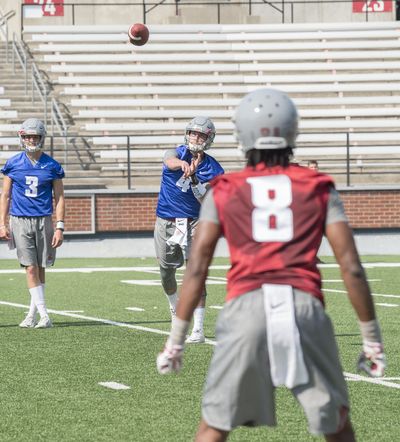 PULLMAN – A mess of crimson and white jerseys pushing sleds, running routes and chasing athletic trainers for a swig of water? Yep, fall camp is upon us.
The Cougars held their first official team workout of the 2017 season on Wednesday afternoon at Martin Stadium, which will also host Thursday's session before the team crams into yellow school buses and makes the 35-mile haul down to Lewiston's Sacajawea Junior High.
Players were asked about the stay in Lewiston – what excites them about this annual pilgrimage to Idaho?
"Not the heat – I can tell you that much –or the smell," linebacker Peyton Pelluer joked. "I like the grass fields. It's a little cooler than the turf field. It's just fun being down there and all your guys are there and all you're doing is playing ball."
The trip to Lewiston comes two days later this year because Cougar camp is starting two days earlier. If you missed the reason for that, Mike Leach delivered a 430-word diatribe on the topic during Monday's teleconference:
And now that you're done with that, below are a few observations from Wednesday's practice in Pullman:
No 9? No 21? No problem
Wide receiver Tavares Martin Jr. has heard the question one too many times: "How do you guys go about replacing a Gabe Marks or a River Cracraft?"
Prepped as if he knew he'd get it again, Martin shot back Wednesday when asked about life without No. 9 or No. 21.
"I don't know what you want me to tell you all, it's not like they can stay here for 20 years," he said. "I miss them, but I know I can't dwell on it. I've got like six other guys I have to focus on."
The Cougars do lose the top receiver tandem in school history – and Martin will surely be reminded of that fact at least once more before the year's over – but they also return a handful of long, speedy weapons capable of winning 50/50 balls and leaving defenders in their tracks.
Of that crew, Martin's most likely to win a 40-yard dash, but Isaiah Johnson-Mack, Robert Lewis, Kyle Sweet, C.J. Dimry and Dezmon Patmon all showed good burst on Wednesday.
One of the more impressive plays came when Johnson-Mack got a step on Darrien Molton while running a fade to the back of the end zone. Johnson-Mack cradled in the pass with a step to spare before flailing out of the end zone. Dimry also took a high ball out of the air in traffic for a touchdown and Patmon (see more on Dez below) spent much of the afternoon out-muscling smaller DBs for rights to the football.
"I just feel like the sky's the limit," Martin said of the receivers.
Promising debut for Patmon
The 6-foot-4, 212-pound sophomore had one of the best spring campaigns of any Cougar, and Patmon made another statement – rather, a handful of them – Wednesday afternoon during skeleton and team drills.
Not including Dimry, Patmon has the best size of any pass-catcher on the Cougar roster – and his raw ability isn't bad either. But the San Diego native rounded out his skillset this offseason by adding speed to supplement his supremely wide frame.
"(Strength) coach (Jason) Loscalzo has us dong squat cleans every day," Patmon said. "So if you don't get faster, you're kind of doing something wrong. They kind of put you in every position to get faster and stronger."
Outside receivers coach Dave Nichol said Patmon's strengthened a trait maybe less visible to the naked eye: confidence.
"Just doing it a lot, right?" Nichols said. "Once you get a couple semesters in, you feel better about what you're doing and with that comes confidence, with that comes more catches. Hopefully."
Falk gets his feet moving
Where can a quarterback who rolled up some 4,500 yards with his arm get better? On his feet.
"Footwork" is perhaps the answer you get from 95% of QBs when asked where they can grow and Luke Falk, the decorated Cougar senior, certainly isn't exempt.
Falk, and the other four WSU quarterbacks in attendance on day one, spent much of the practice sectioned off in a small corner of the southeast end zone running their feet through cones, pylons and other props.
"I think all of them can improve on footwork and I think it's a constant maintenance item," WSU coach Mike Leach said. "And I think it's something that never goes away because everybody's got to fight and resist that temptation to give in and be lazy and footwork a lot of times is where that starts, so I think you have to constantly reinforce and push that."
Cornered
The Cougar defensive backs were mostly chasing their offensive counterparts from behind, but corners Darrien Molton and Marcellus Pippins provided a steady presence in the defensive backfield, and probably emerged as WSU's defensive MVPs when it was all said and done.
Molton made an especially nice play on a deep lob to Johnson-Mack, throwing his body in front of the bigger receiver to knock the ball away. He and Pippins seem to be the clear-cut favorites at either corner position, while Jalen Thompson and Robert Taylor saw the most action at safety when the No. 1 defense was on the field.
Local journalism is essential.
Give directly to The Spokesman-Review's Northwest Passages community forums series -- which helps to offset the costs of several reporter and editor positions at the newspaper -- by using the easy options below. Gifts processed in this system are not tax deductible, but are predominately used to help meet the local financial requirements needed to receive national matching-grant funds.
Subscribe to the Cougs newsletter
Get the latest Cougs headlines delivered to your inbox as they happen.
---