Sports > Gonzaga basketball
Updates and highlights: No. 15 Gonzaga uses huge second-half surge to top No. 25 Creighton 91-74
Dec. 1, 2017 Updated Fri., Dec. 1, 2017 at 9:15 p.m.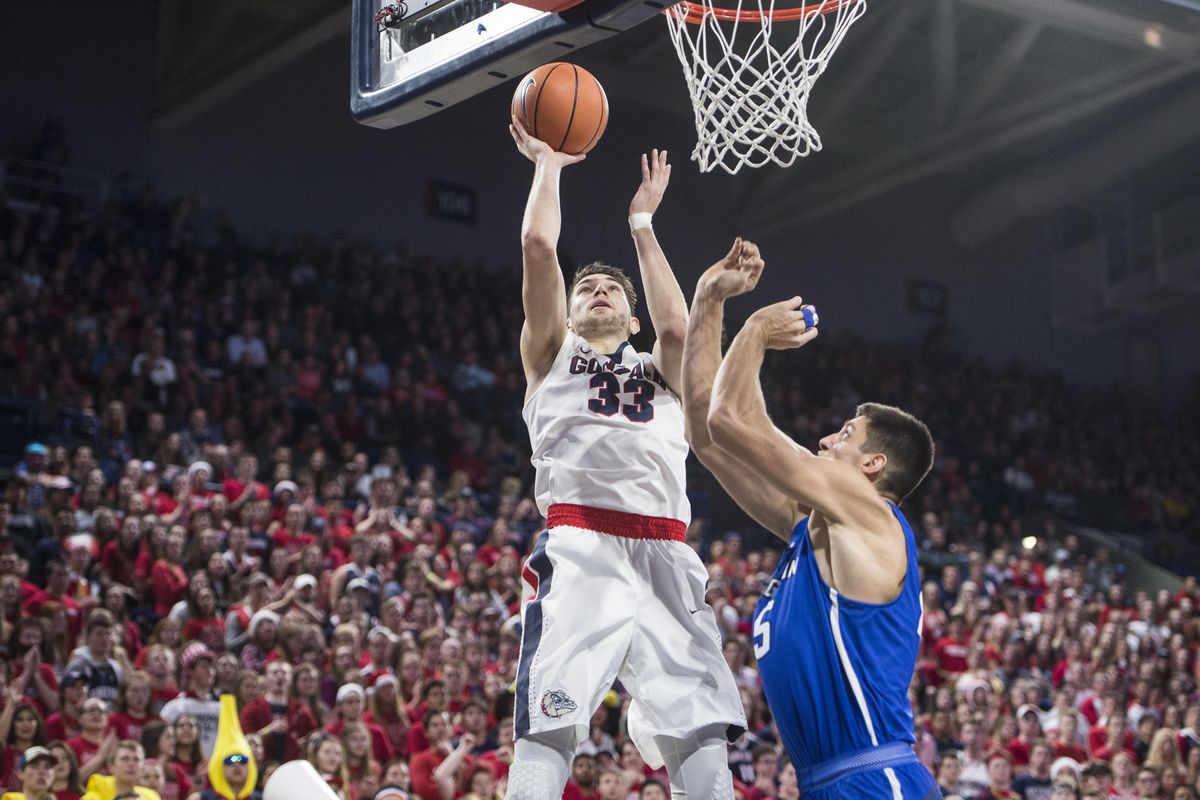 Gonzaga forward Killian Tillie shoots over Creighton forward Martin Krampelj , Friday, Dec. 1, 2017, in the McCarthey Athletic Center. (Dan Pelle / The Spokesman-Review)
Killian Tillie scored a career-high 22 points and No. 15 Gonzaga used a massive second-half surge to overcome 25th-ranked Creighton 91-74 Friday at the McCarthey Athletic Center.
Zach Norvell Jr. and Silas Melson also finished with new career highs in points, both scoring 21.
As hot as they finished, the Bulldogs (7-1) came out of the gates a step slower than the fast-paced Bluejays (5-2). Creighton used its speed to build a 44-37 halftime lead, while keeping Gonzaga off balance offensively.
Norvell Jr., who got his first start of the season due to an ankle injury to Corey Kispert, struggled in the first half while failing to score.
The freshman from Chicago wouldn't stay quiet for long though, hitting three early 3-pointers to open the second half.
Johnathan Williams also scored in double figures for Gonzaga, finishing with 15 points.
Much like Norvell, Tillie showed his ability to score from all over the floor. The sophomore forward knocked down a pair of 3-pointers and went 9 of 15 from the field, while grabbing a team-best eight rebounds.
Gonzaga outscored the Bluejays 54-30 in the second half while shooting well over 60 percent.
Marcus Foster led Creighton with 21 points.
The Bulldogs will now head across the country to face No. 4 Villanova at 4 p.m. Tuesday at Madison Square Garden in New York.
Second half
Final – Gonzaga 91, Creighton 74: Outstanding second-half response from Gonzaga. After trailing Creighton 44-37 at the break, Gonzaga outscored the Bluejays 54-30 over the final 20 minutes.
Gonzaga also shot 64 percent in the second half.
2:41 – Gonzaga 89, Creighton 71: Zach Norvell Jr. is making the most of his starting oportunity. He's now up to 21 points, doing it on the drive and from deep. No question he has been the spark this half for Gonzaga.
A Tillie 3-pointer has turned this one on its head. All Zags in a dominant half.
4:31 – Gonzaga 81, Creighton 71: Gonzaga's impressive half can be best described by a massive one-handed slam from Tillie, who is now up to 19 points along with Melson.
Bulldogs doing it from deep as well, shooting 50 percent from 3-point range in this one and 52 percent from the floor.
Tillie also closing in on a double-double, as the sophomore has pulled down eight rebounds.
Norvell is up to a career-high 18 points, including four second-half 3-pointers in this half.
Perkins is the only Gonzaga player not in double figures, sitting at four points – all of which have come from the free throw line.
7:26 – Gonzaga 69, Creighton 63: Creighton sticking around by hitting some 3-pointers, but Gonzaga still in control.
Gonzaga has extended its rebounding advantage to 29-21, while both teams are shooting 52.1 percent.
Rui Hachimura has started to make an impact on the game in the later minutes following up a big block with a power layup on the other end.
11:32 – Gonzaga 63, Creighton 53: Completely different Gonzaga team this half, and Silas Melson is leading the charge. He's now up to 19 points as the Zags have shut down the Creighton offense.
Second-half run has been sparked by the defense along with Norvell getting to the bucket – something the Bulldogs weren't doing at all to start the game.
Gonzaga has also forced 13 Creighton turnovers and have really started to do a better job on the boards, outrebounding the Bluejays23-21 now.
Other leading scorers for Gonzaga are Tillie (13), Williams (12) and Norvell Jr. (12).
Bulldogs outscoring Creighton 26-9 this half.
15:59 – Gonzaga 49, Creighton 46: Bulldogs have put the defensive clamps on to start the second half, as Creighton has struggled to get in any sort of flow on offense.
Gonzaga on a 12-2 run after the break, including a pair of nifty drives from Norvell Jr., who was held scoreless in the first half.
Johnathan Williams has also come to life including an alley-oop and an and-one layup before the media timeout. He's now up to 11 points along with Killian Tillie for the Bulldogs.
First half
Halftime – Creighton 44, Gonzaga 37: Lack of scoring depth hurting the Zags in the opening half.
Creighton was on fire on the offensive end as well, shooting nearly 60 percent from the field, while piling up 13 assists on 18 makes.
Bluejays also shooting 54 percent from 3-point range.
Silas Melson keeping Gonzaga in this one with 16 points on a perfect 5-of-5 shooting.
Rebounding and turnovers totals nearly even in that half. Gonzaga also hurt by Josh Perkins' two first-half fouls which kept him off the floor near the end of the opening 20 minutes.
2:24 – Creighton 39, Gonzaga 37: Bluejays starting to shoot Gonzaga out of the zone it used so well in last weekend's PK80 Invitational. Creighton has made four of its last five from deep and are shooting 54 percent from range.
Melson is the first Gonzaga player into double figures, making all five of his shots for 16 points. Norvell Jr. is the only starter yet to score.
Foster is also into double figures for Creighton at 13 points.
After starting the season on a torrid pace, Perkins has hit a bump in this one. Three turnovers and two fouls has the Zags guard on the bench.
7:14 – Creighton 28, Gonzaga 22: Gonzaga starting to slow Creighton down on offense, forcing five turnovers.
The Zags' big men are also starting to establish themselves as Tillie is now up to nine points on 4-6 shooting.
Key to this one will be getting the Bluejays off the break and making them play in the halfcourt. Creighton likes to play quick.
Back-to-back 3-pointers by Creighton keeps the Bluejays in front though after Gonzaga tied the game at 22.
Melson is also finding his scoring touch with six points, including a strong finish at the rim while getting fouled.
11:54 – Creighton 16 Gonzaga 12: Creighton doing a good job on the defensive end keeping the Gonzaga bigs out of the paint, along with double-teaming off screens. A Melson 3-pointer finally gets things going in the right direction for the Zags.
The Bluejays are starting to settle for 3-pointers on the other end, but are starting to cool off.
15:54 – Creighton 11, Gonzaga 5: Blistering pace to start here between the Bulldogs and Bluejays. Killian Tillie with five points to lead all scorers, while Marcus Foster and Martin Krampelj have four apiece for Creighton.
Gonzaga struggling to slow down the Bluejays in transition and on the boards (7-2 in favor of the visitors).
Gonzaga also shooting just 25 percent from the field compared to 63 percent for Creighton.
Both Zach Norvell Jr. and Johnathan Williams are 0-2 from the field, while Silas Melson and Josh Perkins have yet to take a shot.
Gonzaga announces starting five
Gonzaga's Corey Kispert sidelined vs. Creighton by ankle injury
Gonzaga will be without starting wing Corey Kispert for Friday's showdown against Creighton at the McCarthey Athetic Center.
Kispert is sidelined with the sprained left ankle he suffered late in the first half of Wednesday's 103-68 win over Incarnate Word. | READ MORE »
Rui Hachimura stepping up in a big way for Gonzaga early on
Make way – here comes Rui Hachimura.
The Gonzaga forward didn't have a say in the majority of Gonzaga's wins last season, but this year, the sophomore has stepped into a significant supporting role inside for the Zags. Hachimura has been racking up stats in Gonzaga's first seven games that are topping the West Coast Conference. | READ MORE »
Backcourts on display in Gonzaga-Creighton clash
The matchups are intriguing at all five positions but the backcourts could hold the biggest key to Friday's winner. Creighton's Marcus Foster and Khyri Thomas combine for nearly 35 points, eight rebounds, five assists and 2.5 steals per game. | READ MORE »
NCAA basketball
At McCarthey Athletic Center, Spokane
➤Friday, Dec. 1: No. 25 Creighton Blue Jays at No. 15 Gonzaga Bulldogs, 7 p.m. PT TV: ESPN2 Online: Watch ESPN
Local journalism is essential.
Give directly to The Spokesman-Review's Northwest Passages community forums series -- which helps to offset the costs of several reporter and editor positions at the newspaper -- by using the easy options below. Gifts processed in this system are not tax deductible, but are predominately used to help meet the local financial requirements needed to receive national matching-grant funds.
Follow along with the Zags
Subscribe to our Gonzaga Basketball newsletter to stay up with the latest news.
---