Analysis: Trio of Gonzaga players have career nights as Bulldogs use second-half push to top Creighton 91-74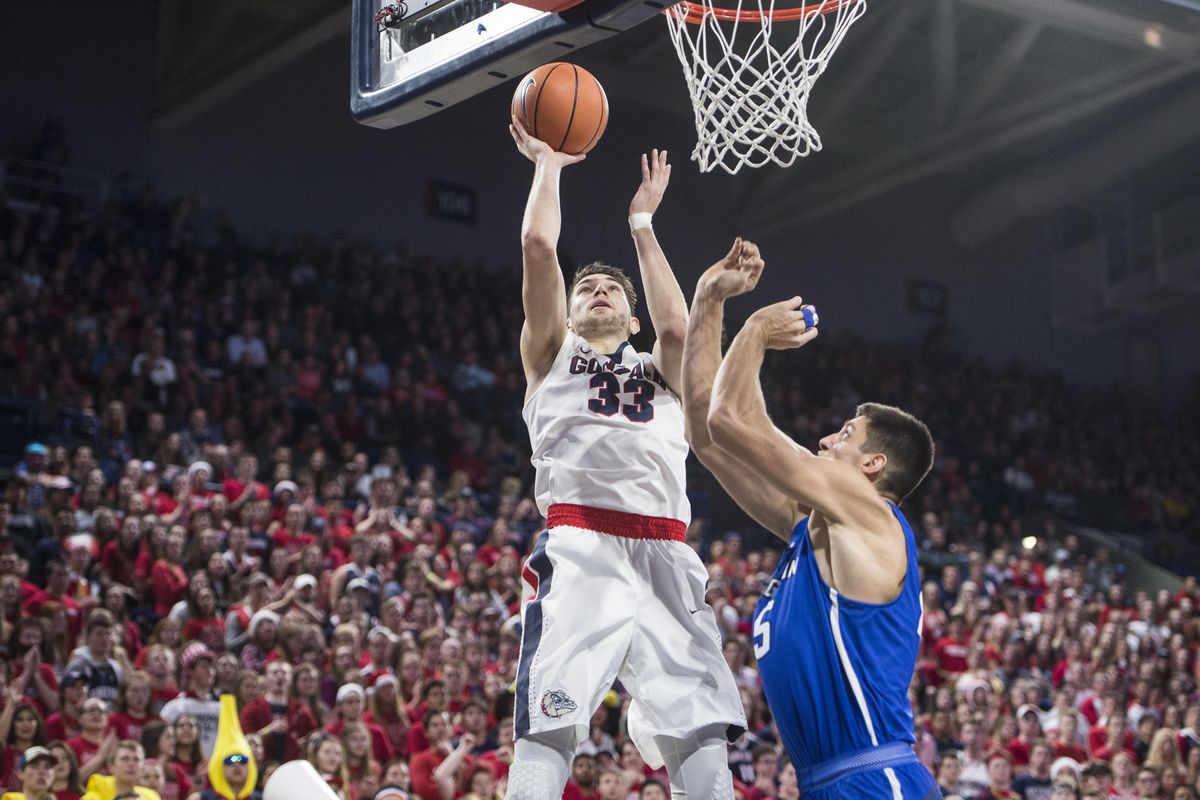 The Zags needed Silas Melson in the first half. They needed Killian Tillie all game.
And they really needed 'Snacks' in the second half.
No, not the orange slices they used to get when they were youngsters playing in a soccer tournament, but Zach 'Snacks' Norvell Jr., who dropped 21 second-half points to help No. 15 Gonzaga pull away from No. 25 Creighton 91-74 in front of a 6,000 noisy fans Friday at the McCarthey Athletic Center.
Norvell, who stepped into the starting lineup for Corey Kispert (ankle) , was practically starving for a basket by early in the second half. He went scoreless in the opening 20 minutes and missed all five of his 3-point attempts.
When his first 3-pointer of the second half missed badly, one had to wonder if it just wasn't the redshirt freshman's night. But then he got a fast-break layup to drop and another hoop on a hard drive to the rim while absorbing contact.
On the bench, coach Mark Few wasn't totally convinced, sending Jeremy Jones to the scorer's table. Norvell missed the free throw, but that was the last thing he missed. The 6-foot-5 wing buried four 3-pointers, grabbed six boards and had two assists.
"The old Adam Morrison trick, missing the free throw," cracked coach Mark Few, meaning that the clock was running so there was no chance to substitute. "Then he got another layup and I pulled Jeremy back because he was rolling."
It was an impressive turnaround by Norvell, who never left the floor in the second half.
"I'm a shooter, so I never try to get down on myself," said Norvell, whose nickname reflected his affinity for sweets as a kid. "I had a lot of guys in my ear telling me to stay positive."
Melson kept listening to his inner voice, despite enduring a tough shooting stretch in Gonzaga's first seven games. He was rewarded with a magical first half – five field goals, three 3-pointers, three free throws, 16 points – that kept Gonzaga (7-1) within range of the offensive-minded Bluejays (5-2).
"The whole last month I was not making as many shots as felt I should," said Melson, who finished with a career-high 21 points and filled in nicely at point guard when Josh Perkins picked up his third foul with 12:34 remaining. "It's just being confident in myself as a player no matter what situation is. I just had to keep that mentality strong."
Creighton, which averages 14 seconds per possession before putting up a shot, seemed to operate even faster in the first half. Guards Marcus Foster and Khyri Thomas hit from distance, off the dribble, on pull-ups and in transition. Post Martin Krampelj burned the Zags with sharp cuts to the rim.
The Bluejays never trailed while building a 44-37 halftime edge.
It seemed like there was an echo in the building as Gonzaga would score on one end and the Bluejays would need about five seconds to connect at the other.
"That was fast," said Tillie, who finished with 22 points, eight rebounds, three assists and three blocks for perhaps his finest stat line as a Zag. "We knew they were a really good transition team. It's a different way of playing. We had to get back on defense really quickly. We had to adapt to them."
The Zags did more than adapt. They changed their ball-screen coverage and limited Creighton's running game. The Bluejays bombed in five more 3-pointers in the closing half, but they only had six two-point field goals.
Gonzaga, meanwhile, shot 62 percent in the final half, led by Norvell's 7-of-8 effort. The Zags took their first lead at 47-46 on a Norvell bucket in the midst of a game-changing 14-0 spurt.
The Bluejays didn't go away, trailing just 69-63, but Tillie had two free throws and a dunk after Norvell hustled down an offensive rebound. Two Norvell 3-pointers bumped GU's lead to 81-68.
The victory over a ranked foe should enhance GU's resume come March.
"Big-time team," Perkins said. "They'll make some noise in the Big East. I'm glad we got that 'W' under our belt."
---