Sports > Gonzaga basketball
Recap and highlights: Mikal Bridges leads No. 4 Villanova past No. 12 Gonzaga
UPDATED: Tue., Dec. 5, 2017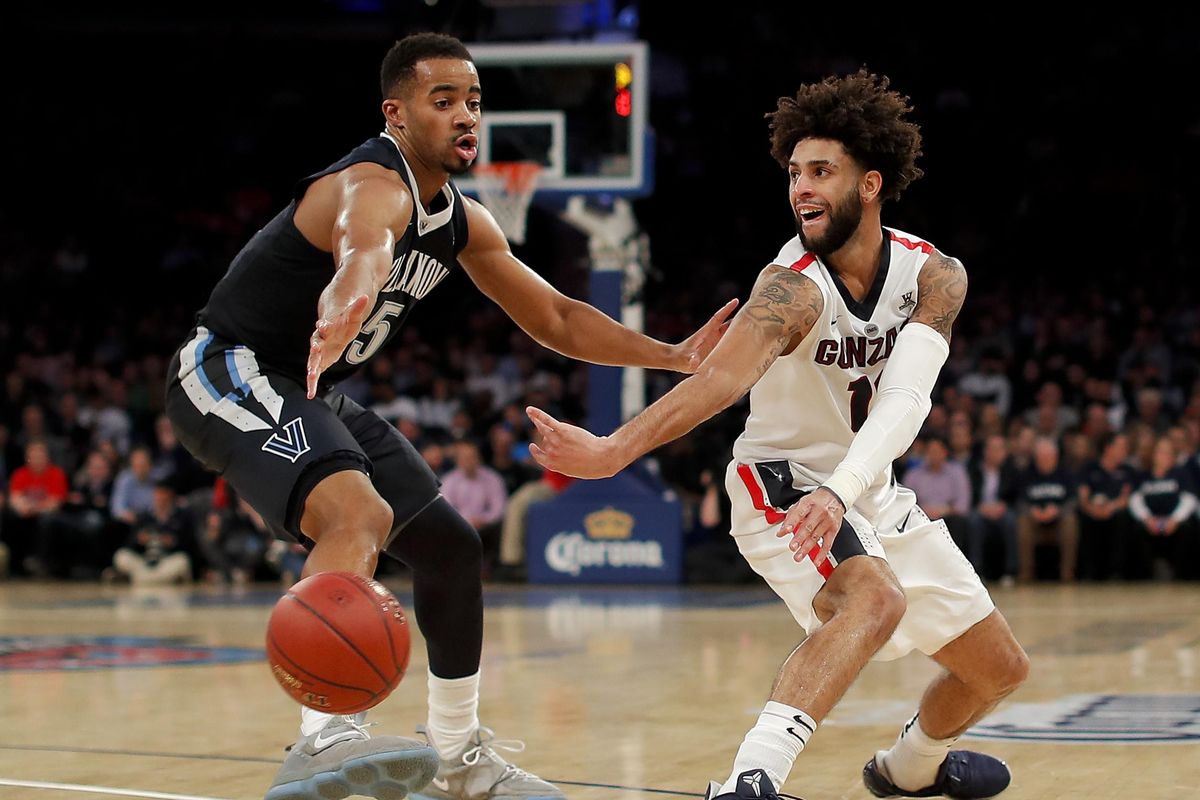 Gonzaga guard Josh Perkins (13) passes the ball against Villanova guard Phil Booth (5) during the first half of an NCAA college basketball game, Tuesday, Dec. 5, 2017, in New York. (Julie Jacobson / Associated Press)
Mikal Bridges scored a game-high 28 points as fourth-ranked Villanova surged past No. 12 Gonzaga 88-72 in the Jimmy V Classic on Tuesday at Madison Square Garden in New York.
As good as Bridges was on offense for the Wildcats (9-0), he played a big role on the defensive side as well, helping force 18 Gonzaga turnovers.
Phil Booth added 20 points for Nova, while Zach Norvell Jr. led the Bulldogs (7-2) with 22 points. Norvell got his second start in a row for the Zags due to freshman Corey Kispert's ankle injury against Incarnate Word last Wednesday.
Kispert did not play for the second straight game.
Both teams finished shooting just above 50 percent from the floor, but the Gonzaga turnovers and Wildcats' 3-point shooting (48 percent) was the difference.
Gonzaga was also hurt by early foul trouble to forward Johnathan Williams, who fouled out with five points. Also fouling out for the Bulldogs was guard Silas Melson, who scored nine points.
Gonzaga will now head to Seattle for a showdown against Washington at 5 p.m. Sunday (Pac-12 Network).
Second half
Final – Villanova 88, Gonzaga 72: Villanova proved why its a top-five team.
Mikal Bridges finished with 28 points, six rebounds and two blocks to lead a very athletic Wildcats team.
Another nice game for Norvell, getting his second start for the injured Kispert. The sophomore finishes with 19 points and four boards.
Nearly flawless game from Villanova.
2:51 – Villanova 81, Gonzaga 67: Bulldogs trying to apply a little pressure in the full court, but Nova is breaking the press easy and getting to the basket.
Booth up to 17 points for the fourth-ranked Wildcats, while Norvell leads Gonzaga with 17.
Both Gonzaga's Williams and Melson have fouled out. Williams finished with five points, while Melson had nine.
Gonzaga has done a great job defending Brunson, who came into the contest averaging 18 points per game. He has just 12 tonight along with four fouls.
7:59 – Villanova 66, Gonzaga 51: Villanova making it a point of getting back into the lane and drawing fouls against the Gonzaga bigs. The Wildcats' free-throw shooting leaves a lot to be desired though (55.6 percent).
Bridges having himself as game, now at 26 points on 8 of 12 shooting.
Josh Perkins joins Norvell and Larsen in double figures at 10 points.
Bulldogs have also done a good job at sharing the ball, racking up 14 assists on 19 made baskets.
11:55 – Villanova 53, Gonzaga 44: Bulldogs keeping pace with Villanova, but still can't find a big run.
Villanova not shooting the ball nearly as well this half, while the Bulldogs have started to limit their turnovers and have cut into the Wildcats' rebounding advantage (21-19).
After injuring his ankle last week against Incarnate Word, freshman wing Corey Kispert has yet to enter the game for Gonzaga.
15:58 – Villanova 47, Gonzaga 37: Gonzaga slowly chipping away the the Villanova lead, as the Wildcats have started relying on the deep ball.
Early concern for the Bulldogs though as Johnathan Williams has picked up his fourth personal foul.
Norvell the first Zag into double figures after his second 3-pointer of the night gives 10 points.
First half
Halftime – Villanova 43, Gonzaga 30: By far the toughest test Gonzaga has faced this season. This Villanova team is long, athletic and can score in a variety of ways.
Turnovers the first-half talking point for Gonzaga, as they finish the opening 20 minutes with 10. Zach Norvell Jr. having another solid showing, leading the Bulldogs with seven points on 3 of 6 shooting. Larsen also has seven points for Gonzaga.
Rebounding advantage also in Nova's favor (17-12).
Bridges and Booth are at 12 and 11 points respectively for the Wildcats.
3:58 – Villanova 32, Gonzaga 22: A Silas Melson 3-pointer breaks a nearly five-minute scoreless streak for the Bulldogs, who are getting overpowered at the moment.
Phil Booth up to eight points for Nova, while Melson's five points leads Gonzaga.
7:13 – Villanova 27, Gonzaga 17: Wildcats making a point of getting to the rim against Gonzaga. Both teams already in the bonus.
Turnovers still an issue for the Zags, who have already committed nine of them – two apiece by Killian Tillie, Johnathan Williams and Rui Hachimura.
Bulldogs do get a nice spark off the bench with Jacob Larsen. The freshman is up to four quick points.
Nice start for Villanova's Mikal Bridges, who is up to a game-high nine points. Wildcats currently on a 10-0 run.
11:54 – Villanova 16, Gonzaga 13: A pair of Gonzaga free throws breaks an 8-0 Nova run, but the Wildcats have started to find their shooting touch inside Madison Square Garden.
Villanova's player of the year candidate, Jalen Brunson, is off to a slow start though. The guard is 1 for 5 from the field with two points.
15:17 – Gonzaga 9, Villanova 9: Gonzaga couldn't have asked for a better start, keeping Villanova off the board for the first three minutes, while finding plenty of success on offense.
The Wildcats got on a nice run near the first media timeout, capped with a Omari Spellman 3-pointer. Zach Norvell Jr. also connected from deep for the Bulldogs.
Turnovers looking like they may be a problem for the Bulldogs, as they have already committed three of them.
Gonzaga announces starting five
Gonzaga trying to knock off top five foe for first time since 2006
Villanova and Gonzaga are linked by a number of stats entering Tuesday's showdown at the Madison Square Garden. | READ MORE »
Player of year candidate Jalen Brunson will test Gonzaga guards
Villanova has a balanced crew with a number of playmakers but junior guard Jalen Brunson usually orchestrates one of the nation's better offenses. | READ MORE »
Jimmy V Classic
NCAA BASKETBALL
At Madison Square Garden, New York
➤Tuesday, Dec. 5: Villanova Wildcats vs. Gonzaga Bulldogs, 4 p.m. PT TV: ESPN Online: Watch ESPN
Local journalism is essential.
Give directly to The Spokesman-Review's Northwest Passages community forums series -- which helps to offset the costs of several reporter and editor positions at the newspaper -- by using the easy options below. Gifts processed in this system are not tax deductible, but are predominately used to help meet the local financial requirements needed to receive national matching-grant funds.
Follow along with the Zags
Subscribe to our Gonzaga Basketball newsletter to stay up with the latest news.
---