Sports > Seattle Seahawks
Back from surgery, Seattle's Luke Joeckel ready for former team
Wed., Dec. 6, 2017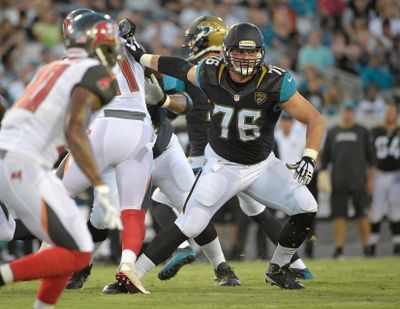 RENTON, Wash. – Luke Joeckel thought he was done with knee troubles.
Issues with his left knee cost the former No. 2 overall pick most of the 2016 season, his last with Jacksonville. He was diligent and cautious in his recovery from the major knee procedure after signing with the Seattle Seahawks during the offseason in the hope of being completely healthy when the regular season started.
And despite all those precautious, just five games into his tenure with Seattle, Joeckel was back in surgery to have even more repairs done to his knee.
"I didn't expect to have another surgery in the middle of the season but I'm glad I did," Joeckel said. "The knee feels better now than it did before it. I knew it would be tough coming back from everything I did to the knee last season. It was a little tougher than I thought. Now I feel good, ready to go and excited to build on it each week."
Joeckel will see his former team this week with the Seahawks travelling to Jacksonville for a matchup that has major importance for both teams. The Seahawks significantly improved their playoff hopes by knocking off Philadelphia last week and remaining one game behind in the NFC West, while the Jaguars are tied with Tennessee on top of the AFC South.
It wasn't that way when Joeckel was playing in Jacksonville. In the four seasons Joeckel was with the Jaguars, they won 15 total games. He was deemed a bust after being one of the top picks in the draft, yet struggling with injuries and performance during his time in Jacksonville.
"I enjoyed it. Jacksonville was a great place to live. We didn't win a lot of football games, but I enjoyed my time there. Good buddies I played with," Joeckel said. "I'm excited by the opportunity I have in Seattle and happy to be here."
Joeckel had surgery in early October as the Seahawks were going into their bye week. What was thought to be a short recovery ended up costing Joeckel five games, but was clearly a needed procedure. Joeckel said he felt the knee deteriorating with each game and trying to handle the load of playing.
"It just was getting worse each week," Joeckel said. "Coming back trying to get use to the load, picking up the load each week, trying to build on that my knee just felt more and more tore up a little bit."
He returned two weeks ago in Seattle's win over San Francisco and with a new left tackle next to him. The combo of Joeckel and Duane Brown at left tackle seems to have stabilized some of Seattle's issues protecting quarterback Russell Wilson and provided some life to a running game that's been otherwise lackluster all season.
It'll be another major challenge for Seattle this week against Jacksonville's defense that's tops in the NFL in total defense, scoring defense and has recorded 45 sacks.
"They cause you all kinds of problems," Seattle coach Pete Carroll said.
Shead returns
CB DeShawn Shead returned to practice on Wednesday after spending the entire season on the physically unable to perform list. Shead has been out since suffering a major knee injury in last January's NFC divisional playoff game agasint Atlanta and has faced a couple of setbacks in his recovery.
After starting his career as an undrafted free agent, Shead had developed into a starting cornerback opposite Richard Sherman prior to his injury. Seattle now has three weeks to decide whether to activate Shead off PUP and add him to the active roster or place him on injured reserve for the season.
Shead's return could be a boost for a secondary that has lost Sherman and safety Kam Chancellor for the season to injuries.
"I'm just ready to get out there and be able to help this team as much as possible, anywhere we need it," Shead said. "I expect to earn my spot back, and I expect to earn my way back on the field. Nothing was ever given to me, that's what I know. So I have to go out and prove myself again."
Local journalism is essential.
Give directly to The Spokesman-Review's Northwest Passages community forums series -- which helps to offset the costs of several reporter and editor positions at the newspaper -- by using the easy options below. Gifts processed in this system are not tax deductible, but are predominately used to help meet the local financial requirements needed to receive national matching-grant funds.
Subscribe to the sports newsletter
Get the day's top sports headlines and breaking news delivered to your inbox by subscribing here.
---