News > Family
Santa Express lets children experience the joy of giving
Fri., Dec. 8, 2017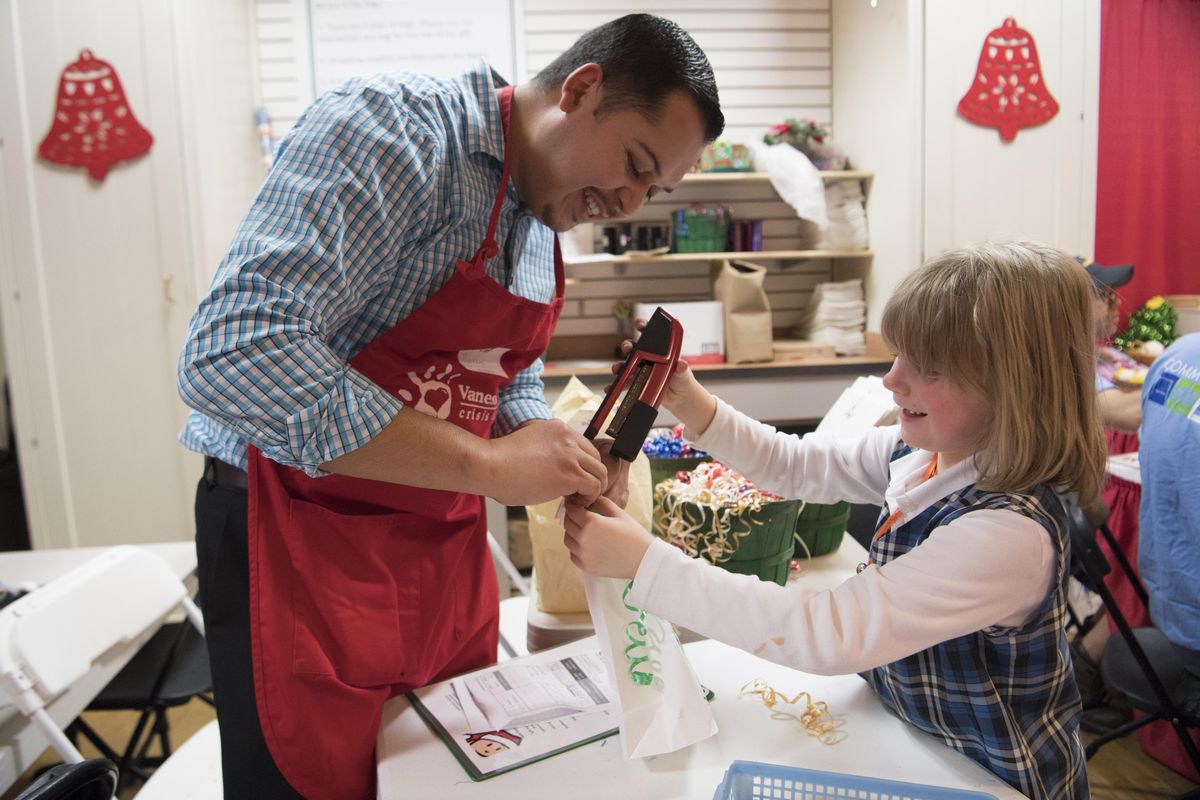 Volunteer "elf" Marcus Montejano, left, helps Gianna, a second-grader from Assumption Parish School in North Spokane, conceal her purchases at in hand-decorated bags in the back room at Santa Express, a Christmas shop that lets kids choose small gifts for their family and friends, then wrap them out of sight from their parents and siblings. All profits go to the Vanessa Behan Crisis Nursery. The Santa Express fundraiser is now 25 years old. Jesse Tinsley/THE SPOKESMAN-REVIEW (Jesse Tinsley / The Spokesman-Review)
Usually, children are told not to peek at their presents until Christmas morning, but thanks to Santa Express, children can give their parents, siblings and other family members that same warning.
Santa Express, a holiday retail store with gifts ranging in price from 50 cents to $8, lets children between the ages of 4 and 12 shop, with the help of volunteer "elfs" to find the perfect gift for everyone on their list.
The pop-up shop, which benefits the Vanessa Behan Crisis Nursery, opened on Nov. 24 and will remain open until Dec. 23. This year, Santa Express is on the second floor of River Park Square Mall.
Earlier this week, a group of second-graders from Assumption Parish Catholic School took a field trip to Santa Express after a visit with St. Nick to hear about the meaning behind Christmas and lunch at the Kress Gallery.
Before visiting, teacher Rebecca Smith used Santa Express to teach students about budgeting and filling out an invoice.
"We talked about the spirit of giving and how the nursery helps children," she said. "We talked about how they're shopping for others today."
To prepare for the class's visit, manager Toni Lydig called in two dozen volunteers to ensure that each child had their own elf to help them shop.
When a child visits Santa Express, their parent fills out a form indicating who the child is shopping for and what their budget is.
The volunteer elves then take the child into the gift store, where only children are allowed.
Inside the store, a variety of tables at various price points are labeled "Mom" and "Dad."
Gifts on the $6 Dad table included Gonzaga, WSU and Seahawks koozies, Seahawks socks, stuffed animals, keychains, luggage tags, holiday ties and 3-D puzzles.
Gifts on the $6 Mom table included ornaments, decorative garden stones, scarves, photo albums and mini manicure sets.
Gifts at other price points included bracelets, crayons, stickers, mood rings, animal-shaped squirt guns, seasonal pot holders, toy trucks and boats, locket pendants, holiday decor and mini flashlights.
Many of the items for sale are donated, though some stores also offer items at a steep discount.
With a list of family members to shop for and a budget in mind, each elf will guide their child around the shop.
Sharon Urlacher was helping 5-year-old Bennett shop for his parents and older brother.
Bennett immediately picked out a piece of sports memorabilia for his dad, then set to work finding something for his brother.
"What does your brother like to do?" Urlacher asked.
"Minecraft stuff and Deadpool stuff," Bennett said while browsing tables.
"Does he like science stuff?" Urlacher asked.
"He likes science where it's zombies and brain stuff."
Urlacher suggested a model of the brain that is assembled like a puzzle.
"He likes it when you don't have to build it," Bennett said.
"Ah," Urlacher said. "Pre-made brains."
After a little more browsing, Bennett settled on a gift (sorry, we can't spoil the surprise) for his brother.
Bennett then let Urlacher know that his mom liked "pretty stuff" so she led him to a Mom table for selections.
Urlacher, who taught for 30 years, said working with children involves a lot of listening.
"You just have to ask questions," she said. "If you listen to what they're telling you and what they're interested in, it isn't hard to bring that out in kids, even the quiet ones."
After they finish shopping, children are guided to a gift wrapping area where they can decorate paper bags using markers, colored pencils, crayons and stamps.
They also get to pick out two curled ribbons that the elf staples to each bag for even more pizzazz.
Susan Renzini, a fifth-year volunteer, said her favorite part of Santa Express is seeing each child she helps experience the spirit of the holidays.
"To see the light in their eyes when they get to shop, to see the holiday through their eyes, it starts my season off," she said.
She also loves meeting the other volunteers. According to Lydig, 800 volunteers help at Santa Express each year.
Lydig herself began as a volunteer, bringing her daughters, including Hayley Lydig, with her each year.
"My mom has always been so involved with Vanessa Behan," Hayley said. "I grew up with nursery events."
Proceeds from Santa Express benefit the Vanessa Behan Crisis Nursery, which was founded in 1987 in memory of Behan, a 2-year-old who died from child abuse injuries.
Since then, the crisis nursery has helped more than 82,000 children and their families by providing 24-hour child care for infants and children seven and younger, parent education and crisis counseling, and referrals to other community agencies.
Over the course of its 25 years, Santa Express has raised more than $1 million for the nursery.
In high school, Hayley rounded up groups of friends to volunteer with her at Santa Express and after returning to the area after college, Hayley became involved with the nursery once again.
In July, Hayley turned her experience volunteering with Santa Express into something more permanent, taking on the role of Santa Express director.
"This position became available and it worked that I was looking for a career change," she said. "I took the free time I spent with the nursery and turned a passion into more of a career."
Santa Express continues to be a family affair for the Lydigs as Hayley, her parents and Urlacher, her aunt, all spend time at the gift shop.
This year marks the first year Santa Express has been in River Park Square after calling the Crescent Building home.
She has noticed an increase in sales thanks in part to holiday shoppers and those who visit the mall for Christmas Tree Elegance.
"The kids get so excited," she said of families who stumble upon Santa Express. "The kids are like 'Yeah, I want to shop!' "
Local journalism is essential.
Give directly to The Spokesman-Review's Northwest Passages community forums series -- which helps to offset the costs of several reporter and editor positions at the newspaper -- by using the easy options below. Gifts processed in this system are not tax deductible, but are predominately used to help meet the local financial requirements needed to receive national matching-grant funds.
Subscribe now to get breaking news alerts in your email inbox
Get breaking news delivered to your inbox as it happens.
---