News > Spokane
Bold as Brass: Tubas serenade at STA Plaza
UPDATED: Sat., Dec. 9, 2017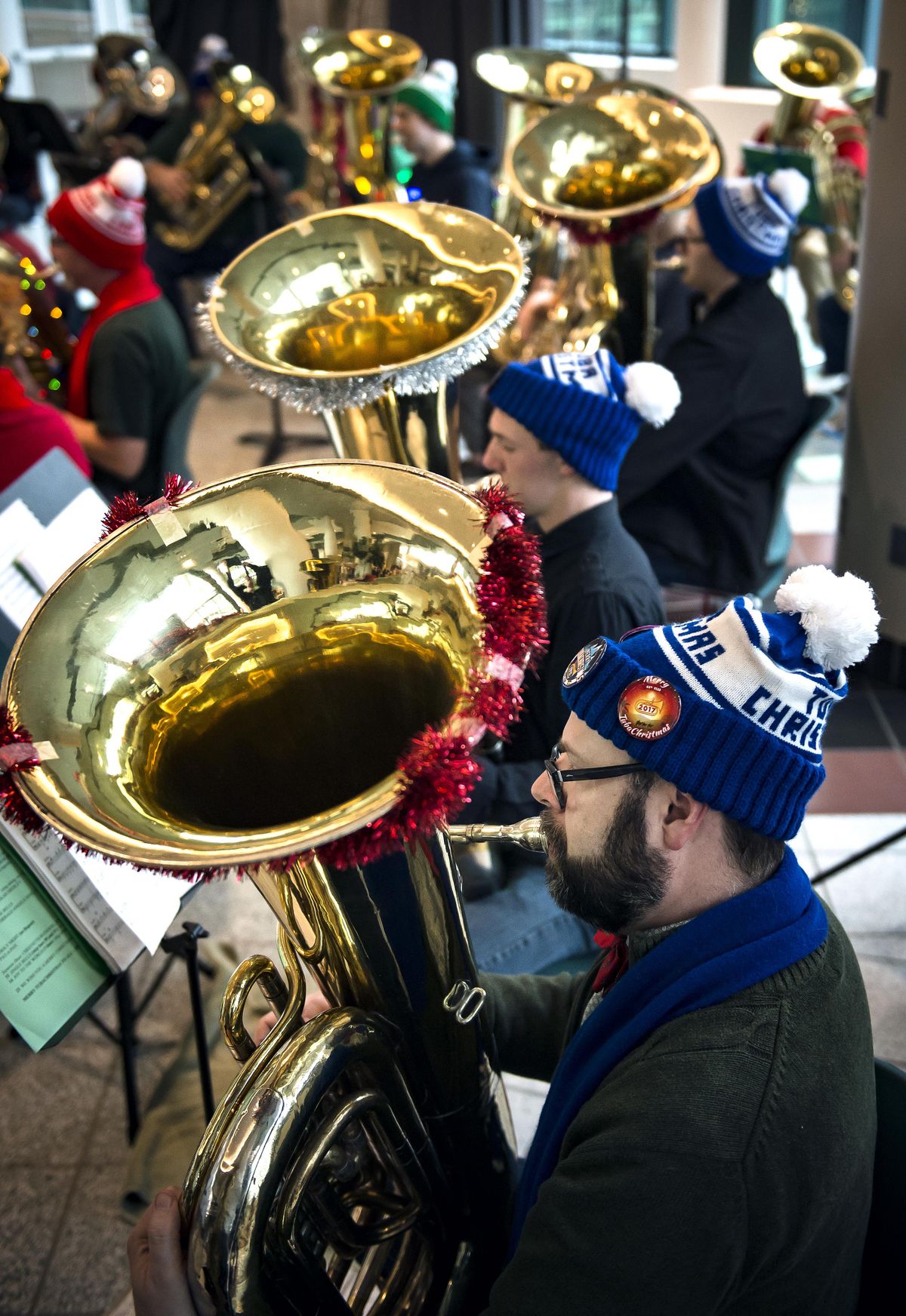 Jim Windisch, of Coeur dAlene, plays Christmas songs on his bass tuba during the Spokane TubaChristmas concert held Sat., Dec.9, 2017, in the STA Plaza. The concert, conducted by Vern Windham, featured over 40 tuba and euphonium players. (Colin Mulvany / The Spokesman-Review)
Commuters trickling through the Spokane Transit Authority Plaza Saturday afternoon were greeted by an uncharacteristic sound: the rumbling baritone reverberations of 39 tubas playing in unison.
The third annual Spokane TubaChristmas concert was underway, featuring a cross section of local musicians and a program of holiday hits, all played at a pitch that could be felt through walls and bodies alike.
Held on the second floor of the downtown bus station, the free show provided a background ambiance of classics like "Noel" and Silver Bells" as patrons waited between buses.
Leonard Byrne, the event's organizer and a longtime tuba player, thought STA was the ideal venue for a wintertime show.
"It works really well because we end up getting a seated audience, as well as playing for the people traveling through," Byrne said. "It gives people something for 10 minutes before getting on the bus."
This year marks the 44th anniversary of TubaChristmas worldwide. The event was created to honor the instrument's great musicians and teachers, and was first held in 1974 at Rockefeller Plaza in New York City.
Byrne started the Spokane chapter of the event by reaching out to tuba enthusiasts around the region, some coming from as far as Moses Lake.
On Saturday in Spokane, conducter Verne Windham led a lively session with the crowd of onlookers, using each break to give a lesson about the instrument and offer historical musical tidbits.
"It's unique. People think of the tuba as just really (a low-sounding) instrument; they don't really understand how much the instrument can really do," Windham said. "So this is a great way to show it off.
"We all love to do this, so coming out here is really a labor of love."
Local journalism is essential.
Give directly to The Spokesman-Review's Northwest Passages community forums series -- which helps to offset the costs of several reporter and editor positions at the newspaper -- by using the easy options below. Gifts processed in this system are not tax deductible, but are predominately used to help meet the local financial requirements needed to receive national matching-grant funds.
Subscribe now to get breaking news alerts in your email inbox
Get breaking news delivered to your inbox as it happens.
---