A&E
Spo-gifting: A very Spokane holiday gift guide
Sun., Dec. 17, 2017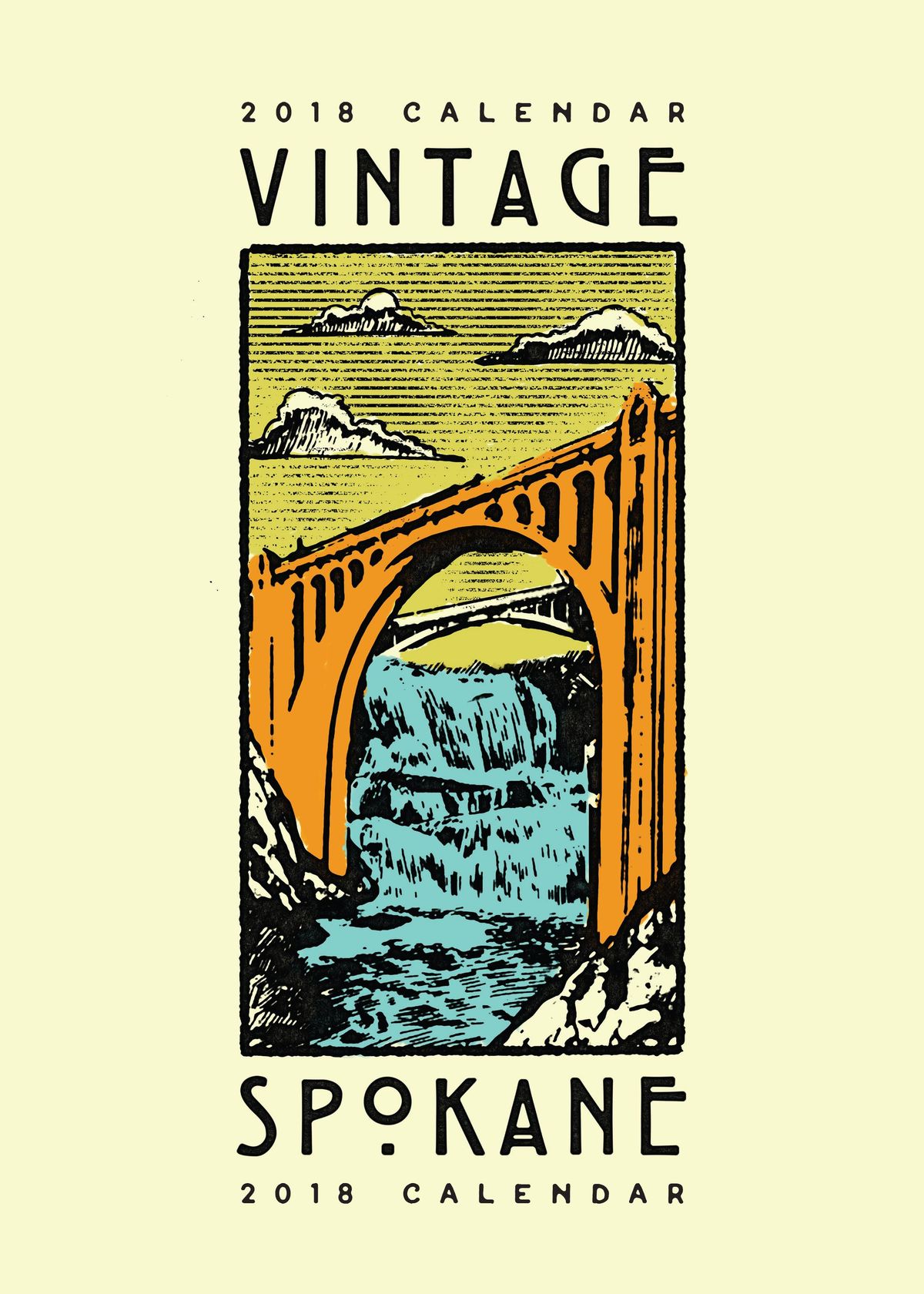 The 2018 Vintage Spokane calendar is available at Atticus and Boo Radley's gift shops. (Courtesy of Chris Bovey)
One can walk in a big box store or a retail chain here in the Inland Northwest and get the exact same thing you can buy in Phoenix or Baton Rouge. Or, with a click of a few buttons, you can order stuff from a mega online retailer that rhymes with Mamazon and have boxes arrive on your doorstep in a couple of days.
With just slightly more effort, however, you can send friends and family a gift of the heart that truly says "Spokane." Here are a few suggestions from The Spokesman-Review's features department.
The ice ribbon, downtown's newest attraction, is fun for all ages. On a recent evening there were families skating together as well as groups of teenagers and 20-somethings. Gift passes are available at the admission desk, 507 N. Howard St. Hourly admission is $6.50 for adults; $5.50 for seniors, military and college students; $4.50 for children 2-12. Unlimited passes are $30 for adults, $25 for children. Skate rental is $4.50.
Give the gift of coziness and warmth in the form of hand-blended, loose-leaf or highly concentrated chai tea – or both. Tirza Wibel of Winterwoods Tea Co. mixes and measures 20 different varieties – from classic and flavorful Inland Grey and smoky and masculine Smoke and Juniper to Old Town Licorice and Pacific Coast Lavender – in the commercial kitchen in her Colbert basement. Winterwoods teas – $9.99 for 2 ounces, which yields 25 to 30 cups – are shipped within 30 days of packaging. Find a complete listing of retail outlets at www.winterwoodsteacompany.com. Mandala Chai makes its flavorful chai in small batches using organic ingredients and no refined sugar. It comes in reusable glass jars: 32 ounces for $15 or 16 ounces for $10. Of, get a gallon for $30. It also comes in two kinds: regular and spicy. The spicy version gets its kick from cayenne. For a list of local retailers, visit mandalachaicompany.com.
Ice cream might melt in a stocking. But The Scoop has a cool – and creamy, dreamy and sweet – way for you to give it as a gift anyway. The South Hill ice cream shop is offering an "anytime pint" deal, which makes giving the gift of ice cream easy. For $100, customers can get coupons for 15 pints, which is like getting three pints for free. The vouchers come in a pint-size Mason jar, which The Scoop will fill for you when they're redeemed. Give someone the jar with all 15 vouchers. Or, give one each to 15 people. You just might want to keep one or three for yourself. Seasonal flavors include eggnog, gingerbread and peppermint-Oreo. The "anytime pint" deal can be purchased over the phone or online as well as in person. But Mason jars with the vouchers must be picked up at the store. And they can be used anytime before June, when they expire. E-gift cards are also available. 1001 W. 25th Ave. (509) 535-7171. www.thescoopspokane.com.
Wet someone's whistle with a bottle of award-winning, Spokane-made Dry Fly gin, vodka or whiskey. Choose from straight gin or barrel aged, bourbon, and straight wheat, straight triticale, port finish or cask strength whiskey. Dry Fly makes its spirits in small batches using regionally grown grains. www.dryflydistilling.com/.
Spice things up with gourmet grilling rubs and spice sets from Spiceologist. The 4.4-ounce glass jars of these popular spice blends – with names such as Greek Freak, Cowboy Crust, Black Magic, Tandoori Glory – sell for $11.95 each. A set of six mini 1-ounce offerings is $34. Or, get a pack of four regular-sized rubs for $48 or a set of eight for $95. spiceologist.com.
Booey's Gourmet, launched in 2013, offers another way to spice things up. The small-batch sauces come in three flavors – Original Pepper Sauce, Sweet Jamaican Jerk Sauce and Smokehouse BBQ Sauce – and more recipes are in the works. The portrait on the label is meant to loosely resemble creator Casey Booey III. booeysgourmet.com.
Henderson Dip originated in Spokane in the 1950s. Today, this longtime family-favorite – which became commercially available in 2013 – comes in three varieties: Original Creamy Tomato and Onion, Classic Caesar and Spicy Chipotle. Spice blends are $2.99 per pouch and can be used as a dressing or dry rub as well as a dip. They can be found at local grocery stores as well as online. www.hendersondip.com/.
Satisfy a sweet tooth with chocolates from Spokandy Chocolatier, a Spokane institution since 1913. 1412 W. Third Ave. (509) 624-1969. spokandy.com. Bloems Chocolates Flowers Paperie in downtown's River Park Square offers chocolates as well as blooms and gifts. chocolates-flowers.com. Bruttles Gourmet Candies has two locations. Spokane Valley: 12609 E. Sprague Ave. Downtown: 828 W. Sprague Ave. bruttles.com.
Washington State University's signature cheese, Cougar Gold, comes in the original, sharp, rich white cheddar. But it's sold out for the remainder of the year through WSU's website (look for it again online mid January.) Good thing the WSU Connections store in downtown Spokane preorders; 300 cans of Cougar Gold were on their way there last week and the supply isn't expected to sell out. For online shoppers, a variety of other flavors – including dill garlic, sweet basil, hot pepper, and smoky cheddar – are still available. Viking is similar to Monterey Jack. Crimson Fire includes jalapeño and cayenne. They all come in 30-ounce cans for $22 each. For real fromage fanatics, consider a membership in WSU's Cheese of the Month club, which sends a different cheese every month for three to eight months. WSU Connections, 618 W. Riverside Ave. (509) 309-2050. cougarcheese.wsu.edu/.
Love the plates at Luna? They're from Spokane's KJ Pottery, which sells plates, mugs, pour-over coffee drippers, bowls, bud vases and more. Kelsey Jo Flatoff fashions hand-crafted ceramics, mostly "food-focused functional wares," according to the KJP website, which also states her motivation: "The body calls for eating and drinking. The soul calls for aesthetic. What the body necessitates the soul celebrates." www.kjpottery.com. Look for a selection of KJ Pottery at the Pop Up Shop, 159 S. Lincoln St.
Help home bakers elevate their skills with gift cards for classes and workshops at West Central's Batch Bakeshop. Proprietor Mika Maloney is shifting the focus of the small, neighborhood bakeshop to education and experiences as well as baked goods. Digital gift cards are nonrefundable and never expire. The Dessert First Cookbook Club is $60 for one session, $340 for a six-month pass (recipients can choose any six classes in 2018) and $600 for a 12-class pass, which lets recipients attend each of the monthly book club events in 2018. Cookbook club meets the first Wednesday of each month from 6 to 8 p.m. Participants receive a copy of the featured cookbook, watch a demo and enjoy several recipes. So far titles, through June have been selected. Find them, along with info about other classes, at www.batch-bakeshop.com.
Can't go wrong, in most cases, with a bottle of wine – or, maybe, an entire case. Rough Justice ($23) from downtown Spokane's Barrister Winery is red-blend stand-by. Winery: 1213 W. Railroad Ave. (509) 465 3591. Tasting room: 203 N. Washington St. (509) 413-1090. www.barristerwinery.com/. Or, peruse the offerings in the reserve room at the newly opened Kendall Yards tasting room of Maryhill Winery, where the $20 tasting fee can be applied toward purchase of three reserve-room wines. 1303 W. Summit Parkway, Suite 100. (509) 773-1976. maryhillwinery.com.
Works by local artists are available at a variety of spots around town. Small works shows are in progress at Saranac Art Projects (25 W. Main Ave., (509) 339-4861) and Spokane Art School (811 W. Garland Ave., (509) 325-3001). Plus, there's Pottery Place Plus (203 N. Washington St., (509) 327-6920), the Pop Up Shop (159 S. Lincoln St.) and Avenue West Gallery (907 W. Boone Ave., Suite B., (509) 838-4999).
Regional calendars. Go with images positively Spokane among the calendars of local artists or photographers caputuring the region's scenery with each turn of the month.
Chris Bovey's Vintage Spokane calendar is $14.95 at Atticus Coffee & Gifts or Boo Radley's, 222 or 232 N. Howard St. For 2018 selections, Bovey said he tried to pair images with seasons, like Spokane Indians Baseball in vintage ballpark style for July. There's Joe Albi Stadium in October, and an image of Manito sledding for December. And if the calendars are sold out, Atticus carries many of Bovey's posters as another gift option, or his prints are sold at www.vintagespokaneprints.com.
The $15 Friends of Manito calendar celebrates year-round garden scenery of Manito Park, a jewel among parks for its grand settings from the Rose Garden to Gaiser Conservatory. The group's calendar remains a popular gift choice annually to give to locals or out-of-towners who love Manito's varied backdrops. All photos are taken by the group's plant sale manager, Janis Saiki, and you'll find the calendars at the Rosauers stores on 14th and on 29th on the South Hill. If you're enjoying the park itself, you can get the calendars during limited hours at the group's office at 4 W. 21st Ave., from 9 a.m. to 1 p.m. Tuesday, Thursday and Friday, on the second floor of the building north of the conservatory and greenhouse.
If you're looking for a sharp focus on local natural wonders, the $15 Craig Goodwin Photography 2018 Spokane Calendar includes images of the Spokane River, the moon behind Cliff House at Arbor Crest, Manito Park, Mt. Spokane, Peone Prairie, Liberty Creek in Liberty Lake, and Riverside State Park. A number of retail outlets carry Goodwin's calendar, including Atticus, Pottery Place Plus, Auntie's Bookstore, Northwest Museum of Fine Arts Gift Shop, and Made in Washington at Riverpark Square as well as at many larger stores such as Fred Meyer, Albertsons, Safeway, Yoke's and Rosauers. Another option is the photographer's website, www.craiggoodwinphoto.com.
Additional city scenes, Spokane River vistas and landscape photos adorn James Richman's 2018 calendar sold at $15.99 retail price, and it's available through the Lulu website. Check on the calendar's availability at http://www.lulu.com/spotlight/roadtoad60.
Historical perspectives: Bring a gift of experiences via Spokane's Northwest Museum of Arts and Culture, known as the MAC, at 2316 W. First Ave. What this opens up for friends and family through May 20 is "Titanic: The Artifact Exhibition," which has drawn millions touring the world. It takes visitors on a journey through the ship's construction, depicts life on board for passengers of all class levels, and provides an extensive look at its sinking and subsequent efforts to recover artifacts. Detailed re-creations of rooms on the ship are complemented by a collection of items recovered from the wreckage.
The lineup of upcoming 2018 exhibitions include: "Above the Fold: New Expressions in Origami," June 2-July 15, nine international artists push the boundaries of paper to create bold, large-scale origami works; Sayaka Ganz "Reclaimed Creations," June 9-Aug. 26, creating energy and harmony from discarded plastic objects bringing forth graceful and dramatic sculptures of animals; "Edward Curtis 150 Years," June 16-Sept. 23, exploring the work of Curtis, chronicler of the West and the American Indian peoples; "Modern Masters: Group f-64," Oct. 6-Feb. 3, nearly 50 works include those of Ansel Adams, Imogen Cunningham, Willard Van Dyke, Brett Weston and Edward Weston, part of the 1932-founded ƒ/64 group as an informal association of Bay Area photographers.
Admission gift certificates can be purchased by phone and onsite for a set amount, or specific to a visitor: Adults, seniors, children, or college student. The Titanic entry is higher than normal MAC admission: Adults: $18; seniors (65+): $16; children/youth Ages 6-17: $10; college students: $13. All active museum members and children 5 & under are free. For other 2018 exhibits, regular admission prices are: Adults: $10; seniors (65+): $8; children/youth Ages 6-17: $5; college students: $5. Museum gift memberships also are available online, by phone or in person. Individual memberships are: $45 for adult; $35 for seniors 62 and older; $35 for teacher/student. There are also options for dual membership and family memberships.
Gift cards for the MAC's shop are also available. Locally made products for sale include jewelry, sculpture, ceramics and pottery, art glass and prints.
For more information, contact the MAC at (509) 456-3931 or go online at https://www.northwestmuseum.org/.
Rah-Rah Spokane (area) universities: For sports fans or alums on your gift list, consider Spokane outlets of local universities for T-shirts, hoodies and gifts carrying the letters or mascots of Eastern Washington University, Gonzaga, Whitworth and WSU.
Even relatives outside of Spokane have heard of the Zags by now, so check out options at The Zag Store on campus at 801 E. Desmet Ave., or go online at www.zagshop.com. If you're shopping downtown Spokane for Cougar fans, check out apparel and gift items available at WSU Connections, at 618 W. Riverside Ave. Pirates can grab their bounty at the Whitworth campus bookstore, open 9 a.m. to 5 p.m. Monday through Friday, or check online at http://whitworth.bncollege.com/.
To shout "Go Eags," you can swoop in on gifts at the EWU bookstore, open 7:30 a.m. to 4:30 p.m. Monday through Friday. The campus store is located at 106 Louise Anderson Hall, or check the website at http://bookstore.ewu.edu/. Also check for updates and specials on the store's Facebook page, https://www.facebook.com/EasternBookstore/.
For the person whose social calendar is full of concerts, and only concerts, the Bartlett (228 W. Sprague Ave.) offers concert punch cards. A punch card for two tickets will run you $25, $50 will get you five tickets, and $100 buys 10. Silver Sparkle, the Hugs, Silver Torches, Noah Gundersen and Pickwick are all playing the Bartlett in the coming weeks. While there, your music lover can grab a drink and appetizers at the Bartlett's bar, open Tuesdays through Saturdays, with happy hour running Tuesdays through Fridays, 5-7 p.m. Stop by the venue or email info@thebartlettspokane.com to purchase.
If the music lover in your life is also looking for suggestions on what to listen to on those new headphones they've just received, considered giving them some local music. Marshall McLean ("SoDak"), Kori Ailene ("Bear With Me"), Indian Goat ("1"), Windoe, ("Shake It Out" EP), Folkinception ("Great Northern"), Jango ("Alone By Choice"), Chris Molitor ("Coming Home"), Flying Mammals ("Vier"), The South Hill ("Half It All"), Brian Stai ("Your Dreams"). the Hot Club of Spokane ("It's A Spokane Christmas") and Cold Blooded ("Throneburner"), just to name a few, have released new mixtapes, EPs and albums this year.
If your recipient is a movie fan who likes to save a buck or two, the Garland Theater (924 W. Garland Ave.) offers a year of unlimited movies for just $70. The pass is good for all regular movies and Garland-sponsored events, including Totally Tubular Tuesdays (upcoming features include "Harry Potter and the Prisoner of Azkaban," "The Breakfast Club," "Clue" and "Office Space.") and special screenings of things like "The Nutcracker" and "Rocky Horror Picture Show." Before the movie, audience members can check out Bon Bon, open 4 p.m. to midnight Sundays through Thursdays and 4 p.m. to 2 a.m. Fridays and Saturdays, for snacks and cocktails. Happy hour runs 4-7 p.m. Mondays through Thursdays, 10 p.m. to close Fridays and Saturdays and all day Sundays. Bon Bon also hosts trivia every Monday at 7 p.m. and bingo every Wednesday at 8 p.m.
When winter weather keeps the climber in your life from heading to their favorite local crag, they'll appreciate passes to Wild Walls or Bloc Yard Bouldering Gym. Wild Walls (202 W. Second Ave.) offers climbers of all abilities the opportunity to top rope (climbing with ropes) or boulder (climbing without ropes), and for those with little to no climbing experience, the gym also offers a vertical introduction package (a women only vertical introduction class is also available) and an introduction to lead climbing class for those interested in sport climbing. A single-day pass runs $12-$16, with rental shoes and harnesses available, and a 10-visit punch pass is $100 for ages 14 and younger or $135. Individual and family memberships are also available, and there are youth programs for ages 4-10 (Spider Monkeys) and ages 10-14 (Climbing Club). Discounts are also available on Mondays for Women's Night, Fridays for College Night and for active or retired military, police and firefighters. A membership also includes access to the gym's yoga classes.
Bloc Yard (233 E. Lyons Ave.), as the name suggests, is all about bouldering. The gym features 4,500 square feet of climbing surface and the walls top out at just over 15 feet. Those new to bouldering can take Bouldering 101, which is offered three times a week for $60. In the two-hour class, climbers will learn how to climb, fall, conserve energy and more. A single-day pass runs $12-$14 and a 10-visit punch pass is $100 for students, youth and military. Individual and family memberships are also available, and young climbers can join the Bloc Yard Youth Climbing Team or the non-competitive after school program. Both Wild Walls and Bloc Yard also offer annual pass options.
If someone on your list loves nothing more than getting dressed up and going to a show, consider buying them season tickets to see the Spokane Symphony or Best of Broadway. Spokane Symphony season ticket holders save up to 25 percent on single ticket prices, can exchange tickets with no exchange fee, have advance access to specials before they go on sale to the public and much more. This year, old favorites like the Classics, Pops and Chamber Soirée series are joined by the "Take 5" sampler series (pick your own five-concert season) and new series like the Baroque Chamber Series, the M Show Series, the Young Professionals Series and the Fox Family Series. 2017-18 season tickets are available for purchase by phone at (509) 624-1200 or through the Spokane Symphony Box Office, Martin Woldson Theater at the Fox, P.O. Box 365, Spokane, WA 99210.
For those who love when the Big Apple comes to the apple state, WestCoast Entertainment is offering mini packages for the remaining shows of the 2017-18 Best of Broadway season, "Motown the Musical" (Jan. 24-28) "The Sound of Music" (March 22-25) and "Dirty Dancing" (April 26-29), with all shows held at INB Performing Arts Center. There are five mini package options to choose from (Thursday evenings, Friday evenings, Saturday evenings, Sunday matinees and Sunday evenings) so you can choose a package that best fits the recipient's schedule. For the adventurous, a National Geographic Live package is also available for $81. The 2018 series features wildlife photographer and filmmaker Bertie Gregory (Feb. 21), astronaut and photographer Terry Virts (March 28) and paleontologist Nizar Ibrahim (April 25). To purchase a pacakge, visit www.wcebroadway.com, call (800) 843-4667 or visit the TicketsWest Box Office, 720 W. Mallon Ave.
Local journalism is essential.
Give directly to The Spokesman-Review's Northwest Passages community forums series -- which helps to offset the costs of several reporter and editor positions at the newspaper -- by using the easy options below. Gifts processed in this system are not tax deductible, but are predominately used to help meet the local financial requirements needed to receive national matching-grant funds.
Subscribe to the Spokane7 email newsletter
Get the day's top entertainment headlines delivered to your inbox every morning.
---