Sports > WSU football
Inevitable friendship: Washington State nickels Hunter Dale and Kirkland Parker share unique bond
Mon., Dec. 25, 2017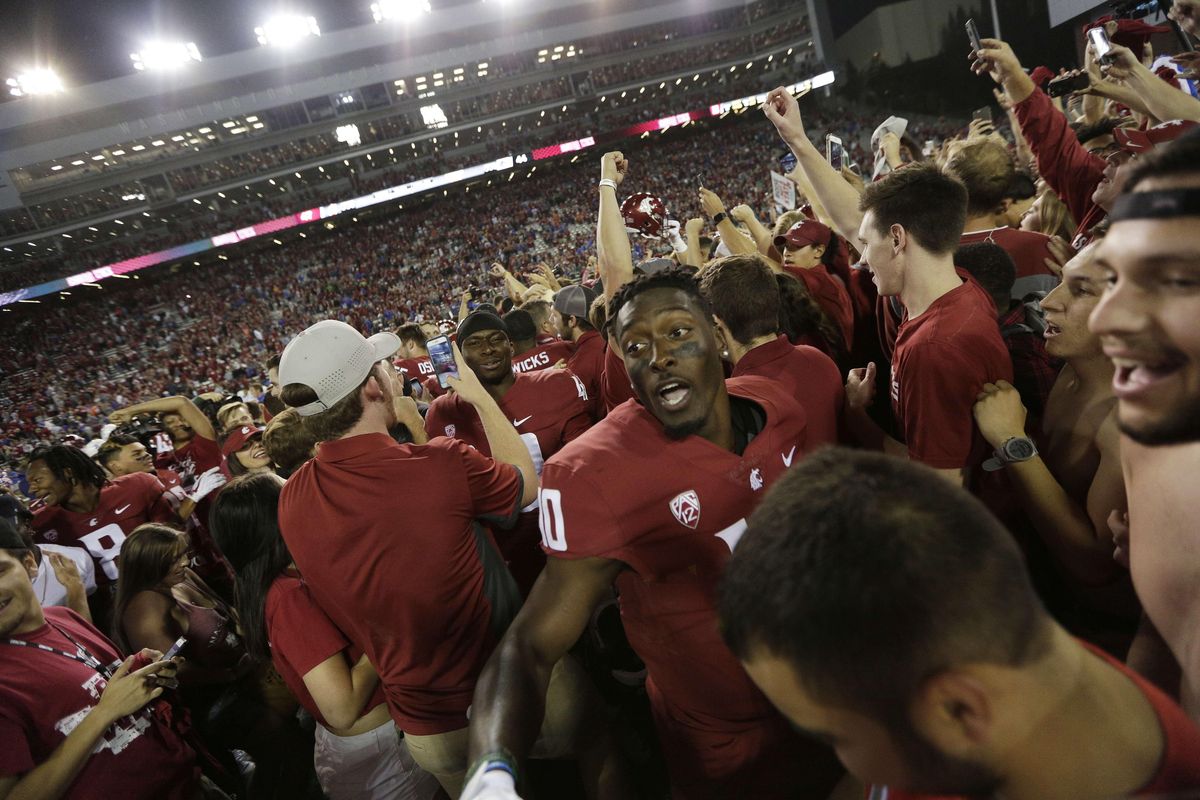 Washington State defensive back Kirkland Parker, center, celebrates with fans after his team's 47-44 third overtime win over Boise State in an NCAA college football game in Pullman, Wash., Saturday, Sept. 9, 2017. (Young Kwak / AP)
PULLMAN – They were both three-star defensive backs who arrived on Washington State's campus at practically the same time – each coming from pockets of the country that might as well have been foreign territories compared to the outpost in eastern Washington they'd be inhabiting for the next two to four years.
It was sheer coincidence that Kirkland Parker and Hunter Dale both elected to play college football in Pullman. But the friendship they forged was anything but accidental.
Parker was an athletically-gifted cornerback from Houston who'd spent the majority of his teenage years on a basketball court, but still prospered in his two football seasons at Texas' Blinn College – a fertile breeding ground for D-I hopefuls who slip through the cracks. Dale, a prized safety out of the New Orleans area, was a well-known commodity on the recruiting trail who grabbed six offers from the Pac-12, five from both the SEC and Big Ten, two from the ACC and another from Notre Dame.
Bunched into the same position meetings and grouped into the same DB drills, Parker and Dale were practically joined at the hip as they plugged through the 14-day stretch of the WSU football calendar spent annually at Lewiston's Sacajawea Junior High. They braved daily heat waves, returned to the Lewis-Clark State dorms in the evening and traded horror stories from the two-week sweatfest known as fall camp.
One particular conversation led the teammates to an interesting discovery: they were both raised in the state – native Louisianans who'd actually grown up within 30 minutes of one another. Parker lists Houston as his hometown, but he spent a chunk of his childhood in New Orleans. Dale was bred in the nearby suburb of Harahan.
"That's always cool because you have somebody who knows about back home and knows the things that you like, the food that you like," Dale said, "so we were kind of interested in the same things and hanging out every day."
They continued to trade notes about their upbringings. It got more bizarre when a common figure came up: Tristan St. Cyr. Dale's stepbrother. Parker's cousin.
After skimming through the family tree the WSU DBs managed to connect a few more dots. Dale's mother had been married to Parker's uncle. The Cougar teammates weren't related through blood, but this connection established they were, at one point, step cousins through marriage – and not until Parker and Dale arrived in Pullman did either have any clue.
"I never met (Hunter), but later on I found out when I committed here because Tristan texted me and told me, 'You're going to be there with my brother,'" Parker said. "I was like, 'You have a brother?' I was like, 'Who?' He was like, 'Hunter.' And that was him."
And it's entirely possible the first meeting between Parker and Dale was not at a team function in Pullman, but instead at a family function in Louisiana more than a decade earlier.
"Like the wedding," Dale said. "We were probably both there, but I didn't even see Kirkland, probably or talked to him, I don't even remember."
Either way, it seemed to bring the teammates closer.
When the Cougars returned to Pullman from fall camp, Parker, unable to move into his apartment, got his hands on a mattress and spent two weeks sleeping on Dale's floor. It was tight quarters inside a room designed for only one and Dale was grateful to "have somebody to talk to every night."
Three seasons later, Parker and Dale have ditched their original roles on the field to become WSU's top two options at the hybrid nickelback position. A hotly-contested battle to replace Parker Henry persisted into the final week of August, until Dale finally pulled away to earn the starting gig.
Said Dale in August: "It's not one of those competitions where, I'm not going to talk to him, I hope he does bad. Like when he's running out there, I'm like 'All right Kirk, technique, stay low,' and we give each other a dap. We have a little thing where we hit the hand on the back twice when we come onto the field."
___
As young adults managing the difficult balance between student and athlete, Dale and Parker have surely come across a bad day or two during their time on the Palouse.
But the WSU nickels were also young boys in New Orleans during the mid-2000's, so their ability to distinguish between a rough patch and true misfortune is probably stronger than most.
Hurricane Katrina arrived on the doorstep of the Gulf Coast on Aug. 23, 2005. The whipping windstorms and rainfall didn't penetrate New Orleans until Aug. 29, but once Katrina hit, it acted quickly, drowning the vibrant metropolis and many of its residents under a sea of water.
The storm washed Parker's family out of the city for good. Dale's family was temporarily displaced.
"When the levees broke, everything just hit the fan, so I just had to get out of there," Parker said. "We were like just leaving. … Hurricane's going on, hurricane's going on, then as soon as the levees broke, we left."
Parker was just 11 years old when Katrina swept through and wiped out the uptown New Orleans home he'd grown up in.
Eula Parker transported her family to Atlanta, where Kirkland's had been living. They spent one month in a shelter before Kirkland's father opened his McDonald, Georgia, home to the family. Days after the hurricane subsided, the Parkers returned to New Orleans with the hope of salvaging bits and pieces of their old life. The wreckage left next to nothing. Anything that was still standing in the two-bedroom home was covered in fungus.
"Just trying to get our stuff and literally just nothing being there and the house being destroyed and mold everywhere," he said. "And knowing you can't get anything you want back. … Like, 'I want this, I'm going to go back and get this,' and knowing that you go back and like holy crap, nothing's there."
Dale and his mother Michelle, had planned to take refuge with a family member in Destin, Florida, but they made it as far as Hattiesburg, Mississippi, before running out of gas. After bunking up in their car the first night, they changed their plans and returned to Louisiana to stay with Dale's great grandmother in Opelousas. More than a dozen other extended family members had also evacuated there.
"You just helped out whoever you could when they came through," Michelle Dale said. "… There was so many people in there, it was like, we cooked breakfast, we cleaned up breakfast, everybody would eat. By the time breakfast was over, that was cleaned up, it was time to start cooking lunch."
"It was just a weird time," Hunter said.
His grandfather, a police chief in Harahan, told stories of the looting that took place in the immediate aftermath of the hurricane. Dale's aunt, a Harahan nurse, remembers angered civilians firing bullets into the hospital she was working at.
Alligators floated through the flooded roadways, Dale recalled, and it was hard to shake the image of houses stacked on top of others houses – in some cases with full automobiles puncturing either side.
"At that time I had a baseball coach and his car was in his living room when he came back," Dale said. "The water level at this time – I had to be 10 or 12 (feet) or something in that range – and the water level was 8 feet. I was about 4-5 at the time. It was crazy. I took pictures next to the water. It was completely over me.
"And then on the houses they had X's. At the top of the X was the date, the left of the X was how many people were dead in the house, the right of the X was how many people were living. But a lot of houses you passed had one or two on the left side and that was really sad. Could you imagine just not being able to get through your roof and just drowning?"
___
Parker's family spent two years in Georgia before moving to Houston as Kirkland was entering the seventh grade. Not long after the move, the teenage boy with an athletic build, long frame and accurate jumper was hoisting shots at a local park when he was approached by a middle-aged man.
Tom Leahy, the coach of a local AAU basketball team, saw someone who had the potential to be an elite combo guard and offered Parker an opportunity to join his traveling squad.
On the AAU circuit, Parker jousted with Texas' best hoopers and spent one summer playing alongside Justise Winslow, currently of the Miami Heat, and Kelly Oubre of the Washington Wizards. He played for the Kingwood Park varsity squad from his sophomore year on and started to draw interest from college recruiters as a junior. A handful of schools in the south, including Tulane, had caught wind of Parker's talents. Gonzaga's Mark Few had the Kingwood Park guard on his radar.
But it's possible that Parker's allegiance to a burgeoning basketball career deterred him from getting a head start on the sport that would eventually foot the bill for his college education.
"9-12 was straight basketball," Parker explained.
More or less. He played football briefly as a high school fresman and joined the team again for his senior season, but Parker wasn't getting enough bites from college recruiters to pursue an immediate career playing either sport.
"I was kind of in a rut, like what am I going to do now?" Parker said.
One option was to join a few Kingwood buddies at Blinn College and join the Buccaneers' heralded football program as a walk-on. Blinn's not a bad place to be for high school stars who don't take a direct route to the FBS and the community college in Brenham, Texas, groomed players like Cam Newton and Dede Westbrook before both wound up in the NFL.
Blinn's defensive backs coach, Thomas Rocco, suggested Parker show up to a walk-on tryout. The talent was evident, so even when Parker broke his finger on the final day of the spring tryout, he was promised a spot on the roster in the fall.
After using a redshirt in 2014, Parker emerged as a shut-down DB for Blinn's 2014 team, recording 17 tackles, three pass breakups, two interceptions, one blocked punt, one forced fumble and one fumble recovery.
Parker's blend of physicality and agility were a perfect match for the "Speed D" Alex Grinch was installing at WSU. Despite offers from Purdue, Indiana and others, he signed his letter of intent to join the Cougars on June 17, 2015.
And while basketball made a strong push through Parker's teenage years, it became abundantly clear his calling was on the football field.
"You have to have an edge to you, you have to have a motor, grit," Parker said. "And I just liked that part."
___
To trace the roots of Dale's football career, one would have to go back 17 years to the Pop Warner fields of southeastern Louisiana. You wouldn't have found the future Division I DB at any of the skill positions – Dale was in the trenches.
He has a sharp memory and it's not lost on him that his first football coach opted to place his sons at quarterback and running back, demoting Dale to offensive guard and defensive tackle.
"Somebody would break a run and I would be the one chasing them down all the way across the field," he said, "outrunning the DBs and stuff."
Dale is also inclined to share this highlight from his early football career: when he turned 7 years old, he moved to Harahan, became a running back "and we went undefeated … won a little championship … (I) got the MVP that year."
Similar to Parker, Dale was a multi-sport athlete who probably could've managed a decent collegiate career on the baseball diamond had he committed to his second love.
Dale was a multi-faceted utility player who took John Curtis High to the Louisiana 3A state title as a junior, primarily playing in the outfield – the position with perhaps the most parallels to Dale's role on the football field. On the baseball diamond, Dale was a savvy outfielder who could cover ground as well as anyone in the region. On the gridiron, he was a physical, not-to-be-tested safety who accumulated 96 tackles and 11 interceptions between his junior and senior seasons. The Patriots won the school's 26th state championship in 2013 with Dale starring in the defensive secondary.
The two sports competed for Dale's time most of his life – and they often overlapped.
"We would go to the carwash and lay out his baseball pants and the muddy football pants and spray them with the pressure-washer," Michelle Dale said, "to get all the red mud and dirt out before I put it into his washing machine."
But Hunter, the son of a former Southern University football player, the grandson of an ex-LSU star and the godson of a one-time Notre Dame tight end who logged seven seasons in the NFL, always seemed destined to land on the gridiron.
Football's the family trade. No exaggeration.
A long line of current and former NFL stars have gone through Sonic Boom, the speed conditioning and strength training academy that Dale's father, Wyatt Harris, operates in Jefferson, Louisiana.
Harris was training Tracy Porter, Robert Meachem and Marques Colston of the New Orleans Saints the year they lifted the spirits of a downtrodden city by winning Super Bowl XLIV. Alabama running back Mark Ingram trained Sonic Boom before he lifted the Heisman Trophy. Odell Beckham Jr. hone his route-running and agility with the help of Dale's father.
Harris always invited his son to the training sessions.
"He had me just shadowing Odell Beckham and Marques Colston," Dale said. "It made me play really fast. And then just very competitive out there.
"So when they would run, I would run. When they would do footwork, I would do footwork with them. He would hold me to their standards, too, so I would really have to get my stuff going."
Then it's no surprise that Dale transformed into one of the state's highly-touted recruits – a safety who'd be able make just about any program better with his savvy and intellect.
Nebraska got an early commitment from Dale, perhaps because it offered him the rare opportunity to wear a Cornhusker football jersey in the fall and a baseball jersey in the spring. Dale was prepared to sign, but Nebraska fired coach Bo Pelini on Dec. 1, 2014. He then pledged to Florida, but Will Muschamp lost his job before signing day.
Dale, who listed 24 college offers according to 247Sports, didn't lack options, but time wasn't on his side.
Missouri was one of those 24 and Dale had taken notice of the Tigers' sudden uprise in the SEC – one that was fueled by dominant performances on the defensive side of the ball. And Dale admired the work of Mizzou's safeties coach – someone he'd crossed paths with on the recruiting trail.
"I could just see the way their players run, playing around, how hard they were playing," Dale said. "And that's a guy I would love to play for. Because my dad always told me, 'You should go play for a man that's going to shape you into a man and not just a football player.'"
But upon phoning Missouri's coaching office, Dale learned that Alex Grinch had left to become the defensive coordinator at WSU. So another phone call followed – this one to the football operations building in Pullman. Grinch was still interested in Dale and he signed with the Cougars on March 2, 2015.
"Everything happens for a reason," Dale said.
Three months later, Parker faxed in his letter of intent.
___
Dale grasped WSU's starting nickel job not long before the Cougars opened the season and Montana State and hasn't let go, recording 44 tackles, eight tackles-for-loss, three sacks, one interception, three pass breakups, three QB hurries and one forced fumble.
"I think that his confidence is growing, I think he's played well all year," position coach Roy Manning said in late October. "The more plays he makes, the more confident he is about making those plays. But at the same token, he's not doing too much."
WSU coaches challenged Dale to lose 20 pounds during the offseason. Rather than returning home to New Orleans last summer, he stayed in Pullman so he could go through the team's offseason conditioning program. He tweaked his diet – more healthy proteins, fibers and greens, less sugars and fats – and convinced his mom to purchase a portable sauna that would help him reach his target of 190 pounds. Dale came in at 189 on weigh-in day.
"It's competition," Michelle said, "and he knew he had to put in the work."
Given the neck-and-neck nature of their position battle during camp, it isn't all that naïve to think Parker could've also thrived as WSU's starting nickel. He's spelled Dale in 10 of 12 games this year and enters Thursday's Holiday Bowl – Parker's collegiate swan song – with nine tackles and one PBU.
Even though Dale's been able to stake his name to the top spot on the depth chart, competition between the Cougar nickels persists.
"We connect, we play well together, we just pick each other up," Parker said. "That's my dude, we just go, go, go. Keep each other going, I make a mistake, he makes a mistake, we just try to lift each other up and just keep it going."
Local journalism is essential.
Give directly to The Spokesman-Review's Northwest Passages community forums series -- which helps to offset the costs of several reporter and editor positions at the newspaper -- by using the easy options below. Gifts processed in this system are not tax deductible, but are predominately used to help meet the local financial requirements needed to receive national matching-grant funds.
Subscribe to the Cougs newsletter
Get the latest Cougs headlines delivered to your inbox as they happen.
---