Sports > Gonzaga basketball
Seven players score in double figures as No. 20 Gonzaga routs Santa Clara 101-52
Dec. 30, 2017 Updated Sat., Dec. 30, 2017 at 6:10 p.m.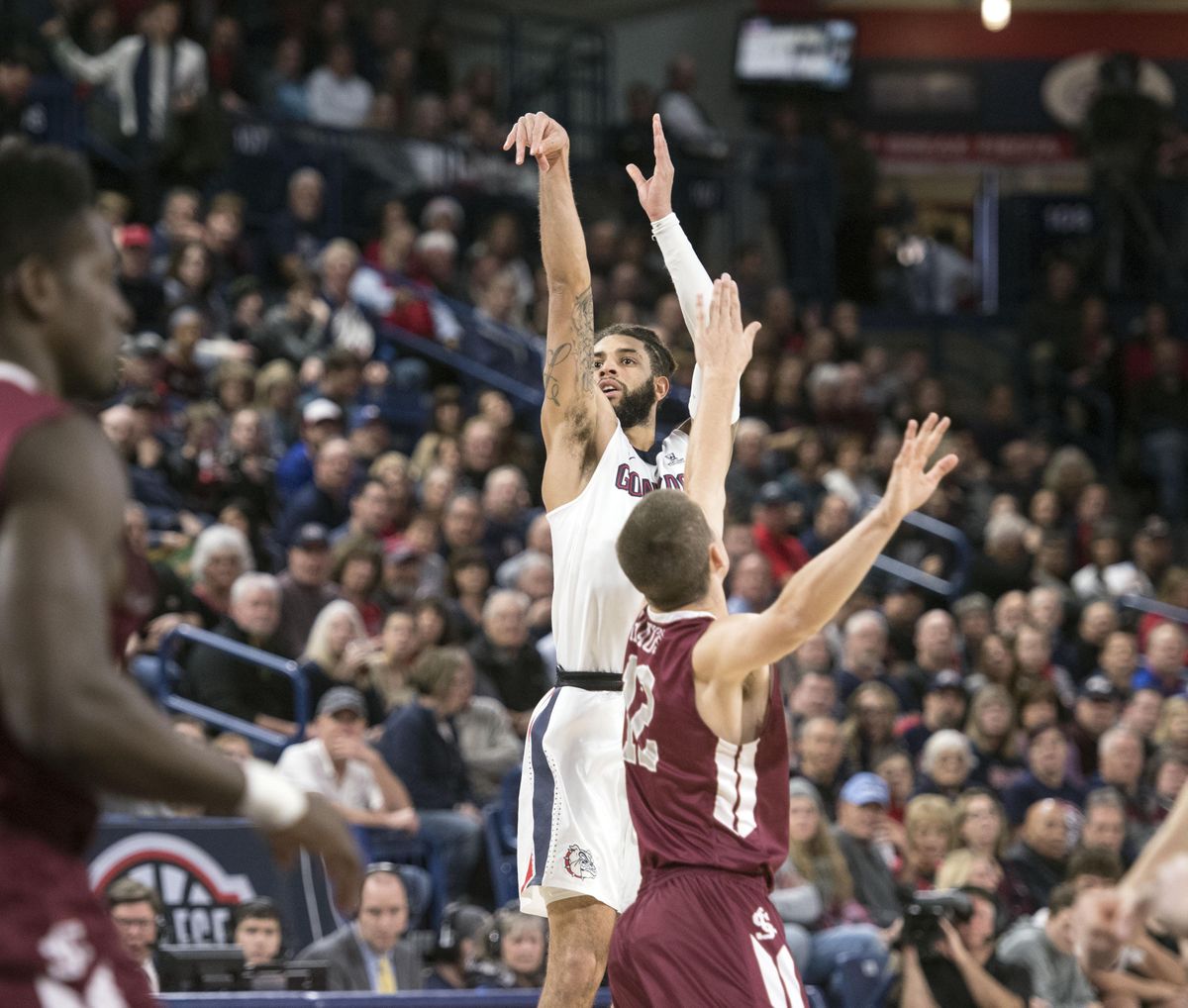 Gonzaga guard Josh Perkins hits a 3-point shot against Santa Clara, Saturday, Dec. 30, 2017, in the McCarthey Athletic Center. (Dan Pelle / The Spokesman-Review)
Silas Melson scored 19 points as seven Gonzaga players finished in double figures to lead the 20th-ranked Bulldogs to a 101-52 drubbing of Santa Clara on Saturday at the McCarthey Athletic Center.
Other Gonzaga players to hit double figures were Zach Norvell Jr. (14), Josh Perkins (12), Rui Hachimura (11), Jeremy Jones (11), Corey Kispert (10) and Jacob Larsen (10).
Gonzaga (12-3, 2-0) not only got it done on the offensive end, but created chaos all game for the Broncos (4-10, 1-1) on defense. The Bulldogs forced 21 Santa Clara turnovers and outrebounded the visitors 40-24.
When they had the ball, the Bulldogs were hot from all over the floor, hitting 55 percent from the field and 39 percent from 3-point range. Gonzaga also took care of the ball, finishing with only seven turnovers.
The 49-point margin of victory is Gonzaga's largest of the season, surpassing the 37-point victory against Howard in the second game of the year.
Gonzaga will next travel to Pepperdine for an 8 p.m. tip on Thursday (ESPNU)
Second half
Final – Gonzaga 101, Santa Clara 52: Clinical showing from the Bulldogs today as they throttle Santa Clara to move to 2-0 in WCC play.
Seven players score in double figures for Gonzaga, which finished with only seven turnovers.
3:46 – Gonzaga 94, Santa Clara 47: Bulldogs still up … by a lot.
Zags nearing the century mark in scoring as six players have reached double figures after Jones hit a pair of free throws to get to 11 points.
Santa Clara up to 19 turnovers. The Broncos also have only assisted on eight of their 16 baskets. Zags have 26 dishes on 34 makes.
7:59 – Gonzaga 85, Santa Clara 52: Melson having one of his best games of the season against this Santa Clara zone defense. The junior guard is up to 19 points and has connected on five 3-pointers.
Really just waiting on a final score from a game that has more or less been decided since the opening minutes. Bulldogs really needed this game after coming out slow in their last few contests.
Couple nice minutes on both sides of the ball for Gonzaga's Jeremy Jones, who has scored five quick points.
11:38 – Gonzaga 75, Santa Clara 38: Huge advantage in assists (23-6), rebounds (26-16) and turnovers forced (15-4) for the Bulldogs.
Gonzaga shooting at a 58 percent clip from the floor and 44 percent from 3-point range, while Santa Clara is shooting a solid 43 percent overall.
Good news as well for the Zags as Tillie check back into the contest. I'd expect a rash of substitutions coming shortly from coach Mark Few though.
Kispert also hits the double-figures mark for the Zags with a nice up and under move in the paint.
15:58 – Gonzaga 65, Santa Clara 36: No slowing down out of the gate from Gonzaga as Melson hits a 3-pointer to start the half, followed by a steal and layup from Hachimura.
Scary moment for the Bulldogs though as Killian Tillie is taken to the locker room to be looked at by trainers.
Bulldogs just having fun now as Hachimura throws down a monster dunk off a nice feed from Norvell. Lots of fouls being called this half already though, slowing down the pace of what should be a quick game.
Silas Melson now leading the way for Gonzaga with 13 points, followed by Perkins (12), Norvell (12) and Hachimura (10).
First half
Halftime – Gonzaga 52, Santa Clara 25: Broncos put a little more pressure on Gonzaga with a press, but the Bulldogs have no problem breaking it.
Kispert and Norvell both connect from deep, followed by Killian Tillie finishing inside for eight quick points out of the media timeout. Bulldogs almost end the half with a bang, but Kispert's two-handed slam is just after the buzzer.
Norvell leading the way for Gonzaga with 12 points, while Perkins is at nine. Zags shoot 63 percent that half with just four turnovers. Santa Clara shooting 50 percent, but has turned the ball over 10 times.
Dominant half to say the least for the Zags.
4:00 – Gonzaga 42, Santa Clara 18: Perkins hits his third triple as the Bulldogs stay shooting extremely well this half.
Zags are also winning the turnover and rebounding battles.
Perkins and Norvell at nine points for the Bulldogs, while Melson is at seven and Hachimura at six.
Santa Clara has done a better job of getting some points, but still trail by more than 20 while shooting nearly 50 percent from the floor.
7:42 – Gonzaga 30, Santa Clara 10: Gonzaga finally takes its foot off the gas on offense, going nearly 3:30 without scoring before Zach Norvell Jr. gets one of the more athletic layups you'll see to drop.
Bulldogs moving the ball extremely well against this Santa Clara zone defense. They've tallied eight assists on 11 made field goals.
Hachimura again finding a nice groove on offense for the Zags. He's up to six points off the bench.
11:17 – Gonzaga 22, Santa Clara 4: Santa Clara finally on the board, but not before Silas Melson went on a seven-point tear with a triple and two dunks.
Bulldogs shooting an outstanding 67 percent from the field, while the Broncos are making at a 33 percent clip.
The Zags have also committed just two turnover, while forcing six. Gonzaga getting its bench some early minutes too, as Jacob Larsen, Rui Hachimura, Jesse Wade and Corey Kispert have all seen the floor already.
15:55 – Gonzaga 12, Santa Clara 0: Fantastic start for Gonzaga, which is eating up this Santa Clara zone defense.
Red-hot opening from Josh Perkins as well, hitting deep 3-pointers on the first two Bulldog possessions, before finding a wide-open Johnathan Williams with a nifty no-look pass.
Zags have also shut down Santa Clara on the offensive end, forcing the Broncos into several tough looks and rushed situations.
Gonzaga announces starting five
Santa Clara backcourt trio next challenge for Gonzaga
Gonzaga has played numerous guard-driven opponents but Santa Clara might lean on its starting trio more than the rest.
KJ Feagin (18.7 points, 39 percent on 3-pointers, Henry Caruso (13.6 points, 86.7 percent free throw) and Matt Hauser (10.8 points, 39 percent on 3s) account for 43 of the Broncos' 72 points per game. … READ MORE »
No. 20 Bulldogs vs. Broncos
NCAA BASKETBALL
At McCarthey Athletic Center, Spokane
➤ Saturday, Dec. 30: Santa Clara Broncos at Gonzaga Bulldogs, 4 p.m. PT TV: KHQ/ROOT Sports
Local journalism is essential.
Give directly to The Spokesman-Review's Northwest Passages community forums series -- which helps to offset the costs of several reporter and editor positions at the newspaper -- by using the easy options below. Gifts processed in this system are not tax deductible, but are predominately used to help meet the local financial requirements needed to receive national matching-grant funds.
Follow along with the Zags
Subscribe to our Gonzaga Basketball newsletter to stay up with the latest news.
---