Groundhog might be wrong; milder weather ahead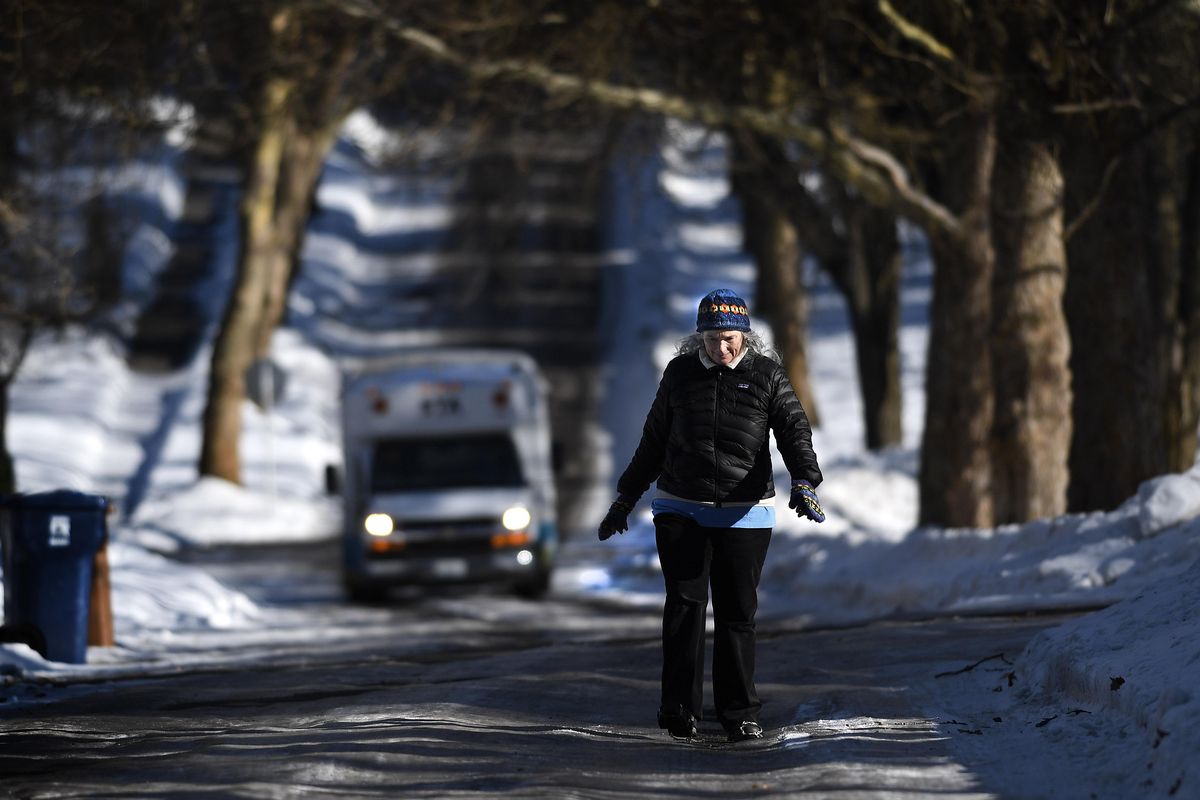 If there was a groundhog in Spokane – and thankfully there is not – he likely would see his shadow and jump back in his hole, signaling six more weeks of winter. Or so the story goes.
A more scientific approach to weather, however, is more encouraging. February should be milder.
Two types of forecasts from the National Weather Service are signaling a change in the weather that should usher in above-normal temperatures and wetter weather that should stock the mountains with snow for the last six weeks of winter.
If that proves correct, then the nasty ice that is clinging to sidewalks and residential streets may finally melt away.
"It's going to be quite a change," said Steven Van Horn, forecaster for the National Weather Service in Spokane.
"It's going to be wetter. It's going to be a lot more active," he said.
The U.S. Climate Prediction Center is calling for warmer-than-normal weather across the continental U.S. during February with greater-than-normal precipitation along the West Coast and southwestern states.
The three-month outlook through April calls for conditions to be normal overall, even though February should be warmer and wetter than usual.
That coincides with current weather forecast models, which show the pattern shifting to a milder southwesterly flow at the end of next week.
Throughout much of this winter, the jet stream has been split with the northern track bringing snow and cold to the Inland Northwest and the southern track causing heavy precipitation across southern Idaho, California, Nevada and Oregon.
A persistent high-pressure system in the eastern Pacific has caused the split flow, but that is likely to be replaced soon by a low pressure area, which will set up a classic southwesterly flow over the West with the potential for "atmospheric rivers" of heavy rain and mountain snow coming onshore, Van Horn said.
The winterlong battle between the two branches of the jet stream has left some areas inundated – southern Idaho has a snowpack that is 165 percent of normal.
Boise has seen 35.5 inches of precipitation over the past four months, the most since at least 1940, according to the University of Idaho.
The snow weight on roofs is heavy enough to cause collapses, including onion storage sheds in southeast Oregon and southwest Idaho.
At the same time, the Inland Northwest has been cold.
Spokane's average temperature in January was 9.3 degrees below normal. December was 4.3 degrees below normal.
And the 32.5 inches of snow measured at Spokane International Airport through Wednesday is 6.5 inches above normal.
Six inches of snow was still on the ground Wednesday at the airport where the ground has been covered by snow for 55 consecutive days. The record is 117 days of continuous snow cover in the winter of 2001-2002.
The 11.4 inches of precipitation in the past four months in Spokane is 2.1 inches above normal.
The arctic air that settled east of the Cascades this week is going to get blown away by the next Pacific storm over the weekend.
It will start out as snow Friday and early Saturday before turning to rain Saturday afternoon through Sunday.
Highs should be in the middle and upper 30s, which is close to normal for this time of year in Spokane.
The cold weather has left residential streets with humps and ridges of hard ice between tire paths worn down by vehicles during thawing periods. Getting through intersections has been challenging.
The problem is seen across the region.
Pedestrians have encountered dangerous conditions on sidewalks and parking areas.
City crews are not removing the residual ice from residential streets for a couple of reasons: If it were plowed, it would block drives and alleys with hunks so heavy they couldn't be cleared by hand, said Julie Happy, a Spokane city spokeswoman. Also, lanes of travel have been so narrowed by repeated snow and plowing that only the city's heaviest trucks could cut through it, and those trucks can't get down many streets, especially narrower ones on the South Hill where the problem is worst, she said.
Happy said crews are doing what they can, especially in keeping hilly streets open.
Residents should not plow, scrape or spread de-icer and sand on public streets, she said.
Residents who have problems near them should call 755-2489 (CITY) to report it, she said.
"We are doing what makes sense and does not cause a bigger inconvenience," Happy said.
---