Role players help Eastern Washington beat Idaho, 77-67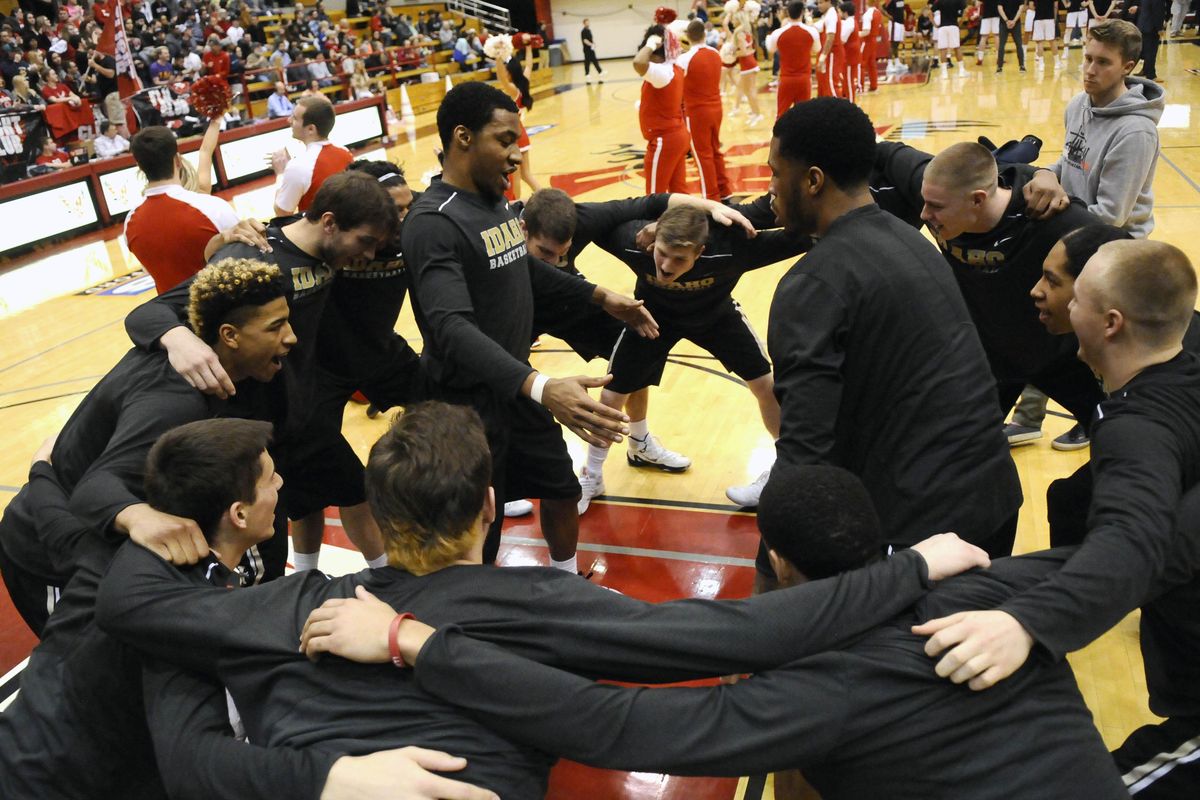 There's nothing like having a few extra horses to ride down the home stretch.
With forward Jacob Wiley bottled up, Eastern Washington got big games from Ty Gibson and Sir Washington to take a crucial 77-67 Big Sky Conference win over Idaho on Friday night at Reese Court.
"We out-teamed them," said EWU coach Jim Hayford, who sees some big prizes at the finish line: 20 wins, a high seed in next month's Big Sky tournament, and perhaps a regular-season title as well.
That wouldn't be possible without Hayford's role players finding a bigger role. Gibson hit some big 3-pointers early and Washington scored 13 of his 17 points in the second half.
Together with Felix Von Hofe, they were 7-for-12 from 3-point range to keep the Vandals at arm's length in the second half in front of a season-high crowd of 2,821.
Now the Eagles have done the same thing in the standings, improving to 10-4 in the Big Sky – two games ahead of the Vandals and three other schools – to solidify their hold on third place.
Next up is Thursday's home game against league leader Weber State, so a regular-season title is still in the cards with four games left in the regular season.
"Let's defend our home court and see where we are heading into that last weekend," said Hayford, whose club is 18-9 overall and closing in on just the third 20-win season in school history.
Meanwhile, Idaho fell to 8-6 in the conference and 13-12 despite holding Wiley to nine points. Wiley came into the game averaging a conference-leading 27 points in Big Sky play.
"I thought we did a good job of making it hard for him to get (the ball) and being physical, but that's what makes Eastern good – they've got some other guys who can beat you," UI coach Don Verlin said.
So does Idaho in point guard Victor Sanders, who scored a team-high 24 points but needed 23 shots to do it. Sanders also had seven turnovers.
Idaho has time to regroup before what looks like a wide-open tournament, but Verlin pointed out that "You've got to bring a couple of things to the table, and we didn't bring that."
"You've got to defend and you've got to rebound at a high level. I thought Eastern did a lot better job most of the night," Verlin said.
The Eagles shot 53 percent (25-for-47) from the field and outrebounded Idaho 37 to 32 thanks in part to 10 boards from Wiley.
The difference-maker was Eastern's Bogdan Bliznyuk, who filled his usual role of "point-forward" and still filled the stat line: a game-high 25 points on 8-for-15 shooting, 13 rebounds and four assists.
Most of those points came in the paint against a physical Idaho frontcourt.
But then, Bliznyuk is "kind of a bully," Hayford said with a smile.
"Idaho is a really physical team, for him to come up with 13 rebounds shows he has some strength," Hayford said.
The Eagles led by three at halftime and by 60-47 on layup by Washington with six minutes to play. Idaho got within five when Sanders hit a jumper with 1:59 to play, but Bliznyuk countered with a layup 25 seconds later.
Sanders missed a jump shot on the Vandals' next trip downcourt, and Eastern paraded to the foul line in the final minute as Idaho never got closer than seven.
"We just have a team where everybody is moving in the right direction," Hayford said.
With plenty of horses to get them there.
---