News > Features
Couple celebrates 35th anniversary with unusual gift: His-and-hers hearing aids
Sun., Jan. 1, 2017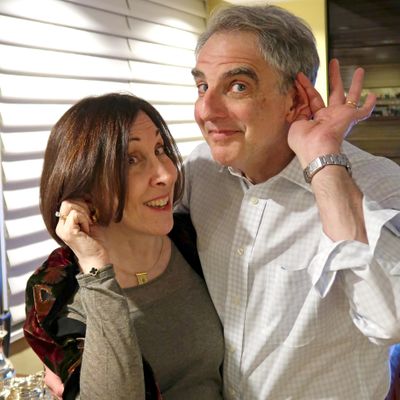 My husband, Marc, and I celebrated our 35th anniversary this year. Did we mark the milestone by scuba diving off the Great Barrier Reef? Zip-lining through the rain forest in Costa Rica? Rafting the Colorado River?
Nope, nope and nope.
We got His and Hers hearing aids.
I'm 62; he's 64. Our lifelong love of rock concerts, cranked-up stereos and bass-heavy boomboxes has taken its toll. For the past year we've been having too many Emily Litella moments. Recently we were driving past a row of new houses when Marc said, "Look at all the silver towels."
I craned my head. "What?" He pointed. "Right there."
I looked for laundry flapping in the breeze. "Where?"
"There."
"WHERE?"
Annoyed, he waved at the roofs. "Right there!" he shouted. "Don't you see the solar panels?"
Oh. Never mind.
Hearing loss can make you cranky. It's exhausting to work so hard at listening. It's not that you don't hear. You do. It's about intelligibility. Hearing is a two-step process; first, the ears transmit sound to the auditory cortex, then the brain must make sense of those sounds.
As we age, many of us lose hearing in the higher frequencies. Consonants are higher-pitched than vowels and spoken more softly, so they tend to get drowned out in background noise. If the listener lacks visual clues or context, it's even more likely he'll mishear. There's a word for it: mondegreen. Although a mondegreen usually refers to misheard lyrics in a song, it also applies to speech. The words you think you hear make sense but are wildly off base: The Beatles' "The girl with kaleidoscope eyes" becomes "the girl with colitis goes by." Or Maria Muldaur's "Midnight at the Oasis" turns into "Midnight after you're wasted."
It was a long time before I could admit I was struggling, even with such classic signs as turning up the TV volume or cupping a hand behind my ear. I've worn glasses my entire adult life, but hearing aids? Too embarrassing.
Marc dodged the issue, too. He has an acoustic neuroma – a benign growth – that has affected his hearing in one ear, but he has compensated by turning or tilting his head to favor his "good" ear. "I don't need aids yet!" he'd scoff, despite how frequently we were saying, "What?" to each other.
Denial plays a big part in the lives of many people. According to the Centers for Disease Control and Prevention, hearing loss is the third-most-common chronic physical condition, exceeded only by arthritis and heart disease.
Yet according to the American Speech-Language-Hearing Association, on average, hearing aid users wait more than 10 years after their initial diagnosis to get their first hearing aids. In my case, it had probably been eight years; in Marc's, five.
There's compelling evidence for acting sooner rather than later: A study last year in the Journal of the American Geriatrics Society found that hearing aids reduce the risk of cognitive decline in older adults.
That study alarmed but finally convinced Marc and me that it was time to deal with our hearing issues. At the first appointment with the audiologist, she told us: "It's not plug-and-play. It can take months before we get the settings just right and your brain adjusts to a new way of hearing."
"Will I still be able to enjoy music?" Marc asked.
"I have a client who's a music producer. He's very satisfied," she assured him.
After Marc was fitted, he complained that his ears itched. But five hours later, he looked at me in astonishment. "These are GREAT!" he said. "I didn't realize how much I was missing. The treble is back, I can hear the high notes again."
We've been sporting matching hearing aids for three months now. They're high-tech – automatic volume control prevents sound from getting too loud, and directional microphones boost sound in front of you. They're pricey too, even with the reduced rate for buying in bulk: nearly $6,000 per pair and health insurance didn't cover it. There's a cool app to run them that connects via Bluetooth.
They work so well that Marc often forgets his until he climbs into bed and realizes he's still wearing them. Last month we saw a show in the West End in London. The theater was smaller than the ones back home in New York; the actors were less heavily mic'd. "I can hear all the dialogue!" I exulted during intermission.
Sometimes the aid in my right ear works disconcertingly like a radio receiver. I can pick up a conversation two tables away. Or I can stand in my closet and hear "Morning Edition" right in my head – no tin foil cap required – even though the radio is in the next room.
Still, hearing aids are a boon to us both at work. Conference calls and meetings are easier to navigate and less fatiguing.
Ambient noise in restaurants has become less challenging. While our dinner companions whip out smartphones to show off photos of new grandkids, we discreetly pull out our iPhones to adjust for voice direction, noise reduction and wind rustle.
Hearing aids aren't perfect. As good as they are, they can't fully replace what you've lost. We still have mondegreen moments. Even though I know Creedence Clearwater Revival is singing, "There's a bad moon on the rise," lately it sounds suspiciously like "There's a bathroom on the right."
Or maybe it just indicates a whole different problem.
Local journalism is essential.
Give directly to The Spokesman-Review's Northwest Passages community forums series -- which helps to offset the costs of several reporter and editor positions at the newspaper -- by using the easy options below. Gifts processed in this system are not tax deductible, but are predominately used to help meet the local financial requirements needed to receive national matching-grant funds.
Subscribe to the Coronavirus newsletter
Get the day's latest Coronavirus news delivered to your inbox by subscribing to our newsletter.
---
Subscribe and log in to the Spokesman-Review to read and comment on this story