Sports > Seattle Mariners
Mariners acquire outfielder Jarrod Dyson from Royals for right-hander Nathan Karns
Fri., Jan. 6, 2017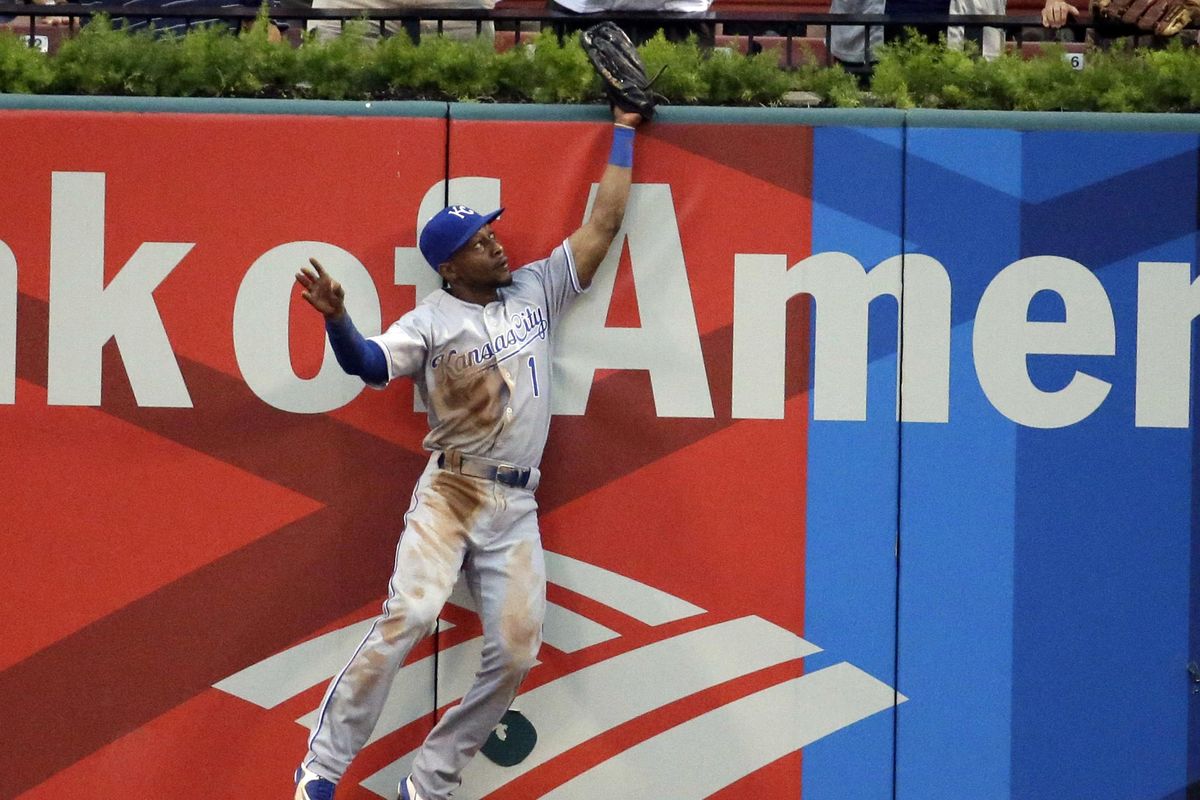 In this June 30, 2016, file photo, Kansas City Royals' Jarrod Dyson leaps to catch a ball hit by St. Louis Cardinals' Matt Adams during the fourth inning of a baseball game in St. Louis. The Royals have acquired right-hander Nathan Karns from the Seattle Mariners for Dyson, solidifying a pitching staff that lost workhorse Edinson Volquez to free agency. (Jeff Roberson / Associated Press)
KANSAS CITY, Mo. – The Royals were interested in Seattle right-hander Nathan Karns going back to the winter meetings, but the Mariners were reluctant to give up a power arm under club control through 2020.
That changed on Friday.
After the Mariners traded outfielder Seth Smith to the Baltimore Orioles for veteran right-hander Yovani Gallardo, the idea of shipping Karns away became a bit more palatable. So, the Royals and Mariners were able to reach a deal that sent him to Kansas City for outfielder Jarrod Dyson.
Kansas City got the starting rotation help is so desperately needed.
The Mariners got the speed they sought on the base paths.
"As so often times is the case, once teams know there is a mutual interest in a player – in their case Jarrod, in our case Nate – we just stayed in touch and the timing was right," Royals general manager Dayton Moore said. "The deal was obviously attractive for us."
Kansas City has been trying to acquire help for the starting rotation, its biggest weakness most of last year. Stalwart right-hander Edinson Volquez departed in free agency and aging right-hander Chris Young struggled so mightily last season he was busted to the bullpen.
That could be the final destination for Karns, too. But the power right-hander will at least get a shot at the rotation, where the 29-year-old made 15 starts and finished 6-2 with a 5.15 ERA last season.
He missed the final two months with a back strain that landed him on the disabled list in late July, but Moore said Mariners GM Jerry Dipoto and the Royals' own training staff believe he's fully recovered.
"He's been working out this offseason with no restrictions," Moore said. "Our scouts have done their due diligence. We're comfortable. We've been in touch with where he's been doing part of his physical therapy down in Dallas, I believe, and we're comfortable with where he is."
Meanwhile, the addition of Dyson gives Seattle one of the quickest outfields in baseball.
Dipoto said he envisions Dyson in left field, Leonys Martin in center field and Mitch Haniger in right field, with Ben Gamel and Guillermo Heredia competing for playing time. But Dipoto was excited about the potential run protection and flexibility that Seattle's outfield will have this season.
"We feel we now have five legitimate center fielders," he said.
Dyson, a former 50th-round draft pick, became a fan-favorite in Kansas City thanks primarily to his speed on the bases. He hit .278 while stealing 30 bases a year ago.
"We've had many conversations about Dyson specifically," Dipoto said, "and what a good fit he was for our team. He's an elite-level defender. He's dynamic on the bases, a fearless base stealer. And the combination of Jarrod Dyson, Leonys Martin and Jean Segura hitting somewhere between the bottom and top of your lineup really creates a three-player dynamic on the bases for us that is probably different than the Mariners have had in a long time and perhaps most different than most teams in our league."
Dyson became more expendable following the trade of closer Wade Davis to the Chicago Cubs for young outfielder Jorge Soler. Davis and Dyson are eligible for free agency after the season along with outfielder Lorenzo Cain, first baseman Eric Hosmer, third baseman Mike Moustakas, shortstop Alcides Escobar and left-hander Danny Duffy.
"What we need to do is continue to add players we control beyond 2017," Moore said. "Pitching, as we know, is so important. Power pitching is hard to get. Power pitchers you can control is very hard to acquire, as well."
Dipoto said Dyson solidifies the Mariners' lineup, though more moves could happen with pitching.
"We would still like to add," he said. "We still have the capacity to be creative in looking to add. There will be some limitations there but we're still open to finding ways to get better if possible."
AP Sports Writer Tim Booth in Seattle contributed to this report.
Local journalism is essential.
Give directly to The Spokesman-Review's Northwest Passages community forums series -- which helps to offset the costs of several reporter and editor positions at the newspaper -- by using the easy options below. Gifts processed in this system are not tax deductible, but are predominately used to help meet the local financial requirements needed to receive national matching-grant funds.
Subscribe to the sports newsletter
Get the day's top sports headlines and breaking news delivered to your inbox by subscribing here.
---