News > Spokane
Spokane Public Schools and many other districts cancel classes as snow creates hazardous driving
Mon., Jan. 9, 2017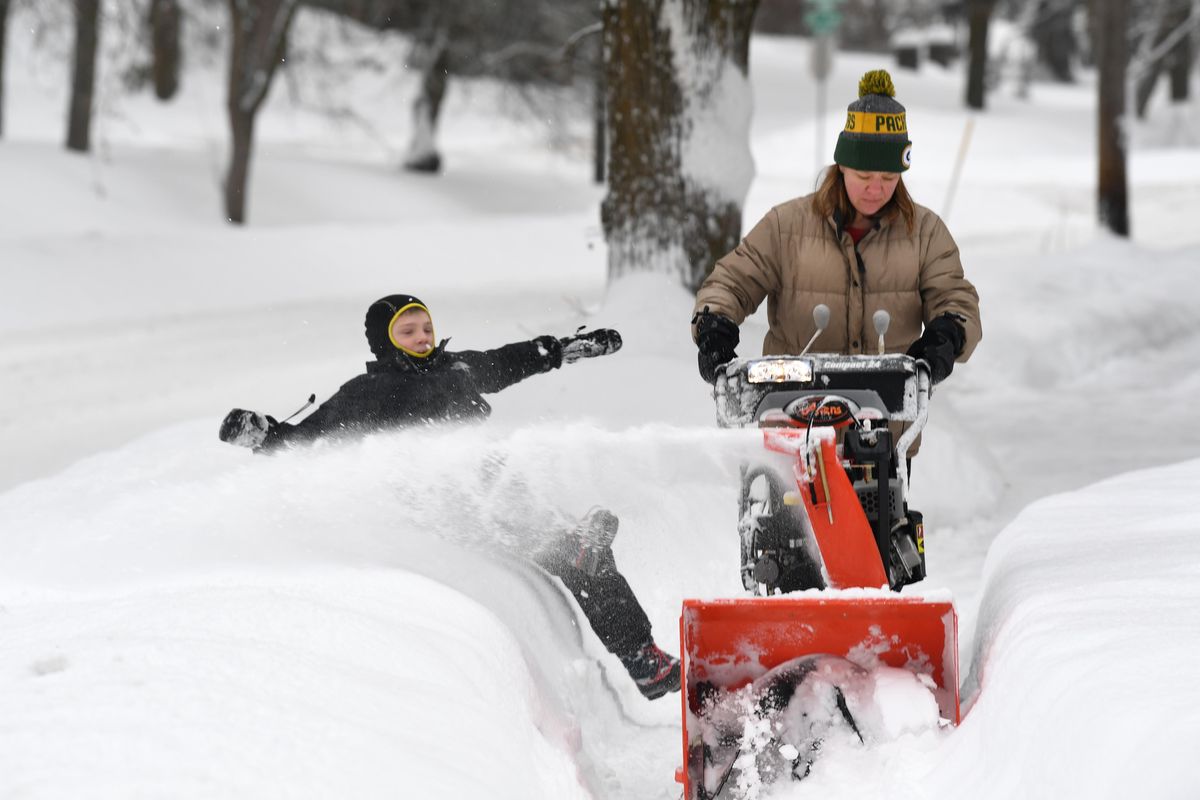 Amanda Roggenbauer runs a snowblower past several homes in her neighborhood while her son, Erik Roggenbauer, 8, dives into the snow bank for fun Monday, Jan. 9, 2017 along Rockwood Blvd. on the South Hill of Spokane. JESSE TINSLEY jesset@spokesman.com (Jesse Tinsley / The Spokesman-Review)
Snow continued to pile up in Spokane on Monday after 2.8 inches fell over the city on Sunday. Classes across the region were canceled or delayed.
The storm total stood at 5.9 inches of new snow that fell from Saturday night through the day on Monday.
The wintry weather shows no sign of letting up.
The National Weather Service issued a new winter weather advisory for snow and blowing snow from 1 p.m. Tuesday through 10 a.m. Wednesday. A shot of arctic air is expected to arrive on gusts from the northeast to 30 mph, forecasters said. Between 1 and 2.5 inches are expected during that period. Drifting snow is possible in outlying areas.
Spokane International Airport reported 10 inches of snow on the ground Monday.
The storm follows at least two arctic air episodes, bringing the coldest weather to the region in three years.
The first eight days of January were a combined 15 degrees below normal. December for the month was 4.3 degrees below normal with a minus-7 reading on Dec. 16, the coldest day so far this season.
Spokane has seen 33 inches of snow since winter weather arrived, which is about 6 inches above normal.
The city of Spokane Monday declared a snow event in which plows and graders will be deployed to all city streets.
Spokane Valley also announced a citywide plowing effort.
Spokane County had 90 pieces of plow equipment deployed and crews were concentrating on main arterials before moving into residential areas.
Post Falls also launched a citywide plowing effort.
Spokane Public Schools announced Monday morning that classes will be canceled Monday as a result of the snowstorm.
It's the first time weather has forced classes to be canceled in the district this school year.
Other districts and schools announcing closures are:
Central Valley School District
Mead School District
East Valley School District
Nine Mile Falls School District
Cheney Public Schools
Medical Lake School District
Reardan-Edwall School District
Great Northern School District
Gonzaga Prep
St. George's School
Assumption Parish Catholic School
Moses Lake School District
Lind-Ritzville Cooperative Schools
North Idaho College
Coeur d'Alene Public Schools
Post Falls School District
Lakeland Joint School District
Coeur d'Alene Tribal School
St. Maries Joint School District
Two-hour delays
These districts have announced two-hour delays:
West Valley School District
Freeman School District
Liberty School District
Orchard Prairie School District
Tekoa School District
St John-Endicott School District
Mary Walker School District
Valley School District
Garfield-Palouse School District
Odessa School District
Sprague-Lamont School District
Harrington School District
LaCrosse School District
How much?
The snow began falling Sunday afternoon. There was a break from late Sunday until about 4 a.m. Monday when it picked up again, said National Weather Service meteorologist Joey Clevenger.
The Spokane International Airport measured 2.8 inches of snow from Sunday and 1.5 inches on Saturday night.
The weather service received reports from late Sunday night of 4 inches in Cheney, 4 inches on Spokane's South Hill, 5 inches in Coeur d'Alene and 4 inches in Post Falls.
Another inch of more may fall through Tuesday.
Snow will clear out by Wednesday, but frigid air will return with lows expected Tuesday through Thursday nights expected to be near zero or at least in the single digits.
Road conditions
Police agencies reported numerous slide-offs and crashes overnight. Most roads have compact snow and ice on them, though in many places in downtown Spokane, the snow is not compact.
Drivers who don't have snow tires may struggle to enter arterials from residential streets.
Washington State Patrol troopers responded to 67 crashes in a 24-hour period ending early this morning, the WSP reported.
Mayor David Condon said crews will focus first on arterials, the hospital district routes, Spokane Transit Authority fixed bus routes, neighborhood business centers, the central business district and residential hills, but will also begin plowing downtown and other residential areas.
The city is asking motorists to move parked cars to the side of the street that has even-numbered addresses.
City spokesman Brian Coddington said crews have been clearing downtown routes but still are working to avoid the creation of berms in the middle of the streets. City plows avoid plowing downtown in the usual way of pushing snow to the side so that street parking remains open. If snow must be pushed out of the way in downtown, city plows usually push it to the middle, creating large berms that often confuse drivers.
Over the holidays, plow crews moved snow from parking areas into the travel lanes and then treated it with de-icer in an effort to get rid of obstructions from the accumulating snow.
Mark Serbousek, director of Spokane Streets Department, said crews will begin deicing downtown streets today and tomorrow before plowing Tuesday evening. The city is asking motorists to move off downtown street parking spaces from 2 a.m. to 6 a.m.
Serbousek said a full-city plow will take four days to complete.
The city reported early Monday that it had 20 crews working to clear streets. But more were being brought on duty and 53 were expected to be working soon, Coddington said.
Martha Lou Wheatley-Billeter, county spokeswoman, asked that vehicle owners move their vehicles off the street in advance of plowing.
She said crews were hoping to get the plowing finished before arctic air returns on Wednesday and turns the soft snow to an icy surface.
"The harder it gets, the more taxing it is to the equipment," she said.
Residents can follow county plowing at snowplowing.spokanecounty.org.
Snow information is available for Spokane Valley at spokanevalley.org/SnowInfo.
More arctic air is expected at mid-week with single digit lows on Tuesday, Wednesday and Thursday nights. Gusty northeast winds Tuesday night and Wednesday could cause snow to drift, forecasters said.
So far, Spokane has had five nights of below-zero readings. The last time it was this cold was in the winter of 2013-14 when the thermometer dropped below zero three times.
Flights
The Spokane International Airport is reporting multiple delays and cancellations, but many flights still are scheduled on time.
Airport spokesman Todd Woodward said flight schedules are recovering after a "very odd mix of precipitation, from ice pellets to freezing rain to snow and back and forth," forced the closure of the runway from 7:15 p.m. to 10:05 p.m. Sunday evening.
"Everything is fine now," Woodward said. "We're just trying to catch up from last night."
Last night, some flights heading to Spokane were diverted.
Local journalism is essential.
Give directly to The Spokesman-Review's Northwest Passages community forums series -- which helps to offset the costs of several reporter and editor positions at the newspaper -- by using the easy options below. Gifts processed in this system are not tax deductible, but are predominately used to help meet the local financial requirements needed to receive national matching-grant funds.
Subscribe now to get breaking news alerts in your email inbox
Get breaking news delivered to your inbox as it happens.
---