Sports
NFL notes: Tomlin defends decision to leave Roethlisberger in game with big lead
Tue., Jan. 10, 2017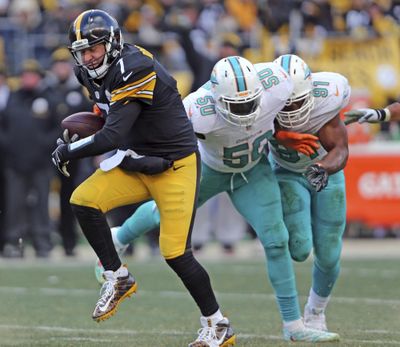 Pittsburgh Steelers coach Mike Tomlin on Tuesday defended his decision to leave quarterback Ben Roethlisberger in the Miami game despite holding an 18-point lead but admitted he got "over-aggressive" and shouldn't have called for a pass on the third-down play in which Roethlisberger injured his right foot.
Roethlisberger was wearing a walking boot after the game, but Tomlin said he merely aggravated a foot injury and should be fine to practice and play this week.
"We felt Ben's presence in the game would help us close the game out," Tomlin said. "A lot of our run game was check-oriented, and he had a better part of the game to see those checks."
But on third-and-3 at the Miami 46 with 4:23 remaining, Tomlin called for a pass play – a drag route to Demarcus Ayers similar to one the Steelers ran earlier in the second quarter. When Ayers ran the wrong route, Roethlisberger tried to extend the play and injured his foot when he was tackled from behind by Dolphins defensive end Cameron Wake.
"I take responsibility for throwing it on third down," Tomlin said. "I got a little over-aggressive there. I made the call, so don't ask Todd (Haley), I take responsibility for it."
Amendola: 'Feeling good'
New England Patriots receiver Danny Amendola says he's "feeling good" and hasn't had any setbacks while recovering from an ankle injury that has sidelined him for the past month.
Amendola spoke to reporters Tuesday for the first time since suffering the injury late in the Patriots' win over the Rams on Dec. 4. He missed the final four games of the regular season.
He wouldn't say whether he planned to play in Saturday's divisional round matchup with Houston, but said he's available for whatever the coaching staff asks.
Amendola returned to practice during New England's bye week. He has 23 catches for 243 yards and four touchdowns this season.
Around the league
The Oakland Raiders are reportedly replacing offensive coordinator Bill Musgrave with quarterbacks coach Todd Downing. Musgrave's contract was up and will not be renewed. … The Denver Broncos met with Miami Dolphins defensive coordinator Vance Joseph, the third candidate to interview for their head coaching vacancy following Gary Kubiak's resignation for health reasons. … The San Francisco 49ers interviewed Carolina defensive coordinator Sean McDermott for their head coaching vacancy and ESPN analyst Louis Riddick for their general manager job.
Local journalism is essential.
Give directly to The Spokesman-Review's Northwest Passages community forums series -- which helps to offset the costs of several reporter and editor positions at the newspaper -- by using the easy options below. Gifts processed in this system are not tax deductible, but are predominately used to help meet the local financial requirements needed to receive national matching-grant funds.
Subscribe to the sports newsletter
Get the day's top sports headlines and breaking news delivered to your inbox by subscribing here.
---