Sports
Aaron Best named head coach at Eastern Washington
Jan. 21, 2017 Updated Sat., Jan. 21, 2017 at 9:53 p.m.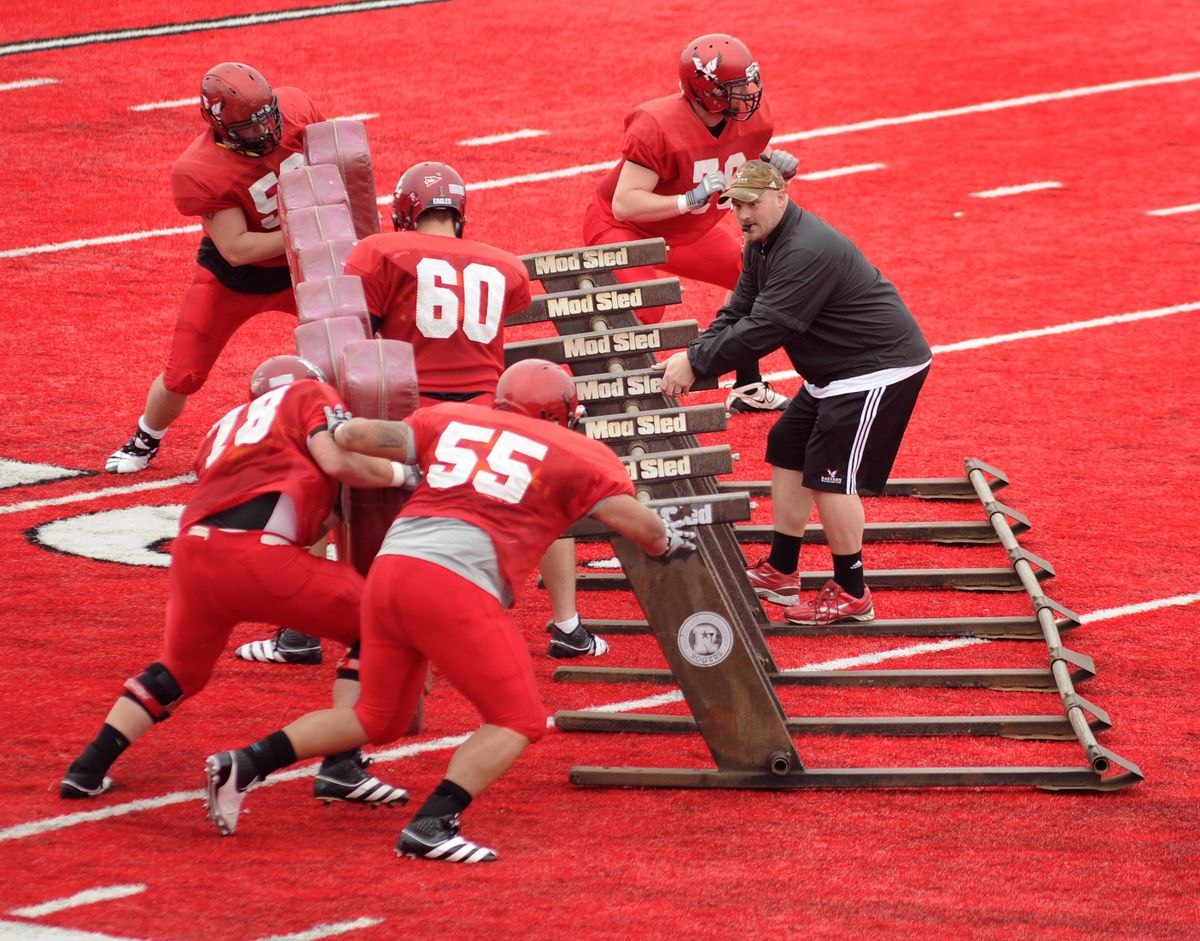 During a tackling exercise, Eastern Washington offensive line coach Aaron Best works with his players during spring ball in 2012. (Colin Mulvany / The Spokesman-Review)
After spending a life in the trenches, Aaron Best has scaled the mountain.
Twenty years after arriving in Cheney as a freshman offensive lineman, Best was named Saturday as the 21st head football coach at his alma mater, Eastern Washington University.
The moment was emotional, and Best wasn't afraid to admit it.
"I can't say that I didn't well up a little – those were real tears," Best said, recalling the moment earlier Saturday when athletic director Bill Chaves gave him the good news.
There's hard work ahead – the Eagles need to recruit some players, then a few new assistant coaches – but Best savored the moment with colleagues, family and friends.
"It's surreal, but I'm glad knowing that Bill has the trust in myself and the staff we have going forward," said Best, who will be introduced at a media conference on Monday at noon on the Eastern campus.
"Right now it's a blessing, and I'm thankful," Best said.
Apparently so is Chaves, who has continued an Eastern tradition of rewarding success from within – and the men who've come up through the trenches.
Best is only the Eagles' fifth head coach since 1979 and the third since then who played collegiately as an offensive lineman. Dick Zornes, who is also an Eastern graduate, coached at EWU from 1979-93 before former Idaho offensive lineman Mike Kramer took over from 1994-99.
Washington State offensive lineman Paul Wulff led the Eagles from 2000-2007 until Baldwin, a quarterback at Central Washington, took the reins in 2008.
The news came suddenly and unexpectedly in the form of a Tweet from Chaves:
"incREDibly excited to announce that Aaron Best will be @EWUFootball 's next HC! Introductory press conference on Monday at Noon" Chaves posted Saturday evening.
As promised, Chaves moved quickly in deciding on a successor for Baldwin, who resigned on Monday to become the offensive coordinator at California. Chaves had promised an expedited search, and delivered.
Chaves wasn't available for comment Saturday night. However, former EWU offensive lineman Aaron Neary said the news made him proud.
"He's a great coach, and fully deserving," said Neary, a lightly-recruited athlete out of Richland whom Best helped transform into an All-American in 2015.
"I just know he's going to carry on the legacy that Baldwin had," said Neary, who just signed a two-year contract with the Philadelphia Eagles.
The work begins immediately. Even as Chaves announced his decision, the EWU coaches were entertaining another group of recruits. National Signing Day is Feb. 1, and Eastern has assembled a strong class.
After that, Best must reconstitute an offensive staff that was decimated by the departure of Baldwin, coordinator Troy Taylor, running backs coach Kiel McDonald and wide receivers coach Nick Edwards.
The Eagles' high-powered passing offense has been the main reason they've won five Big Sky Conference titles in the last seven years; it's unclear what type of offensive style Best will employ.
The Eagles' defensive staff, led by coordinator Jeff Schmedding, returns intact.
The 38-year-old Best – he will turn 39 on Friday – has been in Cheney since the fall of 1996 as a player and coach at Eastern, including the last nine seasons as O-line coach under Baldwin.
Besides coaching the offensive line as a full-time assistant for 14 of his 16 seasons on the coaching staff, he has also served in various coordinator positions, most recently as the team's running game coordinator.
Best was a student assistant coach in 2000 and a graduate assistant in 2001, then became the primary offensive line coach from 2002-2006, and again from 2008-16.
Among the offensive linemen he coached was Michael Roos, who went on to a 10-year career with the Tennessee Titans in the National Football League.
With Best on the coaching staff, Eastern has had 13 different offensive linemen earn All-America honors, with first team All-Big Sky Conference honors being won on 16 occasions under Best.
Best played for Eastern from 1996-1999. He earned honorable mention All-America honors in 1999 when he was also a first team All-Big Sky selection.
Local journalism is essential.
Give directly to The Spokesman-Review's Northwest Passages community forums series -- which helps to offset the costs of several reporter and editor positions at the newspaper -- by using the easy options below. Gifts processed in this system are not tax deductible, but are predominately used to help meet the local financial requirements needed to receive national matching-grant funds.
Subscribe to the sports newsletter
Get the day's top sports headlines and breaking news delivered to your inbox by subscribing here.
---