News > Spokane
Woman pulled from burning car recounts experience, heroic actions by Spokane police officer
Jan. 22, 2017 Updated Mon., Jan. 23, 2017 at 7:04 a.m.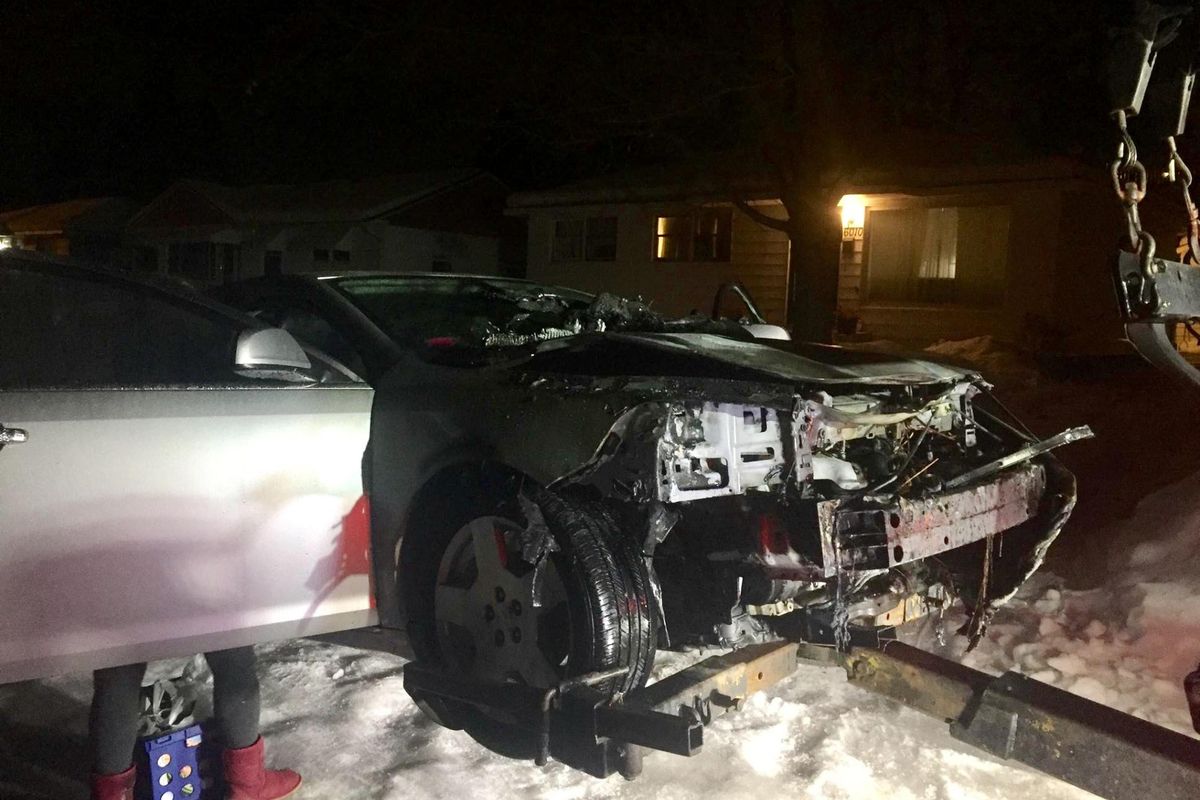 This is the wreckage of the car Kim Novak was driving Friday, Jan. 20, 2017, when it died before catching fire. Novak survived the fire, pulled from the burning vehicle by Spokane police Officer Tim Schwering. (PHOTO COURTESY OF KIMBERLY NOVAK / SR)
Kimberly Novak's night began with a trip to get ice cream. It ended with her being dragged out through the window of her burning car by a newfound friend.
Friday night was a night like any other, and Novak was in the mood for a treat. On her way home from shopping, she stopped at her local Rosauers at about 10 p.m., then made her way through the winding neighborhood streets toward her house on Montevista Place on the North Hill.
As she was driving through bumpy snow ruts on North Cannon Street, her 2012 Chevrolet Malibu hit a particularly rough one.
"At that very moment, the engine stopped and all the lights went out and I had no power to anything," she said. "The car coasted a short distance, then stopped."
She tried to turn the ignition. Nothing. She tried to pull the car door handle. Nothing. She tried to pull up the door lock knob. Nothing.
She didn't panic. Instead, she called her house phone, expecting her niece to answer. Again, nothing.
"I started to leave her a voice message, then smoke started coming out of the engine compartment," Novak said. "So, then I call 911; where there's smoke there's fire."
She still didn't panic. She calmly told the emergency dispatcher where she was and how to find her.
"But by the time I gave him the address and where to send fire and rescue, the flames were now shooting at least a foot up my windshield," she said. "And not just from one side."
That's when Novak started to panic.
The 911 dispatcher " asked me if I had anything to break the window, and I said I didn't have anything," she said. "He said, 'You'll have to kick it out.' "
For minutes, Novak kicked at her car front passenger side window, but it wouldn't give. Smoke began filling the passenger compartment, and that's when her panic turned to outright fear.
"I'm a Navy veteran. I've been to firefighting school. I know how these things work," she said. "I'm starting to freak out and I'm screaming. I'm saying, 'Help me, help me.' I want somebody to hear me."
She looked around and could see her neighbors. She remembers thinking "please, somebody see me."
"I was thinking to myself, 'It's not going to be long, it's coming under the floor bed and it's coming near me,' " she said. She moved to the back seat to escape the heat and buy herself more time.
For what Novak describes as an eternity, but was probably closer to half an hour, she kicked at a rear passenger window while swinging her hand above her head in an attempt to break the other. Still nothing.
The inside of the car was completely filled with smoke, and Novak could no longer see out of the windows. It was in that moment, unable to see because of the smoke, that she heard the man she now calls her angel.
"He started beating on the window with his nightstick or baton," Novak said. "He was banging with all his might."
Spokane police Officer Tim Schwering had heard the dispatch call on the general broadcast and realized he was only about a mile from Novak. He thought fire officials would be on scene when he arrived, with the car doused and the woman safe.
Neither was the case.
"I ran up to the car and saw she was in the car," Schwering said. "I pulled on the door and I saw it was locked, so I grabbed my baton. I honestly thought it would take one hit and the window would smash."
It didn't. Instead, the officer spent several minutes hitting and ripping at the glass, trying to create a hole.
Novak had began to lose hope.
"There came a point where I thought, 'He's not going to stand there anymore,' " she said. "At some point, common sense is going to tell him to get the heck out of there … the flames were right near him."
Schwering didn't leave. He clawed and pried until there was a hole big enough for Novak to fit her head through. Body cam footage released by the police department shows the entire ordeal.
"I saw an opening about the size of a large cantaloupe," Novak said. "I got my head struck through there and they got a hold of my coat, and I was pushing like a linebacker in the front line of the Seahawks. I wasn't messing around."
By this time, a neighbor who heard Novak pounding on the glass and had earlier seen the roaring flames made her way outside to help Schwering. The two grabbed Novak and pulled her through the small opening and to safety.
"Here's my angel number two," Novak said of her neighbor.
The pair dragged Novak several yards from the car, concerned it would explode. Shortly after, firefighters arrived and doused the foot-high flames.
At that point, Novak and Schwering had time to wonder why the locks had seized and the window was so difficult to break. Novak said the car had only 73,000 miles and was serviced regularly, and she can't fathom why it would suddenly burst into flames.
"I loved that car, and it had no issues at all," she said.
Novak and Schwering were both treated for smoke inhalation, and the neighbor for a minor cut from the broken window.
But everybody was OK, and so was the ice cream.
"Schwering joked that, 'To hell with ice cream, you're gonna need a big glass of wine,' " Novak said. "The next morning, he showed up to my house with a gallon of ice cream and a bottle of wine.
"He and I are basically best friends now."
Local journalism is essential.
Give directly to The Spokesman-Review's Northwest Passages community forums series -- which helps to offset the costs of several reporter and editor positions at the newspaper -- by using the easy options below. Gifts processed in this system are not tax deductible, but are predominately used to help meet the local financial requirements needed to receive national matching-grant funds.
Subscribe now to get breaking news alerts in your email inbox
Get breaking news delivered to your inbox as it happens.
---