News > Spokane
Deal between Parks and KXLY yields a new southeast soccer field and ped path
Wed., July 5, 2017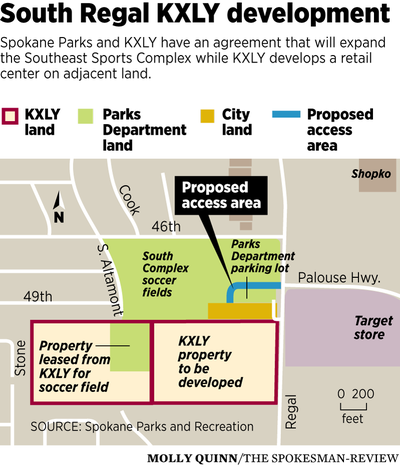 The Spokane parks department has reached an agreement with KXLY that will improve the Southeast Sports Complex while KXLY develops its property next door.
The sports complex will get new parking areas, better access off Regal Street, new restrooms, a new pathway and a new soccer field.
In exchange, KXLY will have an improved commercial development. Parking near the soccer fields will be shared by park users and customers to the new development at Regal and Palouse Highway.
"We feel like it's going to be a great combination for this area," said Garrett Jones, of the parks department.
In addition to getting improvements, the city parks department will no longer have to maintain any of the parking for the soccer complex, he said.
"We can refocus our resources into a recreational facility," he said.
The public-private arrangement was approved by the Park Board in May.
It is made up of three legal agreements.
The first is a license and development agreement in which KXLY gets improved access to the planned shopping center and takes ownership of a smaller city parcel at the southeast corner of the soccer complex.
The city will have authority to review and approve plans.
The second agreement is an easement to allow construction on both city park property and the separate parcel owned by the city outside of park department authority. That part of the arrangement includes an access and reciprocal parking agreement.
That smaller city parcel, not the soccer complex property, would be deeded to KXLY.
The third agreement is a lease for the new soccer field to be located on the southwest corner of the complex on KXLY property.
Jones said the lease is for 20 years with an option to renew for another 20 years.
Restrooms are going to be rebuilt to the west of their existing location, and they will include a storage area.
Landscaping, way-finding, sidewalks and a future bus stop are included in the plan so far.
The plan was developed in consultation with the Southgate Neighborhood, including the inclusion of a trail, which is consistent with the neighborhood master plan, Jones said.
"The reality is you are not going to see a physical boundary" between the complex and the retail development, Jones said.
Local journalism is essential.
Give directly to The Spokesman-Review's Northwest Passages community forums series -- which helps to offset the costs of several reporter and editor positions at the newspaper -- by using the easy options below. Gifts processed in this system are not tax deductible, but are predominately used to help meet the local financial requirements needed to receive national matching-grant funds.
Subscribe to the Coronavirus newsletter
Get the day's latest Coronavirus news delivered to your inbox by subscribing to our newsletter.
---
Subscribe and log in to the Spokesman-Review to read and comment on this story