News > Spokane
Facing $10 million budget shortfall, Spokane County voters to decide on property tax increase
July 12, 2017 Updated Wed., July 12, 2017 at 10:51 p.m.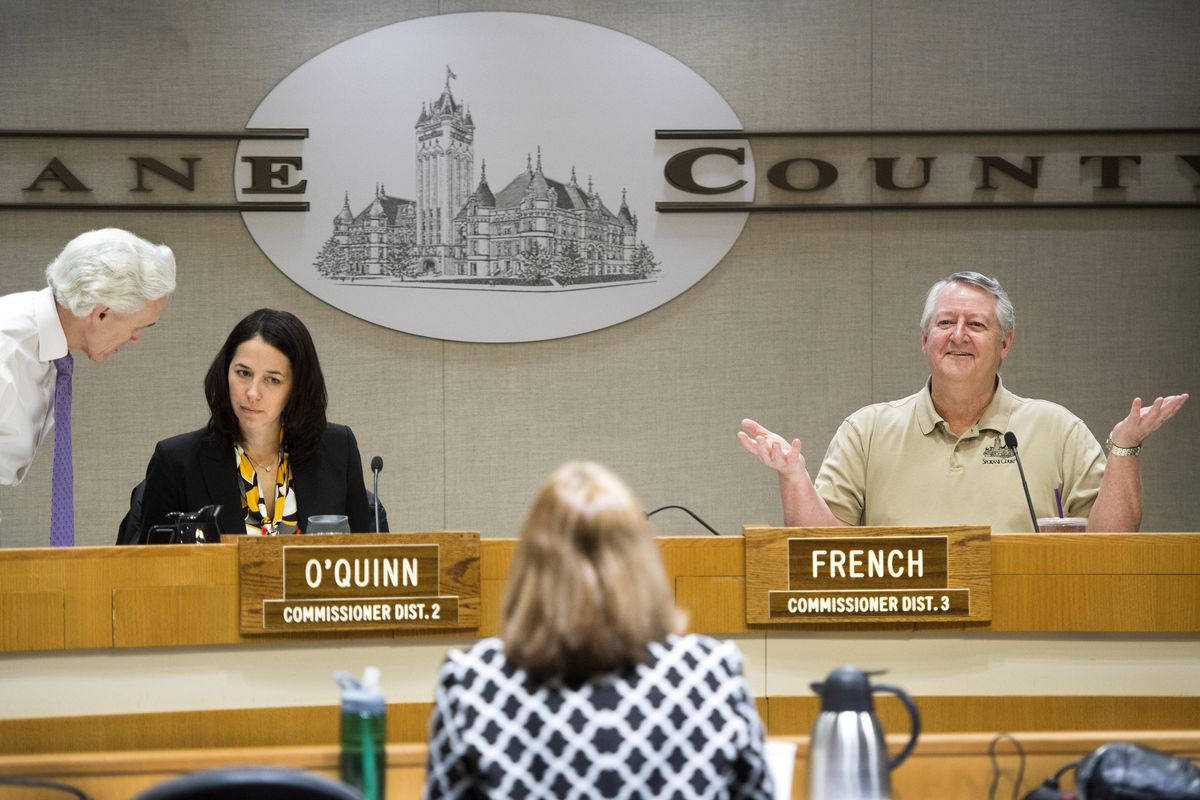 FILE – Spokane County Commissioner Al French, right, converses with commission candidate Nancy McLaughlin on Feb. 22, 2016. At left, county attorney Jim Emacio meets with Commissioner Shelly O'Quinn. (Dan Pelle / The Spokesman-Review)Buy a print of this photo
Spokane County voters will decide in November whether to raise property taxes, a decision that may help fill holes in the county budget or result in a reduction of services.
The three Republican county commissioners, Josh Kerns, Shelly O'Quinn and Al French, voted unanimously Tuesday to put the tax measure on the ballot.
In an interview Wednesday, French said that because of declining sales tax revenue and "unfunded mandates" from the Legislature and the state Supreme Court, the county has arrived at a "crucial turning point" where voters must decide between raising taxes and cutting from basic services such as law enforcement and road maintenance.
He said the county no longer can rely on temporary fixes, such as shifting property tax revenue to the general fund. Property taxes generally are used to pay for roads.
Jared Webley, the county's communication director, said the county faces a $10 million budget shortfall.
State law prohibits counties from raising property taxes by more than 1 percent annually. City and county officials, including many in rural parts of the state, say the cap has hindered their ability to keep parks beautiful and deputies on patrol.
The cap was approved by the Legislature in 2007 and signed into law by then-Gov. Chris Gregoire after two ballot initiatives with similar goals were struck down by the courts. The previous cap was 6 percent.
There is one exception. With voters' approval, a county can raise taxes by more than 1 percent in a given year if it has refrained from adding a whole percentage point in previous years. The leftover taxing authority is accumulated and referred to as "banked capacity."
Called a levy lid lift, the Spokane County ballot measure would allow the commissioners to raise the property tax levy by up to 25 cents per $1,000 of assessed value in 2018. The increased rate could be in place for up to nine years. It wasn't immediately clear when, if ever, such a measure appeared on the county voter ballot.
Webley said the additional 25 cents would generate about $17 million for the county annually, but the commissioners haven't decided if they would raise the tax rate by that much. They are reviewing how the state operating budget, which the Legislature passed about two weeks ago, will impact the county's finances, he said.
The county this year was slated to receive about $164.5 million and spend about $163.9 million from the general fund. About 75 percent of that is dedicated to the criminal justice system.
"Arrests, prosecution, judges, the public defender's office, pretrial services – we pay for all of that, and yet we don't get any additional revenue to support that cost," French said.
French said counties have long relied on sales taxes, but that revenue has been siphoned away as cities swallow up urban areas and large retailers – a phenomenon he blamed on the state's Growth Management Act, which was enacted in 1990. The incorporations of Spokane Valley and Liberty Lake, and the annexations of the Costco in north Spokane and the Shopko on the South Hill, each have dealt a blow to the county's finances, he said.
"I supported those annexations at the time, and in retrospect I'm not so sure it was the right decision because the county needs to be able to survive financially just like the city," said French, who served on the Spokane City Council before joining the county commission in 2011. "Growth in the region is something that has to support everyone."
The decision to put the tax measure on the ballot likely will be one of O'Quinn's last votes as commissioner. She has taken a job as chief executive officer of the Inland Northwest Community Foundation and has said she plans to formally resign from the commission on Sunday. She did not respond to a phone call seeking comment on Wednesday.
The tax measure is likely to become a political barb against Kerns, who campaigned on a platform of limited government and repeatedly promised he would fight to "hold the line on taxes."
Kerns defended the move Wednesday, saying all other options have been exhausted.
"This is not us increasing taxes on the voters. This is us asking the voters how they want us to proceed," he said. "If they vote no, then we are going to look at a reduction of services. If they see value in maintaining these services, then what is that worth to them?"
But during his campaign last year, Kerns lobbed criticism at the incumbent, fellow conservative Nancy McLaughlin, for supporting a tax measure when she was a Spokane city councilwoman in 2012. It gave voters the option to raise property taxes for the city library system and passed the following year.
Kerns said last July that McLaughlin should have withheld support for the measure. "When the major theme of your campaign is no new taxes … I don't think that's an unreasonable thing to ask of a public official."
On Wednesday, Kerns said he criticized McLaughlin not for voting to put the library measure on the ballot, but for making public statements in support of the tax increase. He said he neither opposes nor supports the county's measure.
"It's amazing how he can twist things," McLaughlin said. "If he's going to hold himself to the same standard, then he's broken his campaign promise already."
Local journalism is essential.
Give directly to The Spokesman-Review's Northwest Passages community forums series -- which helps to offset the costs of several reporter and editor positions at the newspaper -- by using the easy options below. Gifts processed in this system are not tax deductible, but are predominately used to help meet the local financial requirements needed to receive national matching-grant funds.
Subscribe now to get breaking news alerts in your email inbox
Get breaking news delivered to your inbox as it happens.
---