Marketing > EVERCANNABIS
Cannabis for our canines
Dog owners swearing by pot products; vets uncertain
Fri., July 28, 2017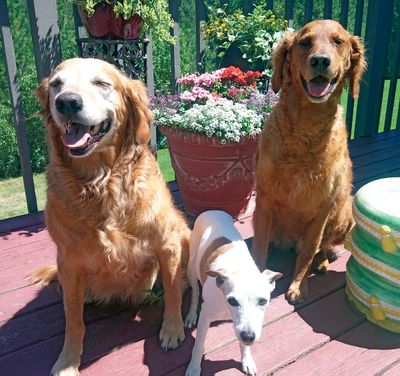 When Deb Lynam's golden retriever Benny suffered a major medical episode, she initially sought out traditional veterinary medicine. Unfortunately, she concluded that the recommendation she received could have harmed or even killed him. Two years ago Benny had a massive seizure. "It was such a scary event," recalled Lynam. "His body was flipping out of control all over the living room. But the vet wasn't going to do anything because it was just one seizure." Lynam brought Benny back to the Spokane-area home also shared by Flinn, another golden retriever, and Twosie, a Jack Russell terrier. Then Benny had two more seizures. "He was so out of it that he grabbed my hand and wouldn't let go. The vet ran tests: idiopathic epilepsy from an unknown cause. She prescribed barbiturates." As a nursing assistant at St. Luke's Rehabilitation's brain injury unit, she knew that side effects of barbiturates could include stupor, loss of coordination, instability, irritability, and even death, at least in human. Her son suggested cannabis oil, she never had considered for pets. "I finally agreed. We gave Benny a dose after that third seizure, and another dose the next morning," Lynam said. "He had one more seizure, which only lasted five seconds. He got up, walked away, and has not had another seizure in more than two years." CBD hemp oil is typically made from low-THC hemp. THC is the molecular compound that causes mental and physical reactions associated with general marijuana use, while CBD is another natural compound that provides pain relief. Lynam now spends about $50 a month on treats for Benny, including CBD oils that she drizzles over his food, along with Canna-Pet, a brand of flavored organic biscuits suggested for dogs. She finds some items online and at Sativa Sisters, a Spokane retailer. "I'm a big advocate for CBD in treating seizures in dogs," she said. "I'm sticking with what works and hopefully it will continue to be readily available." Now, Benny isn't the only pet to benefit from them. Flinn, her 9-year-old golden retriever, "has come up with a limp so I'm starting to use CBD on her. She has bad anxiety when we go to agility and obedience trials, where she gets really nervous. I give her CBD dog gummy treats, and she seems better in public — I'm a true believer." The American Veterinary Medical Association has encouraged its members to investigate cannabis use for ailing pets. In a 2013 professional journal article, "Veterinary Marijuana?" the AVMA suggested that further research "could prevent accidental overdoses from owners' well-meaning attempts to relieve pets' pain and suffering." The article continued identifying CBD use "to treat behavior-based disorders, including separation anxiety and noise phobia, as well as irritable bowel syndrome and feline immunodeficiency virus infection; for management of pain, nausea, and seizures; and as an appetite stimulant. Cannabis oil is also being used topically to treat tumors." During the 2016 Nestlé Purina Companion Animal Nutrition Summit, veterinarian Susan Wynn of BluePearly Georgia Veterinary Specialists' Nutrition and Integrative Medicine Department, discussed therapeutic intervention and the use of cannabis on companion animals. Wynn told attendees that although veterinarians cannot recommend cannabis, they can advise on toxicity, since dogs have more brain receptors for cannabis than humans, which makes them especially sensitive. Similar conflicts in providing advice are seen at Washington State University's College of Veterinary Medicine, where due to federal funding, cannabis is considered an illicit substance so can't be researched for possible medical use in pets. But toxicity can be discussed. Currently, most pet products containing CBD are not regulated, something the U.S. Food and Drug Administration finds troubling. In letters sent to companies selling CBD products for pets in 2015, the FDA expressed concerns about marketing messages and labeling that claimed the products help pets with asthma, cancer, chronic pain, dementia, seizures and other maladies. This uncertainty over verbiage and effectiveness also caused the FDA to caution owners about using any cannabis products for pets, without first talking to their vet about other treatment options. Despite the FDA's lack of guidance, many pet experts report nothing but success in CBD oil treatments. One of those experts is Montana-based Nancy Tanner, certified professional dog trainer, and owner of Paws and People. She has several clients who give products to their dogs for anxiety. For dogs under 20 pounds, and especially picky eaters, CBD is available in small tablets containing powder in clear vegetarian capsules. Bigger dogs can have oils mixed into food, or dog treats such as Canna-Pet. "It's not a sedative. It allows a dog to take a deep breath and reset," she added, noting that it also helps dogs suffering from past trauma, but not necessarily specific events such as thunderstorms or fireworks.
Though some pooch owners say dogs can benefit from cannabis, cats may not be as receptive. "While oils like lavender and chamomile work for dogs, they are toxic for cats," said Nancy Tanner, certified professional dog trainer and owner of Paws and People. "Felines and canines are built differently. Humans and dogs, however, have similar receptors and are receptive to CBD as a medicinal plant." With the exception of a few Canna-Pet products especially for cats, most pet products are intended for dogs only.
Local journalism is essential.
Give directly to The Spokesman-Review's Northwest Passages community forums series -- which helps to offset the costs of several reporter and editor positions at the newspaper -- by using the easy options below. Gifts processed in this system are not tax deductible, but are predominately used to help meet the local financial requirements needed to receive national matching-grant funds.
Subscribe now to get breaking news alerts in your email inbox
Get breaking news delivered to your inbox as it happens.
---