News > Washington
From Bellevue to Spokane, Planned Parenthood supporters pan McMorris Rodgers' support of health care bill
June 1, 2017 Updated Fri., June 2, 2017 at 1:25 p.m.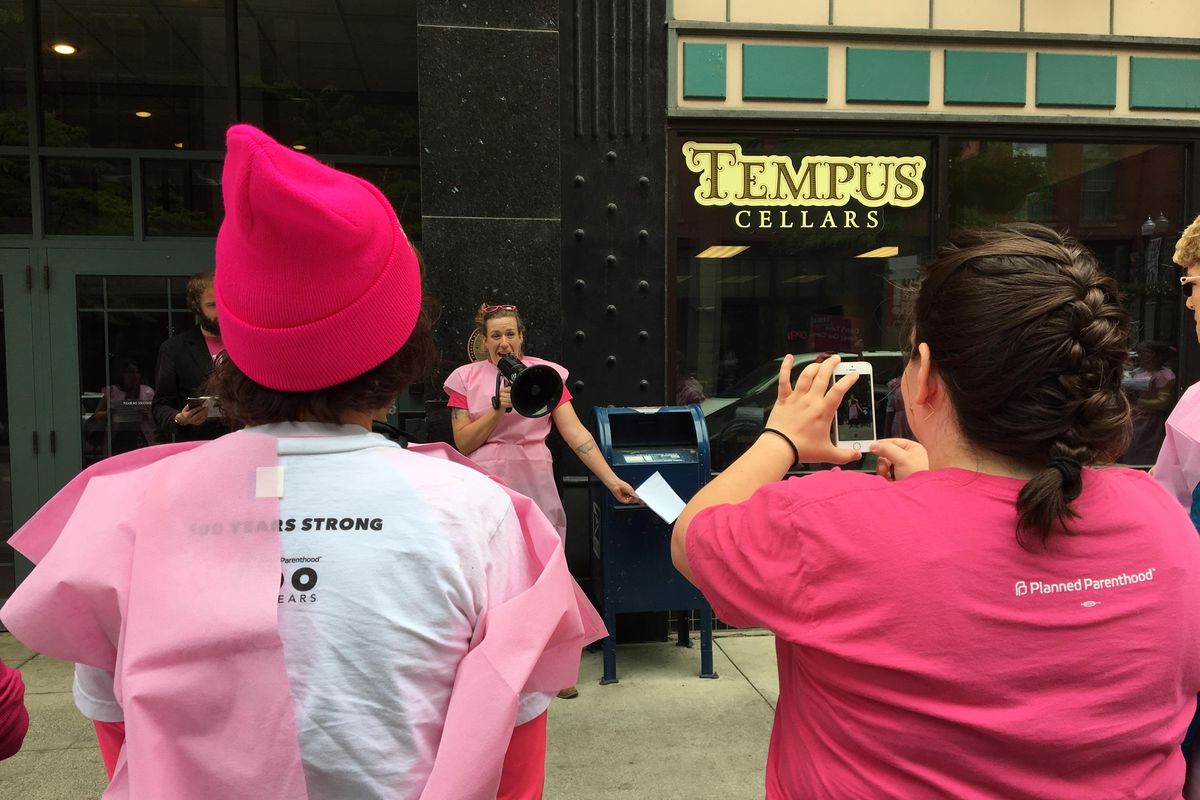 Beth Robinette speaks to Planned Parenthood supporters through a bullhorn outside the downtown Spokane office of Rep. Cathy McMorris Rodgers on Thursday, June 1, 2017. Robinette said efforts by lawmakers to restrict funding to the nonprofit shut off access to "basic health care" to others like her. (Kip Hill / The Spokesman-Review)
Editor's note: A previous version of this story included an incorrect percentage on the amount of abortion services Planned Parenthood provides nationwide. The story has been updated to correct this error.
Rep. Cathy McMorris Rodgers' stance on health care issues drew crowds of protesters on both sides of the state Thursday.
In Spokane, protesters in pink hospital gowns called on her Thursday morning to drop efforts to withhold funding to Planned Parenthood.
In Bellevue, an evening rush-hour crowd of about 100 gathered on a street corner outside a building where her re-election campaign was holding a campaign fundraiser, chanting and waving signs to protest her vote for the House Republicans' proposal to replace the Affordable Care Act.
"The effort to defund Planned Parenthood is billed as this pro-life effort," said Beth Robinette, who spoke to a crowd of roughly 40 people who gathered at the congresswoman's downtown Spokane office to defend the nonprofit health care provider. "But I look at the support I've been able to give my family, because I didn't have more kids than I could take care of, and that seems like the most pro-life thing in the world to me."
The provider has been targeted in the Republican alternative, supported by McMorris Rodgers, to the Affordable Care Act
Supporters of Planned Parenthood were joined by the NARAL Pro-Choice America, Washington Community Action Network and FUSE for the Bellevue protest, put together in just 24 hours with a posting on Facebook. It was an effort "to keep up the drumbeat and show opposition," said Collin Jergens, of Fuse.
The fundraiser for McMorris Rodgers, held at Daniel's Broiler, a popular steakhouse, was sponsored by the Microsoft PAC, with tickets of $1,000 for the cocktail reception, $2,500 for a roundtable discussion and $5,000 for dinner.
Most of the crowd was from Western Washington and wouldn't be able to vote against McMorris Rodgers in the 2018 election. But Spokane residents Darci Ladwig and Bonnie Roberts both addressed the crowd after trying unsuccessfully to enter the fundraiser and talk to the congresswoman.
Ladwig said she was in the area anyway because her daughter Zoe, who was with her in a wheelchair, had medical appointments. Zoe was born prematurely and has developmental disabilities and relies on Medicaid and other provisions of the Affordable Care Act for her care.
Ladwig said she's afraid of what will happen to those programs if the House Republicans' bill, the American Health Care Act, becomes law.
An assistant coordinator for ARC, Ladwig said she attended a roundtable discussion with McMorris Rodgers a few days before the AHCA passed, and thought the congresswoman was "almost defensive" about her support for the proposal.
Roberts, a retiree who formerly worked for the Spokane Housing Authority, said she flew over for the protest. She said she has attended gatherings outside McMorris Rodgers' Spokane office and meetings with her staff, but is angry the congresswoman hasn't held a general town hall meeting this year.
The crowd cheered when Roberts told of their unsuccessful efforts to talk to her at the Microsoft-sponsored fundraiser.
"I don't have $5,000 to tell her what I need to tell her … People don't want their health care taken away," Roberts said.
In a morning interview on KHQ-TV, McMorris Rodgers said she has held town hall meetings in the past and will hold them in the future, but prefers to hold smaller gatherings because they are more constructive. "I'm not interested in just a circus," she said.
Republican lawmakers in the House of Representatives have attempted to withhold federal funds from Planned Parenthood ever since the release of videos in 2015 purporting to show the organization sold fetal tissue for profit.
McMorris Rodgers was among the GOP lawmakers calling for an investigation after the release of the videos, though a grand jury in Texas cleared the nonprofit of wrongdoing and instead charged those who recorded, part of a political group opposed to the nonprofit, with felonies.
After the videos were released, McMorris Rodgers supported a legislative bid to deny Planned Parenthood federal funds, though that money already can't be used for abortions because of a 1977 provision in federal law that has been renewed many times.
The health care bill that passed the House of Representatives earlier this year, with McMorris Rodgers as the sole Washington lawmaker in support, bars Medicaid payments to Planned Parenthood for a year to cover any health care services unless the nonprofit stops providing abortions.
In its most recent report, Planned Parenthood said 3 percent of its visits in 2015 and 2016 were for abortion services. The other 87 percent included birth control consultations and tests or treatment for sexually transmitted diseases.
Under the health care legislation, which is being rewritten in the U.S. Senate, Medicaid-covered patients could receive care at a community health center that does not offer abortions. Protesters on Thursday said Planned Parenthood provided quicker and more comprehensive service than is available at health centers, which they said would be overwhelmed by patients who would have to switch providers if the new bill becomes law.
The Community Health Association of Spokane, which is anticipating its own hardships under the new health care law, would presumably be the agency that could provide services if Planned Parenthood's funding ends. Through a spokeswoman, CHAS declined to comment Thursday on the ramifications of any Planned Parenthood changes brought about under the new law.
Spokesman-Review reporter Jim Camden reported from Bellevue.
Local journalism is essential.
Give directly to The Spokesman-Review's Northwest Passages community forums series -- which helps to offset the costs of several reporter and editor positions at the newspaper -- by using the easy options below. Gifts processed in this system are not tax deductible, but are predominately used to help meet the local financial requirements needed to receive national matching-grant funds.
Subscribe now to get breaking news alerts in your email inbox
Get breaking news delivered to your inbox as it happens.
---