Gonzaga Prep standout Anton Watson orally commits to Gonzaga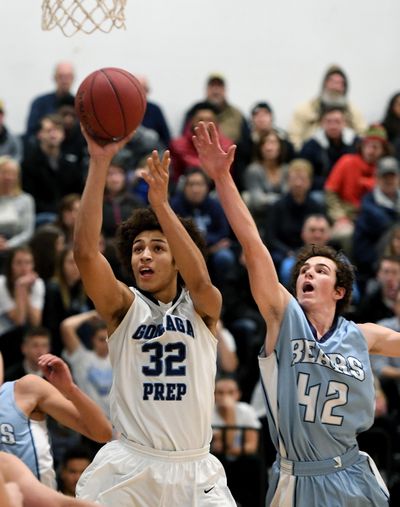 In a few years, Anton Watson will go from being a Gonzaga Prep Bullpup to a Gonzaga Bulldog.
The standout 6-foot-7 forward said he orally committed Tuesday while watching the Zags work out, telling coaches, "I could see myself playing here and this is where I want to go."
Watson, a junior, becomes the first member of Gonzaga's 2019 class. He said Washington, Washington State and Idaho have been in contact but he didn't visit any other schools. He visited GU three weeks ago and received his first Division I offer.
Watson was the Greater Spokane League MVP last season as a sophomore. He averaged 19 points, leading Gonzaga Prep to the GSL title and third-place finish at the State 4A tournament.
"It feels pretty good, it's exciting," Watson said. "It's going to be a long wait for two years, but I'm anxious to get out and start playing and try to prove myself."
Watson was named to USA Today's All-Washington second team along with incoming GU freshman wing Corey Kispert of King's High.
Watson projects as a '4', or power forward, at Gonzaga. He has great instincts on the court and is a strong finisher. He plays primarily inside at Gonzaga Prep, which has placed third at state the last two seasons.
"I think I could play a little '3' and '4', but I definitely need to work on my (outside) shot," said Watson, who plays receiver on Gonzaga Prep's football team. "My strength is my IQ, I've been playing the game for a long time and I know how to play. I need to get stronger and get my perimeter game up."
Other recent Gonzaga Prep products to play for the Zags include David Stockton (2011-14), who walked on and eventually earned a scholarship and starting job; and Chris Sarbaugh, a GU walk-on in 2012 who finished his career at Idaho.
Watson's father, Deon, was a standout forward for the Idaho Vandals from 1991-94 and is the program's all-time rebounding leader.
Sister Haile plays volleyball at Fresno State after beginning her career at Eastern Washington. Older brother Deon Jr. played wide receiver/tight end for Idaho's football team from 2013-2016.
"My parents are pretty excited," Watson said. "They're probably more excited about the educational part."
---