News > Crime/Public Safety
Knezovich stands behind heated comments blaming Obama for 'war on cops'
March 6, 2017 Updated Mon., March 6, 2017 at 11:23 p.m.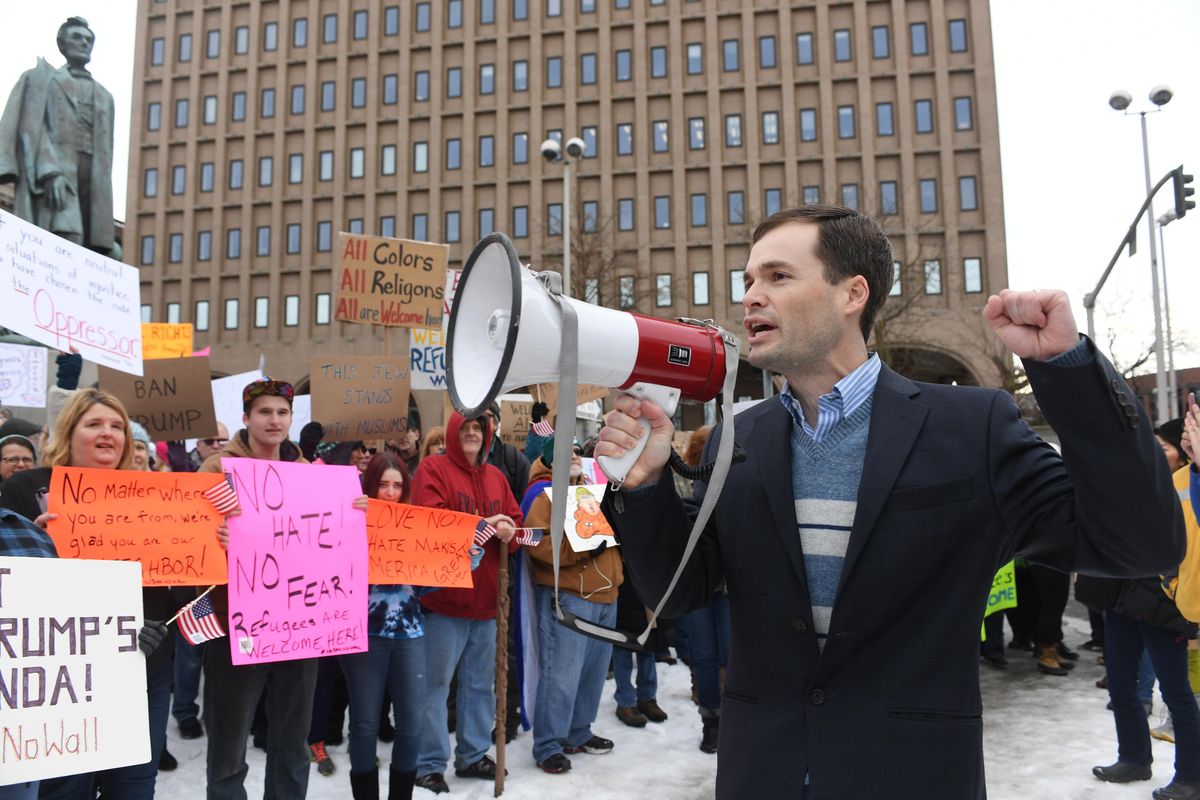 FILE – Andrew Biviano, chairman of the Spokane County Democratic Party, speaks to a large crowd in downtown Spokane in protest of President Donald Trump's travel ban on Jan. 29, 2017. (Jesse Tinsley / The Spokesman-Review)
Despite some rebukes, Spokane County Sheriff Ozzie Knezovich stood by remarks he made Saturday at a conservative rally in Spokane Valley, in which he blamed former President Barack Obama for emboldening people to "hunt and assassinate" law enforcement officers.
Obama's rhetoric, the sheriff claims, is part of a broader "war on cops" that inspired attacks on officers in Baton Rouge, Louisiana; Dallas; New York and other cities.
"What I said about Barack Obama – our former president – that was not rhetoric," Knezovich said in an interview Monday. "That was my heartfelt belief that President Obama let this country down. That man was perfectly positioned to heal this country and close the divide between law enforcement and the people, and he blew it."
Knezovich, a Republican, has made similar statements before, including after the fatal shootings of five Dallas police officers last summer. The difference, he believes, is that his most recent speech was delivered at a rally in support of Donald Trump.
"I speak at Democrat rallies; I speak all over the place," Knezovich said Monday.
The chairman of the Spokane County Democrats, Andrew Biviano, wrote an "open letter" to Knezovich on Facebook in which he urged the sheriff to "tone down your own rhetoric and use more nuanced language, lest someone level at you the same unfair accusation of complicity in murder."
According to the Washington Post, the number of law enforcement officers intentionally killed each year has been steadily declining for decades and reached historic lows during Obama's presidency.
The Post analyzed data from the Officers Down Memorial Page, a website that tracks police fatalities in real time, and found an average of 62 intentional killings per year under Obama. That compares to 101 under Ronald Reagan, 90 under George H.W. Bush, 81 under Bill Clinton and 72 under George W. Bush.
However, according to the National Law Enforcement Officers Memorial Fund, there has been an increase in "ambush-style" attacks, which claimed the lives of 21 officers in 2016, the highest total of any year in the past two decades. The Memorial Fund reported that 135 officers died in the line of duty last year, including 64 from gun-related incidents and 53 from traffic-related incidents.
Knezovich said he still has some "reservations" about Trump but stopped short of blaming him for any tensions between police and marginalized communities. By contrast, he said Obama established an anti-police tone early in his presidency by suggesting that a Cambridge, Massachusetts, officer "acted stupidly" in the 2009 arrest of black Harvard University professor Henry Gates Jr.
Biviano said Obama "validated the pain of those who had suffered at the hands of police" and "definitely stood up for police as well" by recognizing the sacrifices of law enforcement officers in speeches and eulogies, and by allocating billions of federal dollars to maintain local police forces. Knezovich should remind people of that, he said.
"That, coming from the mouth of a sheriff, would mean so much," Biviano said in an interview. "I want this to be an opportunity for this dialogue to be fixed."
Knezovich also criticized Gov. Jay Inslee on Saturday for a recent executive order that restricts state agencies from helping enforce federal immigration laws.
"I can tell you that 39 sheriffs are about to let Mr. Inslee know that we're going to do our jobs," he said Saturday.
On Monday, Inslee said he'd be happy to talk with Knezovich about his concerns. He said the executive order covers the Washington State Patrol – not sheriff's departments – and is designed to comply with the state and federal constitutions on arrest procedures.
If there's a request from federal immigration officials, state troopers will arrest anyone who has a valid arrest warrant, Inslee said.
"We do not have arrest authority absent a federal order," he said.
But without a warrant, troopers will not automatically detain someone they suspect is an undocumented immigrant. Being seen as an arm of federal immigration authorities might keep victims or witnesses from coming forward and talking to state troopers investigating accidents or crimes, Inslee said.
Inslee hasn't heard from Knezovich or any of the other sheriff in the state, but his staff said several sheriffs in other counties have issued directives to their deputies similar to the governor's order.
The leaders of the Washington State Sheriffs' Association and the Washington Association of Sheriffs and Police Chiefs did not respond to messages seeking comment Monday.
Yet Knezovich insisted sheriffs are united against Inslee's order, which comes in the wake of a controversy in Western Washington involving the arrest of an undocumented driver on Interstate 5. A state trooper is under administrative review for reporting the driver, who'd previously been convicted of a felony, to federal immigration authorities.
"We're really not happy that a state trooper is under investigation for doing his job," Knezovich said. "That's garbage."
Olympia bureau chief Jim Camden contributed to this report.
Local journalism is essential.
Give directly to The Spokesman-Review's Northwest Passages community forums series -- which helps to offset the costs of several reporter and editor positions at the newspaper -- by using the easy options below. Gifts processed in this system are not tax deductible, but are predominately used to help meet the local financial requirements needed to receive national matching-grant funds.
Subscribe now to get breaking news alerts in your email inbox
Get breaking news delivered to your inbox as it happens.
---