Gonzaga's Mark Few reaching Final Four popular among coaching colleagues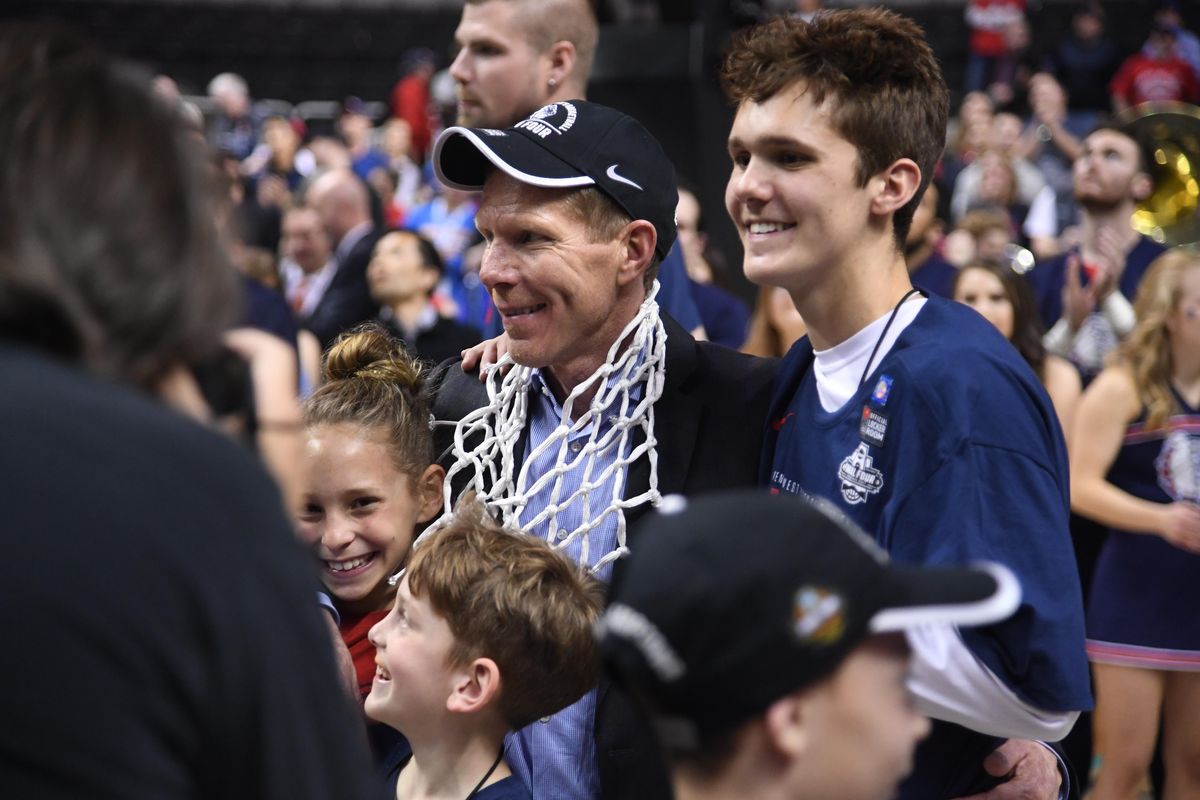 GLENDALE, Ariz. – Rick Barnes' perspective on the Final Four is unlike any other coach in the country.
The Tennessee coach is a close buddy of Gonzaga's Mark Few. Barnes knows South Carolina's Frank Martin, goes back 30-plus years with Oregon's Dana Altman and he's drawn up Xs and Os against North Carolina's Roy Williams for decades.
Tennessee is just the fourth program in tournament history to play all four Final Four teams, going 0-5 and dropping four of those games by 10 points or less.
Barnes noted the two best teams the Vols faced this season were Gonzaga and North Carolina. North Carolina beat Tennessee 73-71 on Dec. 11 in Chapel Hill. The Zags beat the Vols 86-76 a week later in Nashville.
"The real storyline in this whole deal is they're both throwbacks," he said. "Those two teams stiill believe in putting that ball inside. They're not going to change."
Barnes said Few reaching his first Final Four has been popular in the coaching fraternity. Few has heard from numerous colleagues, including longtime friends and Final Four veterans Billy Donovan and Brad Stevens, both currently coaching in the NBA.
"I admire Mark because he's gone against the grain," Barnes said. "Everyone tells him he's at what people perceive as a mid-level league. He has so much belief in Gonzaga and love for that state and area. I think he realized he's been close enough that he didn't have to go anywhere else. Think about how many have jumped and it didn't work."
The handshake line took a little bit longer than usual after the Zags crushed Xavier last Saturday because Musketeers coach Chris Mack wanted to properly congratulate Few.
"It's a doozy, don't act like it comes around all the time," said Mack, who previously noted the parallels between the two Jesuit schools and accomplished programs. "I joked about it the other day, but for Coach Few to have to even answer a question about a monkey on his back, I mean he's at a small Jesuit school in a league that gets one or two teams to the NCAA Tournament every year.
"That's why I took so long because he's a friend of mine."
Barnes couldn't recall when he first met Few but he remembered why they hit it off.
"One thing you know is he's always done it the right way and the other thing is he's real," Barnes said. "He really doesn't take himself too seriously. He's never put his job above his family and never will."
Barnes stopped for a few seconds to consider his next words.
"If you're looking for one word to describe Mark it's humility," he added. "Great humility."
Oregon edged Tennessee in Maui on Dillon Brooks' 3-pointer late in overtime.
South Carolina handled the Vols twice, including a 27-point rout. Tennessee made just 33 percent of its shots in each game. SEC player of the year Sindarius Thornwell led the Gamecocks with a combined 37 points in the two wins.
Tennessee couldn't hold on to a five-point lead in the final 4:30 in a two-point loss to North Carolina.
"North Carolina and Gonzaga were the two best teams we played but we were dominated more by South Carolina than anybody in the Final Four," Barnes said. "They were physically bigger and stronger, and they took advantage of it."
Barnes described both teams as having elite defenses, which is reflected in their stats. On paper, the Zags appear to have an edge inside with Przemek Karnowski, Johnathan Williams and Zach Collins.
"South Carolina doesn't have the firepower some of the other teams might have so they know they can't be off on defense," Barnes said. "Their defense is terrific. They've put their offense together in this tournament when throughout the season they were up and down.
"Gonzaga's tough to guard. If you don't believe me, try to guard the big ol' boy (Karnowski). We tried to. South Carolina doesn't have anybody like him."
Barnes is torn about Saturday's matchup.
"I'm an SEC guy and I'm begging for our league to get some respect but Mark's a dear friend," he said. "That's a hard game for me. In some ways, I wish it was the championship game."
Mack went from the thrill of beating his former boss at Xavier, Arizona's Sean Miller, in the Sweet 16 to falling 40 minutes short of the Final Four.
"As hard as it was (losing to GU), I was on the other end of it on Thursday when I talked to Sean," Mack said. "Mark is a great person, great dad, great family man.
"And he's got a hell of a team."
---