News > Spokane
Passengers on Amtrak's Empire Builder have a message for Congress: Don't cut long-distance rail travel
May 3, 2017 Updated Thu., May 4, 2017 at 4:03 p.m.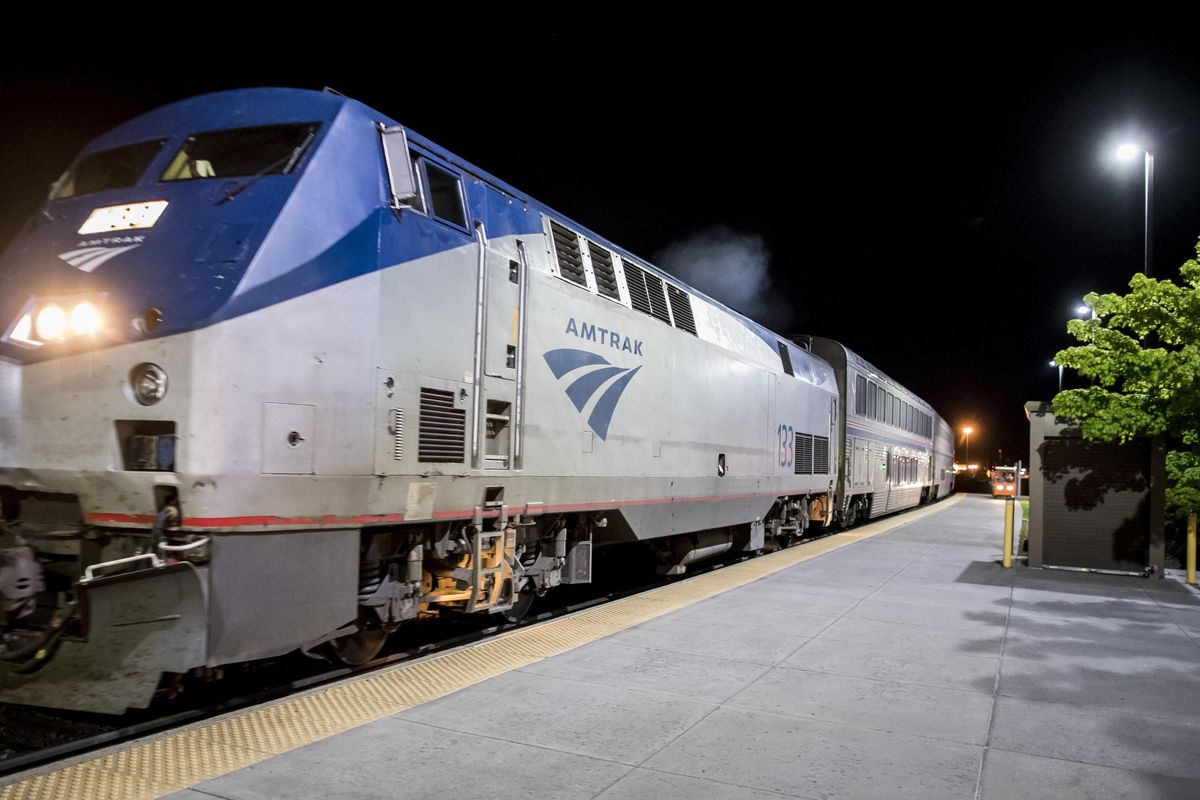 Coming from Portland, Amtrak's Empire Builder arrives at the Pasco Intermodal Train Station, Thurs., April 27, 2017. The Empire Builder is among 15 long-distance train routes threatened by $2.4 billion in cuts to transportation infrastructure under the Trump administration's latest budget proposals. (Colin Mulvany / The Spokesman-Review)
He goes by Mr. Amtrak.
Richard Rolark, 67, of Chicago, has spent the past year riding long-distance Amtrak trains for fun and for therapy.
He wears a T-shirt declaring his presence as Mr. Amtrak, a nickname given to him by the stationmaster in Chicago who noticed his frequent comings and goings, he said.
But that could all end if President Donald Trump gets his way with Congress.
The Trump administration has proposed cutting the federal subsidy that helps fund Amtrak.
Amtrak officials said the cuts would effectively eliminate long-distance routes such as the daily Empire Builder that runs from Chicago to Seattle and Portland by way of Spokane.
Amtrak said that 23 of 46 states could lose service.
Rolark pointed out that many of those states voted for Trump. Amtrak serves some 500 communities across its 22,000-mile system.
"Mr. President," Rolark said with a tone of respect, "I don't know if you ever rode the train. Once you try it, you never get tired of it."
For riders like Rolark, riding the train is a pleasure compared with air or bus travel. There's room to stretch your legs and soothe yourself with the gentle swaying of the cars while watching the world roll by. When it's time to eat or get a drink, the crew is there to take care of you, passengers said.
"It's the journey, not the destination," Rolark said.
Rolark and other passengers on a Chicago-bound Empire Builder originating in Portland last week had a unanimous message for Congress: Don't cut long-distance rail travel.
In 2016, Amtrak earned $3.2 billion in tickets and other revenue, covering about three-fourths of the $4.3 billion operation that year. The federal government made up the difference, with most of the federal funds going to capital improvements.
Amtrak's subsidy is safe at least in the short-term.
On Tuesday, Democratic New York Sen. Charles Schumer said a new bipartisan budget agreement gives Amtrak $1.495 billion, a $105 million increase over last year and the highest total since 2010. The increase will finance corridor improvements in the northeastern U.S.
But Amtrak's subsidy has long had opponents who say federal tax dollars are better spent on other priorities.
The Trump administration said the funding cut to Amtrak's long-distance routes would allow it "to focus on better managing its state-supported and Northeast Corridor train services," according to Businessinsider.com.
The text of the budget proposal said that the Trump administration wants to streamline transportation funding as part of a plan to pay for new infrastructure.
Washington Post columnist Robert Samuelson called Amtrak a "marginal" service and wrote that the Amtrak subsidy could be better spent on other priorities such as defense and research.
Washington's two Democratic U.S. senators, Patty Murray and Maria Cantwell, vowed to fight for Amtrak.
"Amtrak is something I've fought for for a long time. That is a critical part of the infrastructure that we need, especially for communities like Spokane. I've always had to fight to get the money back … and I will again this year," Murray said during a recent visit to Spokane.
Cantwell said that passenger rail traffic is an important part of the economy of the state, and keeps cars off the road.
"Many rural centers, like Ephrata and Wenatchee, which depend on Amtrak service to connect them with the rest of the country, would be cut off completely from passenger rail," Cantwell said in a statement issued by her staff.
U.S. Rep. Cathy McMorris Rodgers, R-Spokane, stressed that Trump's budget is only a proposal.
"What I would say is it's a proposal. The House and the Senate exercise the power of the purse," she said during an interview last month. "We are going to work on that."
Asked if she supports cutting the Empire Builder, McMorris Rodgers replied: "I believe it should stay."
A spokesman for U.S. Sen. Mike Crapo, R-Idaho, echoed McMorris Rodgers, saying that the proposal from Trump will need congressional backing and that it is too early to know what will happen.
Kaylin Minton, communications director for U.S. Sen. Jim Risch, R-Idaho, said the upcoming budget will have to reflect fiscal responsibility. She did not say if Risch supported the subsidy that helps maintain Amtrak's Empire Builder, which provides service to Sandpoint, Amtrak's last working station in Idaho.
The office of Rep. Raul Labrador, R-Eagle, did not return messages seeking comment.
On an average day, about 85,700 passengers ride more than 300 Amtrak trains operated under the National Railroad Passenger Corp.
Congress in 1970 created the corporation to take over intercity rail service when private railroads wanted to focus on freight.
Inaugurated in 1929, the Empire Builder train was named after James J. Hill, the legendary railroad magnate who built a rail empire across the West. Spokane's Hillyard neighborhood is named after him.
Hill embodied the American ideal of success, rising from dock clerk to multimillionaire.
He built the Great Northern Railroad as well as the Spokane, Portland & Seattle Railway. He gained control of the Northern Pacific Railway. All three are part of the BNSF Railway system today. He died in 1916.
The Empire Builder ran on his lines from St. Paul, Minnesota, westward to serve Sandpoint, Whitefish, Montana, Glacier National Park and Eastern and Central Washington.
Last week, on the train from Pasco to Spokane, passengers said they go out of their way to choose rail service over the bus, air or driving.
"Buses are a pain. The train is more relaxing," said Tanya Turner, who was headed to Missoula, Montana, by way of the Amtrak depot in Whitefish.
Asked about cuts to Amtrak, Turner and her companion, Dan Ralls, said they are against budget reductions.
Turner asked rhetorically, "And you are not going to serve North Dakota that has an oil boom?"
Austin Hill caught a ride from Walla Walla to Pasco just so he could take the train back to Spokane where he lives.
"Negative," he said about the Trump budget cuts.
Jeanine Zier, of White Earth, North Dakota, said she uses Amtrak to visit relatives in Central Washington. "Why would he do that?" she said of the Trump cuts.
"Amtrak is great," she said.
In Washington, Amtrak partners with the state to offer commuter rail service, including the Sounder serving Everett, Seattle and Tacoma and the Cascades lines from Eugene, Oregon, to Vancouver, B.C.
Seats on the commuter lines often sell out.
Amtrak runs the Coast Starlight down the coast to Southern California as well.
In Washington, Amtrak operates a maintenance facility.
It spends $20.3 million on contracts and goods in Washington annually and employs 511 workers with payroll and benefits of $37 million a year.
Since 1993, Amtrak spent $446 million on station improvements, track and signal upgrades and rolling stock in Washington state.
Seattle alone logged 650,000 boardings and arrivals in 2016 compared with 51,000 in Spokane.
The 2,200-mile Empire Builder route passes through North Idaho, stopping in Sandpoint.
Amtrak has a small presence in the Gem State, spending just $140,000 a year on contracts and goods and employing just two workers with $213,000 in salary and benefits in 2016.
Amtrak used state funding for the Sandpoint byway project to upgrade the historic train station, a project that won a preservation award after the job was finished in 2015.
In the Empire Builder's sightseer-lounge just out of Pasco, the server behind the bar said what makes Amtrak fun is the mix of people. "We've got people from all walks of life," she said.
Among the long-distance routes he has ridden, Mr. Amtrak (Rolark) said he likes the scenery of the California Zephyr most of all. That train runs from Chicago through Denver and Glenwood Springs, Colorado, to Emeryville, California, near San Francisco.
But Rolark said the Empire Builder leg from Portland up the Columbia River Gorge is equally beautiful.
Even though Amtrak has sleeper coaches, Rolark, a retired janitor and Vietnam veteran, said he prefers traveling in the regular coaches and sleeping in his seat.
Amtrak is cheaper than flying, if you have the time. A one-way adult fare from Spokane to Chicago can be less than $150.
Rolark explained that the span of the country gives the rider new perspective on life.
"You discover, 'Hey, there is a God,' and he speaks to you," Rolark said. "Everybody sometime should ride the train."
Local journalism is essential.
Give directly to The Spokesman-Review's Northwest Passages community forums series -- which helps to offset the costs of several reporter and editor positions at the newspaper -- by using the easy options below. Gifts processed in this system are not tax deductible, but are predominately used to help meet the local financial requirements needed to receive national matching-grant funds.
Subscribe now to get breaking news alerts in your email inbox
Get breaking news delivered to your inbox as it happens.
---