News > Spokane
Tuesday morning fire burns Hillyard building
Nov. 7, 2017 Updated Wed., Nov. 8, 2017 at 8:02 a.m.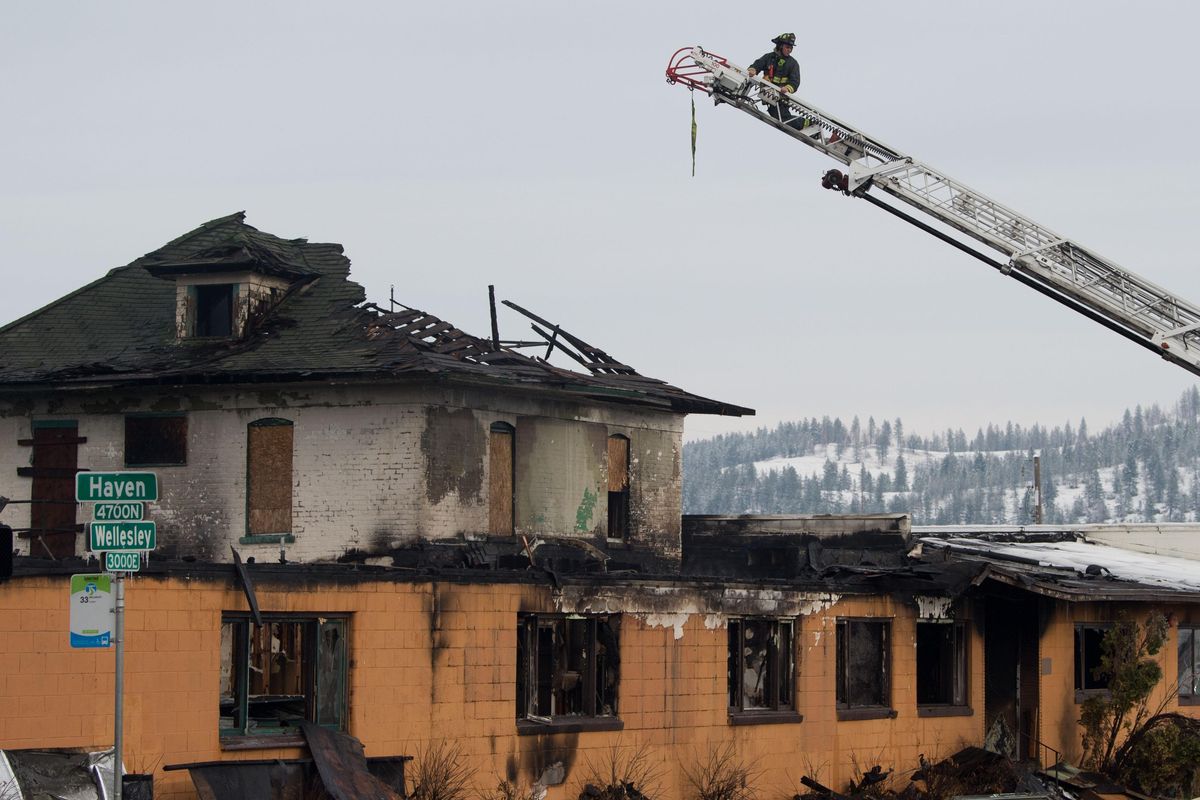 Crews investigate a fire in an abandoned former nursing home and rehabilitation center in Hillyard on Tuesday. (Tyler Tjomsland / The Spokesman-Review)
Firefighters worked Tuesday morning to extinguish a blaze burning an abandoned nursing home and rehabilitation center in Hillyard.
One person described by fire officials as a squatter escaped from the building and said he was unsure if others were inside. Firefighters used thermal imaging equipment to check and could not find anyone else.
At about 6 a.m., firefighters responded to the structure on the corner of East Wellesley Avenue and North Haven Street which was already engulfed in heavy fire and smoke. They closed Wellesley from Market to Haven, where it remained closed until about 3 p.m., firefighters said.
The building, 3011 E. Wellesley Ave., has been empty for years. The windows were boarded up and homeless people have been known to gather at the one-story structure.
Fire chief Brian Schaeffer said the property owner, Ivan Kriger, was made aware of the fire this morning. Schaeffer said Kriger told firefighters the building was not in use and was also uninsured.
Kriger, who had tried in 2015 to purchase the Ridpath Hotel in a Nevada bankruptcy court, said after taking over the Wellesley property this summer that he planned to remodel it, but didn't have an exact idea what he would do with the structure.
"I was just going to repair the roof, remodel it at that point," he said over the phone Tuesday afternoon. "The roof had some leaks."
Kriger said he was aware vagrants would occupy the building, and said he called Spokane police in the past to have them removed. He was in Idaho when he learned of the fire.
"I haven't seen it yet," he said.
According to county records, Kriger purchased the property in June from Victory Outreach Spokane, a church that specializes in rehabilitating former drug addicts, for $1,000. The sale was part of what's known as a quit claim deed, which usually involves the transfer of property between spouses or family members.
This is the second fire in less than a month to rip through an abandoned structure. On Oct. 18, a fire tore through a former used car dealership on Sprague Avenue.
Schaeffer, who said the people living in the abandoned building in Hillyard would be more accurately described as trespassers, recommended anyone who spots someone going into a building illegally to call law enforcement.
He also recommended building owners make sure their structure is secure, occupied or not.
"There's a code that mandates how the buildings are supposed to be secured and what mandates should be taken," he said. "The liability and the accountability for that security is up to that property owner. They need to make sure it's maintained and protected against illegal action."
Editor's note: The story has been updated online to fix the spelling of a property owner's last name.
Local journalism is essential.
Give directly to The Spokesman-Review's Northwest Passages community forums series -- which helps to offset the costs of several reporter and editor positions at the newspaper -- by using the easy options below. Gifts processed in this system are not tax deductible, but are predominately used to help meet the local financial requirements needed to receive national matching-grant funds.
Subscribe now to get breaking news alerts in your email inbox
Get breaking news delivered to your inbox as it happens.
---