News > Spokane
Music, stories resonate at 2017 Spokane Fall Folk Festival
Nov. 12, 2017 Updated Sun., Nov. 12, 2017 at 10:19 p.m.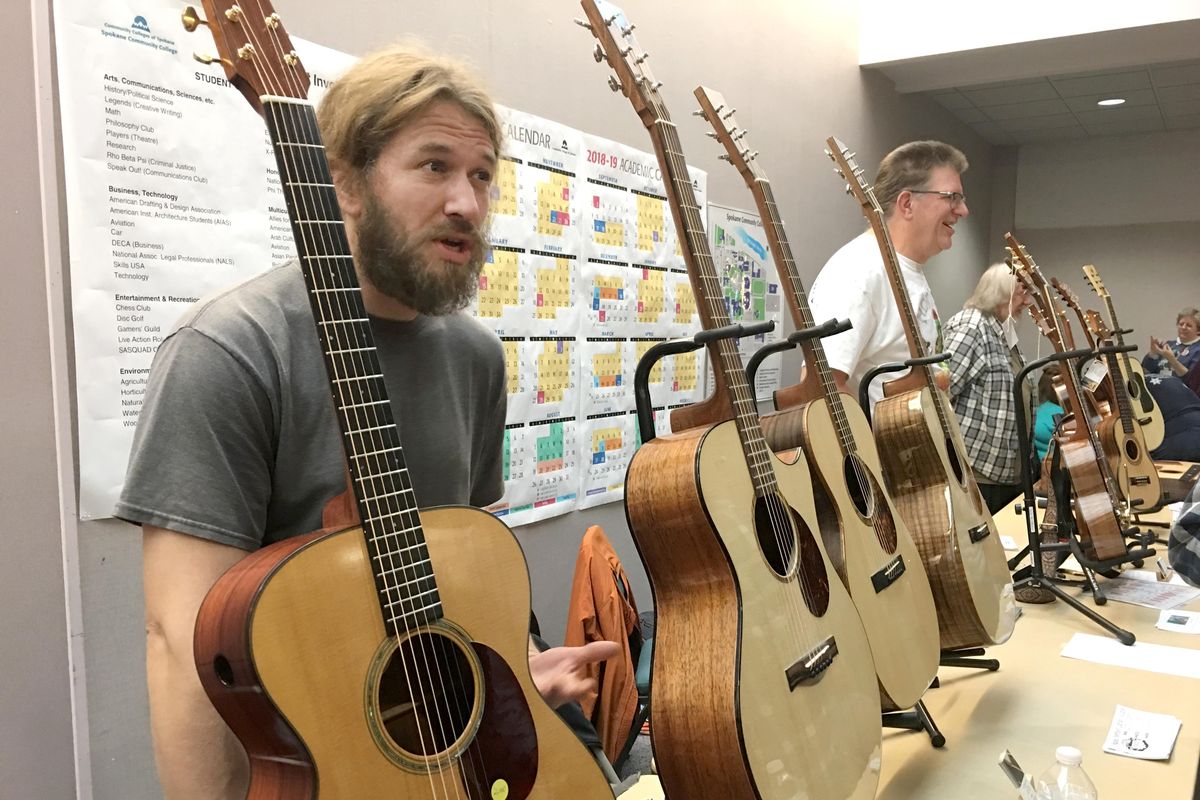 Luthiers Joel Shoemaker, left, and Rob McAllister, second from left, talk with potential customers about their instruments at the Fall Folk Festival Sunday, Nov. 12, 2017 at Spokane Community College. In addition to dozens of acts given 30-45 minutes each to perform, vendors of many kinds sell their wares at the festival. (Jesse Tinsley / The Spokesman-Review)
Happiness at 11 in the morning is watching the Neeman Youth Choir dance and sing.
Such could be said, at least, for the dozens of people filling the stands of the Lair Building Auditorium at Spokane Community College on Sunday morning at the 2017 Spokane Fall Folk Festival.
As the gospel choir, here for this year's version of the festival, swayed their way onto the stage and remained for the better part of an hour, the crowd became increasingly entranced with the performance. The children in the stands mimed the dance moves as best they could.
The choir, led by Jackson Lino of World Relief Spokane, is made up entirely of refugee children from multiple African countries. Lino, himself a 29-year-old refugee from Sudan who came to Boise when he was 12, said the choir's mission has, and always will be, to bring "unity and diversity to music."
"I thought the kids were engaging," he said after the performance, as the children lined up in a nearby hallway to use the bathroom.
During their show, 10-year-old Shadrach Mungualinipa, from the Democratic Republic of Congo, took center stage and introduced himself.
"Hello everybody," he said. "Are you guys having a good time?"
"Yeah!" the audience shouted.
Singing a wide range of gospel music, including modern Christian songs in English and songs in Swahili – a language originating from the Swahili people of eastern and southeastern Africa – the group touched on many of the issues facing young refugees today.
Specifically, Lino said, a broad range of emotions shared by the children after President Donald Trump's refugee ban was upheld by the U.S. Supreme Court in September. Though admissions can now be resumed with increased screening, Lino said it's been tough on families who have been separated for months without contact.
"It's heartbreaking," he said.
With lyrics such as "I know who I am," "I'm no longer a slave, I'm a child of God," and "I am not forgotten, never forsaken," the children's voices seemed to resonate with the crowd. As the choir ventured off the stage, everyone stood and clapped; some with tears in their eyes.
"It's always a blessing to see," Lino said of the crowd's energy.
Elsewhere at the festival, people moseyed between musical acts and perused a long list of wares, including handmade guitars, scarves, hats and baked goods.
Bob Kurztman, his wife and three kids, plopped down next to a band warming up for their 1:30 p.m. set. A crowd had gathered to hear them play.
Festival regulars before their children were born, Kurztman said he and his wife were excited to hit up as many musical acts as they could before their children whisked them away for a nap, or food. Maybe both.
"Now we just try and catch what fish we can when they come through," the young father said.
Local journalism is essential.
Give directly to The Spokesman-Review's Northwest Passages community forums series -- which helps to offset the costs of several reporter and editor positions at the newspaper -- by using the easy options below. Gifts processed in this system are not tax deductible, but are predominately used to help meet the local financial requirements needed to receive national matching-grant funds.
Subscribe now to get breaking news alerts in your email inbox
Get breaking news delivered to your inbox as it happens.
---