News > Spokane
Dozens of new guinea pigs for Nine Mile Falls family after tiny 'casanova' infiltrates ranks
Nov. 16, 2017 Updated Thu., Nov. 16, 2017 at 6:02 p.m.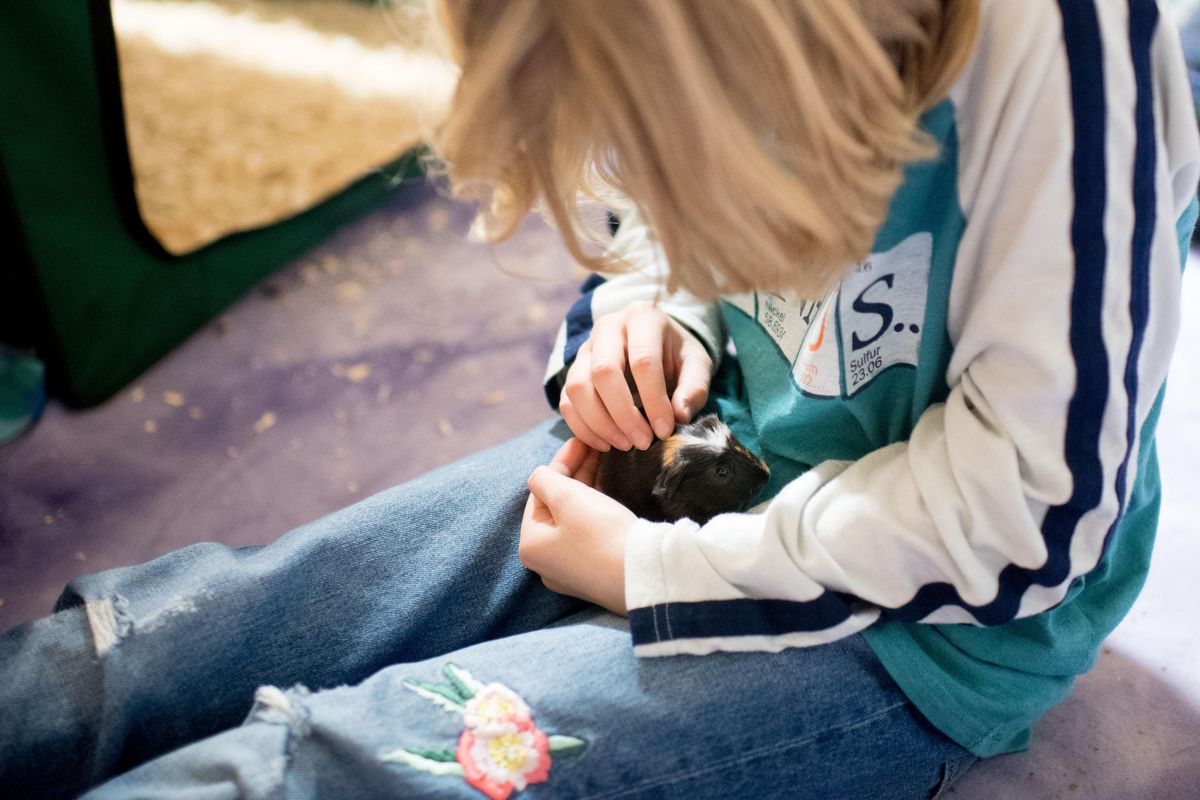 Kieley Leake, 10, holds a newly born guinea pig on Wednesday, November 16, 2017, at her home in Nine Mile Falls, Wash. Leake's mother created a Craigslist ad about trying to find homes for an incoming wave of baby guinea pigs after a male guinea pig - that the family thought was female - impregnated 9-10 of their 11 pigs. (Tyler Tjomsland / The Spokesman-Review)
It was a classic whodunnit.
A half-dozen swollen guinea pigs. A squeaky company of baby pups. And Kevynne, the new kid on the block.
The mystery began earlier this summer, when the Leake family of Nine Mile Falls purchased what they believed to be their dozenth female guinea pig. All was quiet on the rodent front for a few weeks, until 16-year-old Sanford noticed baby Kevynne acting a bit frisky.
No matter, Andrea Leake, the mother of two humans and 11 guinea pigs, thinks. The sows will often assert dominance over their counterparts, and humping is just another way of establishing a hierarchy – like a tiny Game of Guineas.
But the humping continued. And the other pigs began to get fat.
Maybe it's stress eating, Leake wondered, from all those displays of dominance. Or winter weight. After all, the pet-store employee assured them Kevynne was female.
Leake pondered. Persistent humping. Fat females. Yep, Kevynne is a boar.
"He was awfully busy," Leake said Wednesday, standing next to two mothers and their eight bright-eyed babies. "I think he got all of them except for Poof – she's too old."
Kevynne – now Kevin – and his summer of love was chronicled in a Craigslist ad Andrea wrote the night they returned him to Petco on Division Street and Francis Avenue in Spokane.
In handing the tiny casanova over, she asked workers to label his cage "Hump Master G," which they respectfully declined.
"I just thought it would be nice for people to know what they might be getting themselves into with that one," she wrote.
The ad, posted to Spokane's "pets" section on Monday in hopes of selling who-knows-how-many baby pigs, has since gone viral. Leake, a former newspaper columnist turned speech-writer, turned screenplay-writer, turned horror author and now humorous wordsmith, said she's lost track of how many times it's been shared on Facebook.
"People have been having a lot of fun with it," she said.
This isn't her first foray into viral ads, either. In June of this year, she created a Craigslist post looking to sell a laundry sorter she purchased as a "training tool" for her husband.
"You see, before I got it, he thought that letting the dirty laundry pile up into humongous stacks like a game of soiled, soft-sided Jenga was fun for me," she wrote. "Every time I moved the old hamper I felt such imminent … danger."
With that post, and again with the story of Kevynne – named after a character in one of her unreleased novels – she said she got more messages from people thanking her for the good laugh than she did from people looking to buy anything.
"At this point, all you can do is laugh," she said. "As long as they have a home and there's someone who can take them, it's fine."
Still, she expects at least 50 babies who will need a new home. And those are conservative numbers.
If Kevin impregnated Pork Chop, Archie, Jenny, Potato, Chips, Luna, Fiona and Olive – in addition to Hazel, Bunny and Toadie, who've already given birth to 11 pups between them – the number could easily reach 60 or more.
"If they have the maximum amount, we're looking at, like, 72 little babies," Andrea said.
While giving a tour of the pigs' living quarters at her two-story Nine Mile Falls home Wednesday night, Andrea, with her son Sanford and 10-year-old daughter Kieley, showcased a living situation that would rival anything on a guinea-pig-version of MTV's "Cribs."
The mothers and their babies enjoy a sprawling fenced-in nursery enclosure in the family's third-car converted garage, replete with nooks and crannies in which to hide and a whole lot of wood chips to waddle over.
The pièce de résistance, though, is the ranch-style playhouse in the front yard. It was built to spec as a small children's playhouse, but the family asked the architect not to worry about the interior features, since the pigs wouldn't care either way.
The inside is large enough to fit three adult humans comfortably, so who knows how many animals. It's got straw, feeders, fly traps, and a space heater set to 75 degrees.
Outside is a fence and a sprawling yard for the pigs to play. There's lawn ornaments (including a fake chicken) and shutters on the windows.
"We pamper our girls," Andrea admitted. "We even had him paint it purple."
The Leake family, who've had the pigs since they moved to the Spokane region from Kennewick in 2013, said they won't accept potential buyers who'll confine the pigs to an aquarium or other small containers.
Nor will they give them up as "feeder pigs" to owners of snakes or large lizards, Andrea said.
Wherever the babies go, Andrea prefers if they go in pairs. If she can't find willing participants, she said Petco has graciously agreed to take on as many of Kevin's offspring as needed.
And while both of her kids will likely pick out a favorite pig from the litter to keep (and pray it's a girl), the family may waive a fee or give them away for free.
Anything, really, to close the chapter of Hump Master G.
"You don't expect this to happen," Andrea said. "Oh, Kevin."
Local journalism is essential.
Give directly to The Spokesman-Review's Northwest Passages community forums series -- which helps to offset the costs of several reporter and editor positions at the newspaper -- by using the easy options below. Gifts processed in this system are not tax deductible, but are predominately used to help meet the local financial requirements needed to receive national matching-grant funds.
Subscribe now to get breaking news alerts in your email inbox
Get breaking news delivered to your inbox as it happens.
---