Sports > Outdoors
Elk hunter beats long odds to tag six-point bull
Sun., Nov. 19, 2017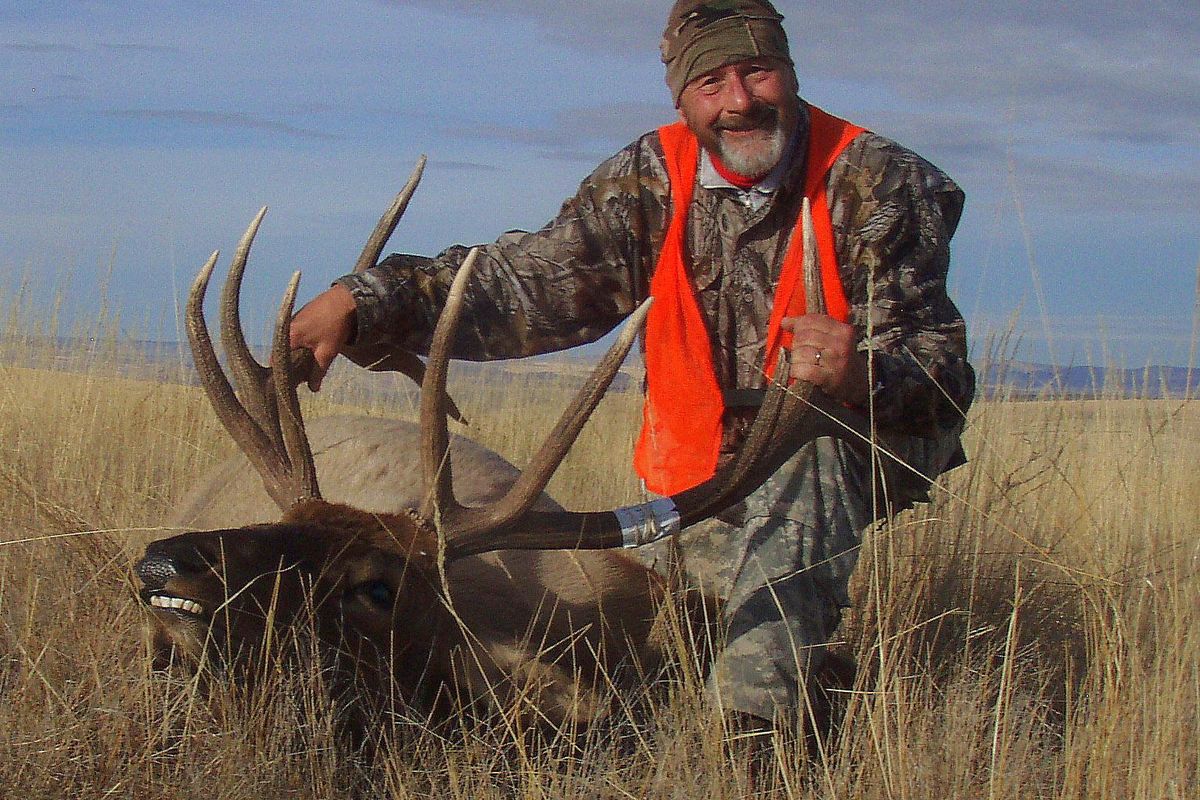 Stan Mrzygod of Spokane recovered from back surgery a few months before heading out to fill a coveted tag for a trophy bull elk in the Colockum Wildlife Area of Central Washington. (COURTESY / COURTESY PHOTO)
Bagging a 6-by-6 point bull elk is a struggle against high odds for anyone in Washington. In the case of Stan Mrzygod, it was essentially a miracle.
Like a high percentage of hunters who finally draw their dream tag for hunting trophy big game in Washington, Myrzygod is retired, a bit past his prime at 68 but still fitter than many hunters half his age.
The Spokane man – an all-around outdoors enthusiast and notable paddler and whitewater rafter – was visiting family in North Carolina in June when he got the email from the Department of Fish and Wildlife. The message said he was one of 22 hunters selected for a coveted "Quality Elk" permit for the 2017 Colockum season that opened Oct. 23.
"At my age, it's essentially a once-in-a-lifetime chance," he said, noting that he'd tried for decades to score a bull permit in the state lottery.
He had 16 bonus points to boost his chances in the drawing.
In a rare windfall, he also drew an antlerless elk permit. "You try for years to draw any permit and then it happens all at once," he said. "Two permits gives you two chances, but you can take only one elk."
His luck seemed to run out two days after getting the notices.
"I was still in North Carolina, out for a walk to get some exercise, when my legs seized up," he said.
Soon he was in a hospital emergency room essentially paralyzed from his hips to his ankles.
"I was in excruciating pain, on morphine, pulse at 192," he said.
A protruded disc in his spine was clamping off the nerves to his right leg.
Doctors normally recommend a progression of therapy to allow the spine to realign without invasive measures. "But I had that elk permit," he said. "I had foot drop and I was on narcotics. I didn't have time to take a chance on not going hunting this year."
Mrzygod's luck seemed to be changing for the better again as he was able to book a date three-weeks out with a sympathetic Spokane surgeon.
"He's a fly fisherman, so I gave him a box of flies I tied up to show my appreciation," he said.
"Nothing was certain, of course, but with the help of the doctor, friends, family, a dedicated physical therapy staff and no short amount of prayer, I was able to recover, biking and hiking myself back into shape to attain an aspiration I've had for many years."
Three months out of surgery, he was unleashed in the elk country north of Ellensburg. He was alone, scouting for an 700-pound elk after promising his surgeon that he would not carry more than 25 pounds.
"My big limitation was that I couldn't sit for more than an hour without being in pain," he said, noting the three-hour driving time to get to the hunting area from Spokane and the patience required to scout and scope vast areas for elk before the season.
In nine days of scouting around the edges of the Arthur Coffin Game Reserve, he planned hunting strategies and made camp within walking distance of GPS waypoints he'd set up for routes and stand locations.
"Unfortunately, I didn't see hardly any elk in the units I could hunt," he said. "That was pretty alarming."
Looking for a Plan B, he borrowed a UTV to give him more comfort and range on the Colockum Wildlife Area's Green Dot road system.
"You have to keep vehicles on the roads," he said. "But the roads can deteriorate and be too rough for a pickup or SUV."
His hunting area ranged to more than 6,800 feet elevation on Naneum Ridge down to the Columbia River at 480 feet.
"I'd been focusing high, but I bumped into a man who'd hunted the area all his life. He told me to check out down by the river."
Mrzygod did, and to his surprise he almost immediately found a herd of two dozen elk, including five bulls and one wall-hanger.
So, with only 14 hours before the season opened, Mrzygod abandoned two weeks of planning and scouting. In the dark before shooting time, he bounced 14 rough miles to the end of a road and parked the UTV.
The elk were still in the area, but the terrain offered no way to get close to the animals without crawling.
A satellite bull appeared out of nowhere and was startled by the not-well-enough-hidden hunter.
"He ran and scattered the other elk farther away," Mrzygod said.
The setback was discouraging, but not disastrous for a hunter motivated by a ticking clock on his adventure hunting dreams.
"I hadn't trained for crawling and it was killing me," he said. "I decided to abandon my pack and water and kept going."
The group of elk eventually bedded down in the distance, but one or more cows always seemed to be up as sentinels, forcing the hunter to stay on his belly in the knee-high grass.
"All I could see of the bulls was the tips of their antlers," he said.
He persisted for more than four hours, finally sneaking within 300 yards when the largest bull stood up and walked around as though asserting his dominance over the herd. Mrzygod patiently waited for the best possible opportunity.
But when he tried to slowly sit up behind a small bush, his back went into spasms and his legs cramped.
"Seized up from the crawling, I carefully rolled onto my back and made dryland snow angels to get straightened out," he said.
When he tried again to sit up, his left shoulder screamed with pain and he couldn't raise the rifle normally.
He had no choice but to will his body to cooperate. He eased the rifle onto his knee with his right arm, and finally – his .300 Winchester magnum did the job at 270 yards.
The hunter needed two days to get the six-point bull boned out and hauled by hand cart to his UTV, which he was able to drive on a trail-like road to within a mile of the kill.
"I was dehydrated and wasted after the first day," he said. "My son was able to come and help the second day or I'd have been out there even longer at 25 pounds a load."
After driving 14 miles back to camp, he marveled at his good fortune to take advantage of a permit he likely would never draw again in his lifetime.
"I feel blessed, despite all of the pain involved," he said. "I'm having a European mount, and the meat is delicious, not gamey at all."
That helps him reconcile with the buzz he heard from other hunters when he returned to his campsite.
"Yeah," he chuckled, "after torturing my back for 14 rough miles in the UTV and crawling on my belly for 4 1/2 hours, I learned that hunters harvested two big bulls within a half mile of my camp."
Local journalism is essential.
Give directly to The Spokesman-Review's Northwest Passages community forums series -- which helps to offset the costs of several reporter and editor positions at the newspaper -- by using the easy options below. Gifts processed in this system are not tax deductible, but are predominately used to help meet the local financial requirements needed to receive national matching-grant funds.
Subscribe to the sports newsletter
Get the day's top sports headlines and breaking news delivered to your inbox by subscribing here.
---