Walk-through gingerbread house opens at Hotel RL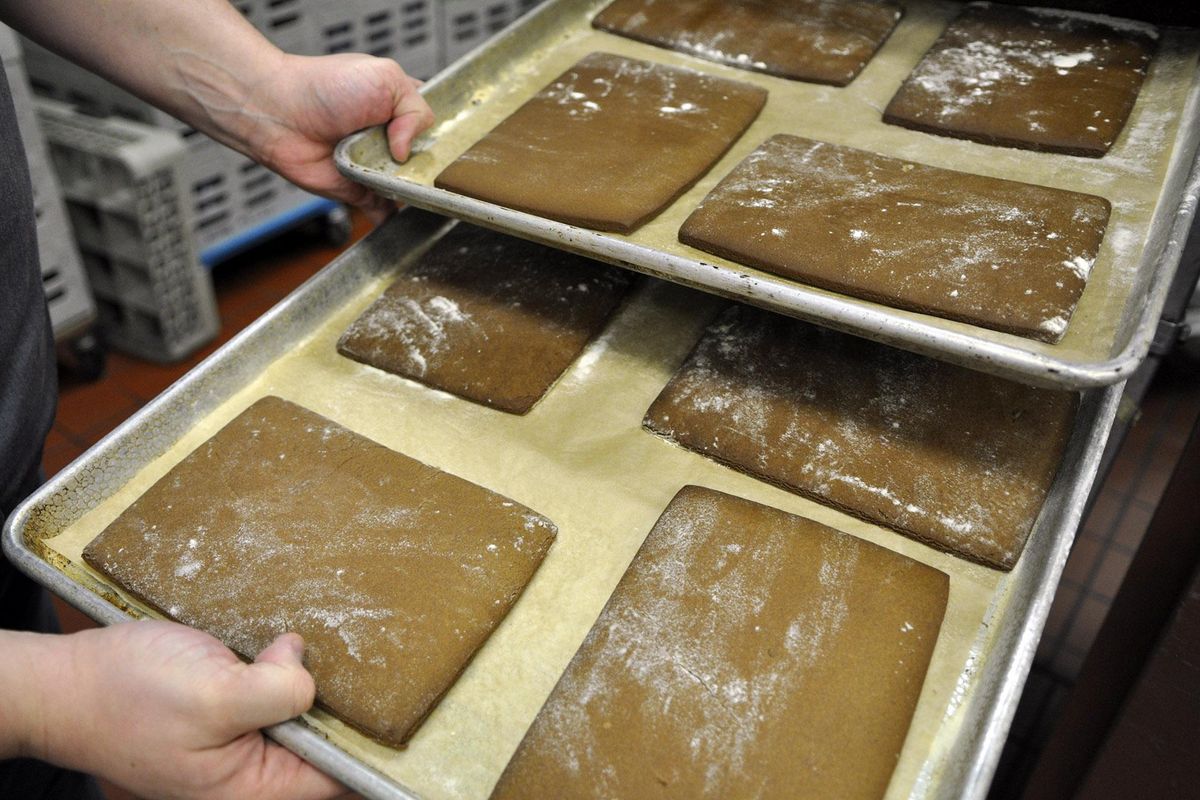 Consider the specs.
The house will be built from 1,300 bricks fashioned from 800 pounds of gingerbread dough, decorated with 100 pounds of fondant and held together with royal icing made from 150 pounds of powdered sugar.
It'll take 30 pounds of gum paste to make the greenery and more than 200 pounds of candy – jelly beans, rock candy, Necco wafers, licorice, candy canes – for the finishing touches. Sugar cookies, formed from another 300 pounds of dough, will double as stones to decorate the fireplace.
There will, however, be "no toothpicks involved," said corporate executive chef Ricky Webster, who designed the life-size, walk-through and almost entirely edible gingerbread house.
Hotel RL's gingerbread house will be on display in the lobby throughout the holiday season. And it will do more than get guests in the holiday spirit. It will also help raise money to feed the homeless in downtown Spokane.
"I've always been a huge fan of and had a love for gingerbread," said Webster, who got his start as a pastry chef. "I think that there is a whimsical aspect to it.
"As you're building a gingerbread house, you picture yourself in it."
Webster said he has wanted to make a life-size gingerbread house as long as he can remember. The closest he's come is building one that was about 5-feet-by-4-feet. Now, he's hoping his walk-through gingerbread house becomes part the hotel's and the community's annual Christmas tradition.
"I'm providing excitement and joy to others, and that's going to provide me with excitement and joy," he said.
A ribbon-cutting is slated for Friday to launch the fundraising campaign and introduce people to the creation as well as the chef. This is the first holiday season in Spokane for Webster, who arrived in town in February. He came to the Hotel RL here from the Ace Hotel Group in Los Angeles. And he's been planning his life-size gingerbread house since summer.
"I want to celebrate that I'm here, that I have the ability to do this," he said. "I want to give a different experience to the people who work here and the people who live here."
When it's complete, the gingerbread house at Hotel RL will encompass about 170 square feet. Walls will stretch 10-feet-by-17-feet with a height of 10 feet. But there won't be a roof. Webster is keeping it open to allow in light.
The shutters will be fashioned from fondant. So will the icicles. The window boxes are made from Shredded Wheat. Gingerbread bricks will be affixed with royal icing.
Even the inside will be decorated. Candy artwork will decorate walls. Graham crackers will make up the wainscoting and there will be a sugar chandelier.
To have the house ready for guests by Black Friday, Webster and pastry chef Megan Gaines have been making dough since September. Bricks stretching 8-by-5 1/2 inches have been in production since October.
A team of about 30 volunteers – hotel workers, local food bloggers, representatives from Blessings Under the Bridge – are helping build the house, which offers not only a sweet – pun intended – way to celebrate the holiday season, but a way to give back, too.
"It doesn't feel right just doing it for us," Webster said. "It's a payback-type thing."
Spokane's Hotel RL is partnering with Blessings Under to Bridge, which serves meals to more than 300 people Wednesday nights in downtown Spokane. Webster said he anticipates being able to cover about 4,000 meals by the end of the holiday season through its corporate social responsibility program Project Wake Up Call and its new booked-banquet meal-matching program.
Hotel RL gave Webster a budget of $1,500 to build his gingerbread house. Sysco donated some $1,500 in product. Blessings Under the Bridge donated supplies, too.
The gingerbread house is being built over a wooden frame, "so it's safe," Webster said. And the recipe he's using for the life-size gingerbread is the same one that he will use for gingerbread build-your-own house-making kits Hotel RL will sell for $12 throughout the holiday season.
The recipe includes black pepper "because," Webster said, "I do like it spicy."
It's free to walk through and check out the life-size gingerbread house. No hotel reservations are required. Donations will be accepted for Blessings Under the Bridge. Plus, a dollar from the sale of every holiday treat – gingerbread kit, specialty coffee drinks and cocktails, hot chocolate and house-made cookies – will go to the charity.
And, on select Saturdays during the holiday season, Gaines, Hotel RL's pastry chef, will host gingerbread decorating sessions for children. For $5, kids can decorate – and eat – their own gingerbread person.
"You're going to walk in and it's going to smell of Christmas," said Webster, who expects maintenance – replacing gingerbread bricks and jelly beans – to take place throughout the season.
"I anticipate daily repairs," he said.
Ricky's Gingerbread
6 cups all-purpose flour, plus more for work surface
1 teaspoon baking soda
1/2 teaspoon baking powder
1 cup (2 sticks) unsalted butter
1 cup packed dark-brown sugar
4 teaspoons ground ginger
4 teaspoons ground cinnamon
1 1/2 teaspoons ground cloves
1 teaspoon finely ground pepper
1 1/2 teaspoons coarse salt
2 large eggs
1 cup unsulfered molasses
Sift together flour, baking soda, and baking powder into a large bowl. Set aside.
Put butter and brown sugar in the bowl of an electric mixer fitted with the paddle attachment; mix on medium speed until fluffy. Mix in spices and salt, then eggs and molasses. Reduce speed to low. Add flour mixture; mix until just combined. Divide dough into thirds; wrap each in plastic. Refrigerate until cold, about 1 hour.
Preheat oven to 350 degrees. Roll out dough on a lightly floured work surface to a 1/4-inch thick. Cut into snowflakes with a 7- inch snowflake-shape cookie cutter. Space 2 inches apart on baking sheets lined with parchment paper, and refrigerate until firm, about 15 minutes.
Bake cookies until crisp but not dark, 12 to 14 minutes. Let cool on sheets on wire racks. Decorate accordingly
---