Sports > WSU football
Three takes: It just makes sense that Apple Cup should mean more
Nov. 25, 2017 Updated Sat., Nov. 25, 2017 at 11:56 p.m.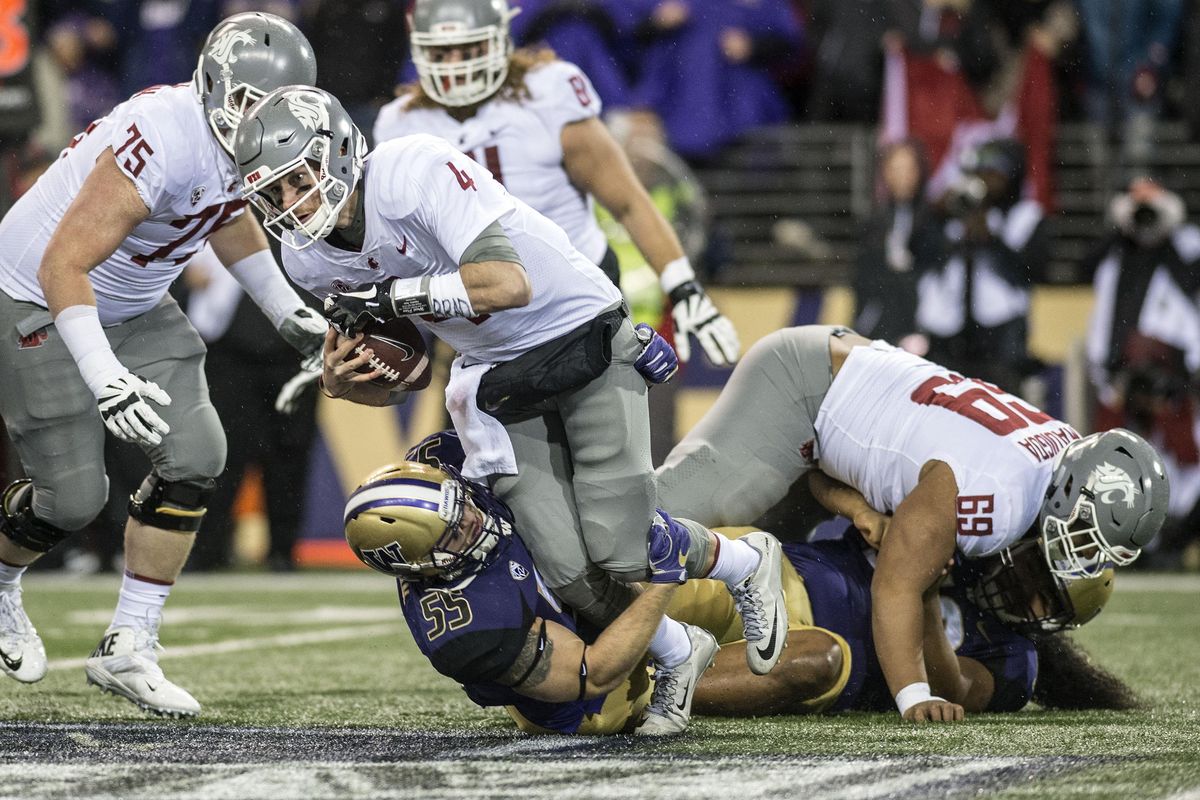 WSU QB Luke Falk is sacked in the first quarter by U of W Ryan Bowman (55) during the Apple Cup in Husky Stadium, Saturday, Nov. 25, 2017, in Seattle, Wash. (Dan Pelle / The Spokesman-Review)
What is it Einstein reportedly said about doing the same thing over and over, expecting a different result?
Maybe Washington State University's football team needs to heed Albert's advice. After all, it seems somewhat insane to expect the Cougars to defeat the University of Washington these days.
The Huskies won for the fifth consecutive year Saturday night. It was the fourth consecutive time under Chris Petersen. And it was a dominating 41-14 rout of the Cougars at Husky Stadium.
It's simple. Washington State has lost the four games against Petersen's teams by a combined score of 162-54.
So what can change?
There is no way Mike Leach is going to change how the offense is run. That's his baby and it has been successful – against pretty much every Pac-12 school except UW the past four years.
And the defense, shredded by the Huskies for more than 400 yards, has carried the Cougars this season in many games.
What else is there? How about the approach?
Leach likes to say that every week is important and a rivalry game is no more important than any other one. In the strict sense of won/loss math, he's right. The losses against California and Arizona meant as much in the Pac-12 North standings as this one.
But in the real world, the world of 18- to 24-year-olds who are proud to represent their university, Leach is wrong.
The Apple Cup does mean more. It means more to the players on both sides. It means more to the alums. It means more to the casual fan. It means more to the governor, for goodness sakes.
Petersen embraces that. And his players play like it means more. You can see it in how they react to every play.
The Cougars? The past four years they really haven't matched that passion, even though the last two were for their first North title.
If it seems sinful to Leach to put more emphasis on one game, even if it is against Washington and it is the final game of the regular season, then maybe the failures of the past four years is enough to motivate a change.
After all, it seems a bit mad not to.
That's not a wrap
When Alex Grinch breaks down the film from this one, the third-year WSU defensive coordinator will have plenty of missed tackles to point at.
Yes, Myles Gaskin is a special runner. His 192 yards – with four touchdowns – in this one give him 1,317 yards for the season and 3,947 in his career. He was part of a rushing attack that accounted for 328 yards, more than double what the Cougars have yielded on average this season. And the conditions weren't the best, which made footing a bit iffy for everyone, but especially the defense.
But the Cougars missed at least two dozen tackles, including five on the first UW possession alone. That 75-yard scoring drive used more than 5 minutes, took 11 plays – and set the tone for the rout.
Nothing happens in a vacuum, of course, and the missed-tackle-itis hit last year's Apple Cup as well. It's not usual for Grinch's group. They have been pretty solid all year.
But not in this one.
Westwood watch
The coaching carousel took a major turn this weekend, with UCLA hiring Chip Kelly to replace Jim Mora.
Why is that important to Cougars fans?
Simple. After being out of football for a while, Kelly needs to put together a staff. And people I trust in the college football community have said Kelly has his eye on one Washington State assistant.
It seems that Kelly loves the way the Cougars defend. Their attack-first mentality. How they make up for talent gaps with scheme.
He likes how Grinch coaches.
Does that mean Grinch is headed to Westwood? Not necessarily.
Who knows what Grinch's goals are? Who knows what will happen with Leach now that it looks as if Nebraska is going to finish second in the Scott Frost derby? If Leach decides to accept another challenge, it may be Grinch is next in line for the head spot.
And who knows what Kelly has to offer – or if he will make one?
But if money is the deciding factor, then it could get dicey. The Bruins are spending a lot of Casey Wasserman's money right now. A new $75 million football facility. A new coach with a $23 million price tag. And, probably, whomever that new coach wants on his staff.
Oregon opened its wallet last year to lure away WSU's defensive line coach Joe Salave'a, giving him at least $150,000 more to move south. And that might be chump change compared to the raise UCLA could offer Grinch, who is making around $600,000 to be WSU's defensive coordinator.
That's more than Tom Bradley, Mora's defensive coordinator made, but if you are paying your new head coach a million dollars more than the old one, why quibble about the guys who help make a team succeed?
Local journalism is essential.
Give directly to The Spokesman-Review's Northwest Passages community forums series -- which helps to offset the costs of several reporter and editor positions at the newspaper -- by using the easy options below. Gifts processed in this system are not tax deductible, but are predominately used to help meet the local financial requirements needed to receive national matching-grant funds.
Subscribe to the Cougs newsletter
Get the latest Cougs headlines delivered to your inbox as they happen.
---