Sports > WSU football
Washington State sees Pac-12 title hopes disappear in Apple Cup loss to Washington
Nov. 25, 2017 Updated Sat., Nov. 25, 2017 at 11:59 p.m.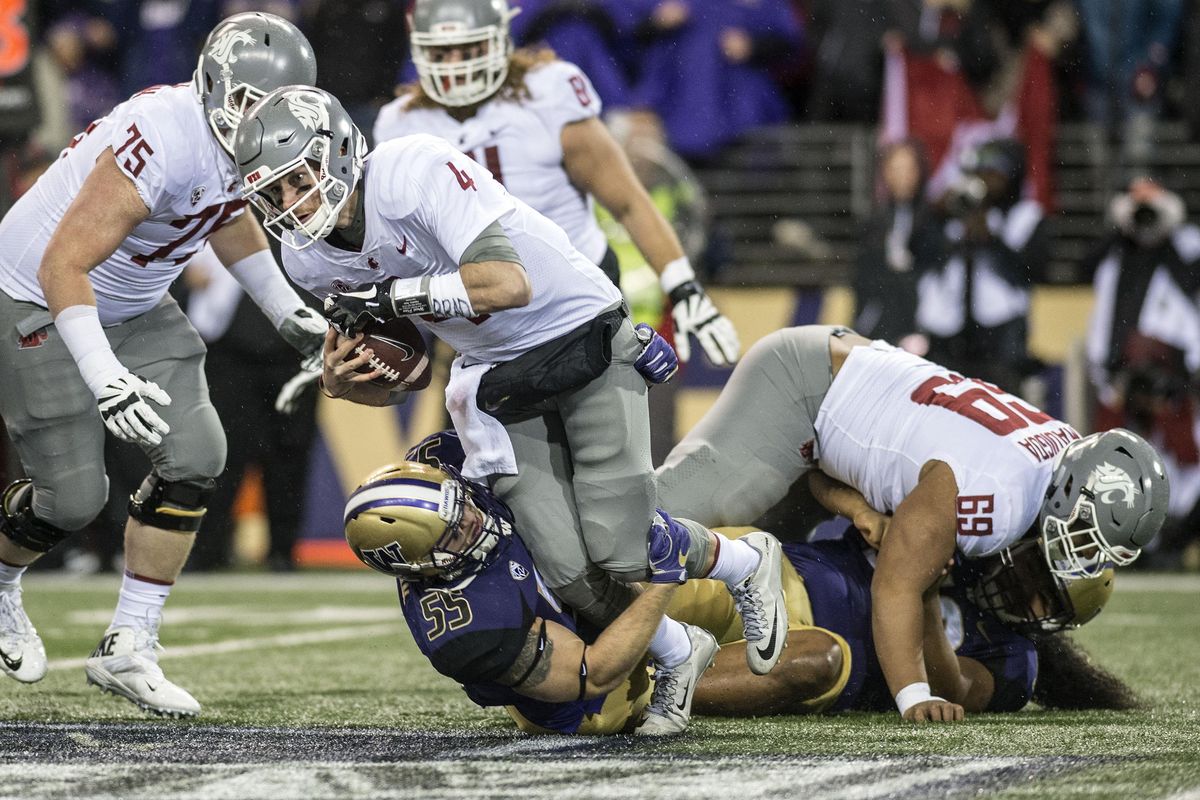 WSU QB Luke Falk is sacked in the first quarter by U of W Ryan Bowman (55) during the Apple Cup in Husky Stadium, Saturday, Nov. 25, 2017, in Seattle, Wash. (Dan Pelle / The Spokesman-Review)
SEATTLE – When it rains on these Washington State Cougars in the Apple Cup, it's not usually just a light drizzle.
The Cougars were thoroughly dominated by Washington in last year's chapter of the rivalry game, losing by four touchdowns. That followed a 35-point loss in 2015 and an 18-point defeat in 2014.
There were more rotten apples waiting for WSU at Husky Stadium on Saturday.
In the 110th chapter of the Evergreen State rivalry, it rained and then it poured on the 14th-ranked Cougars, who were pummeled 41-14 by the 15th-ranked Huskies in front of a sellout Husky Stadium crowd that numbered 71,265.
UW extended its run of dominance in the Apple Cup to five years and for the second year in a row, robbed the Cougars of a chance to play for a Pac-12 championship. The Huskies basked in their 72nd Apple Cup win, but perhaps not as much as the Stanford Cardinal, who had every reason to pay close attention to the game in Seattle.
By virtue of UW's victory, Stanford will move on to play USC in the Pac-12 championship game on Friday in Santa Clara, California. The Cougars had to beat their rival to reserve their spot, but it felt like a lost cause from the first quarter on at Husky Stadium.
"It's disappointing," WSU running back Jamal Morrow said. "You play the whole season and for it to come down to this game and lay a dud like we did, it sucks."
The Cougars (9-3, 6-3) will wait a week to learn their bowl destination. In postgame interviews, WSU players harped on not letting one loss turn into two. Some might claim that's what happened last year, when the Cougars lost consecutive games to close the regular season and then laid a third egg in the Holiday Bowl.
Saturday's loss might not affect their psyche, but among their many missteps in the Apple Cups, the Cougars watched defensive tackle Hercules Mata'afa get ejected for targeting. That will directly impede WSU in its bowl game, given that it happened in the second half.
But even Mata'afa, a Pac-12 Defensive Player of the Year candidate and potential front-runner, couldn't have rescued WSU against UW. The junior's stat line may have been indicative of the evening it was for the Cougars.
Before he was ejected for striking Jake Browning's helmet with his own, Mata'afa recorded one solo tackle. He assisted on another, helping Nnamdi Oguayo pull down Washington running back Myles Gaskin after a 13-yard gain in the first quarter.
Perhaps the best view the Cougars had on Saturday night was the No. 9 embroidered on the back of Gaskin's jersey. The junior hit the 100-yard barrier midway through the second quarter and finished with 192. He was responsible for four of the five Husky touchdowns.
"I think (Gaskin) gets better and better as his career goes on," WSU coach Mike Leach said.
UW lost two of its top offensive weapons in the first half – leading receiver Dante Pettis went down on a punt return and second-string running back Lavon Coleman limped off the field not long after that – but Gaskin seemingly was the only one the Huskies needed.
The Huskies went 75 yards on 11 plays to open the game and capped the drive with a 2-yard touchdown run from Gaskin, who broke most of the tackles he didn't elude on Saturday.
"It really came down to everyone else tonight, man," Gaskin said. "I may be the guy carrying the ball, but it's the line and wide receivers blocking that are all the hard work."
The Cougars were outmuscled at nearly every position – but it probably showed most in the trenches. UW's offensive line punished WSU's defensive front and the Husky front, usually a three-man charge led by tackle Vita Vea, made sure it was be a long night for Luke Falk's line of protection.
In his final Apple Cup, WSU's quarterback was sacked five times. Falk was responsible for four turnovers, throwing three interceptions and fumbling on a scramble in the second quarter.
"I saw about three different Luke Falks today," Leach said. "I saw the first-half guy, which that guy was a complete stranger. I saw, you know kind of in the middle of the game, just a guy struggling to get on track. Which I thought he courageously did. And then I saw the Luke Falk at the end, and that's the guy I'm a lot more familiar with."
Had fourth-quarter Falk shown up earlier, the Cougars might have been able to keep pace with Gaskin and the Huskies.
"It just wasn't our night and that's football sometimes," Falk said. "It sucks because we all know what was at stake for this game and for this senior class and the team. … Definitely disappointed."
Falk was critical of his own play, too.
"You turn it over four times, it's a bad night," he said.
UW finished with 328 yards rushing compared to minus-24 for WSU. The Cougars converted 19 first downs to the Huskies' 20, but UW didn't turn the ball over and the Huskies scored 14 points off WSU's turnovers.
Local journalism is essential.
Give directly to The Spokesman-Review's Northwest Passages community forums series -- which helps to offset the costs of several reporter and editor positions at the newspaper -- by using the easy options below. Gifts processed in this system are not tax deductible, but are predominately used to help meet the local financial requirements needed to receive national matching-grant funds.
Subscribe to the Cougs newsletter
Get the latest Cougs headlines delivered to your inbox as they happen.
---