Sports > WSU football
John Blanchette: Washington again proves it wants Apple Cup more than Cougars
Nov. 25, 2017 Updated Sat., Nov. 25, 2017 at 11:48 p.m.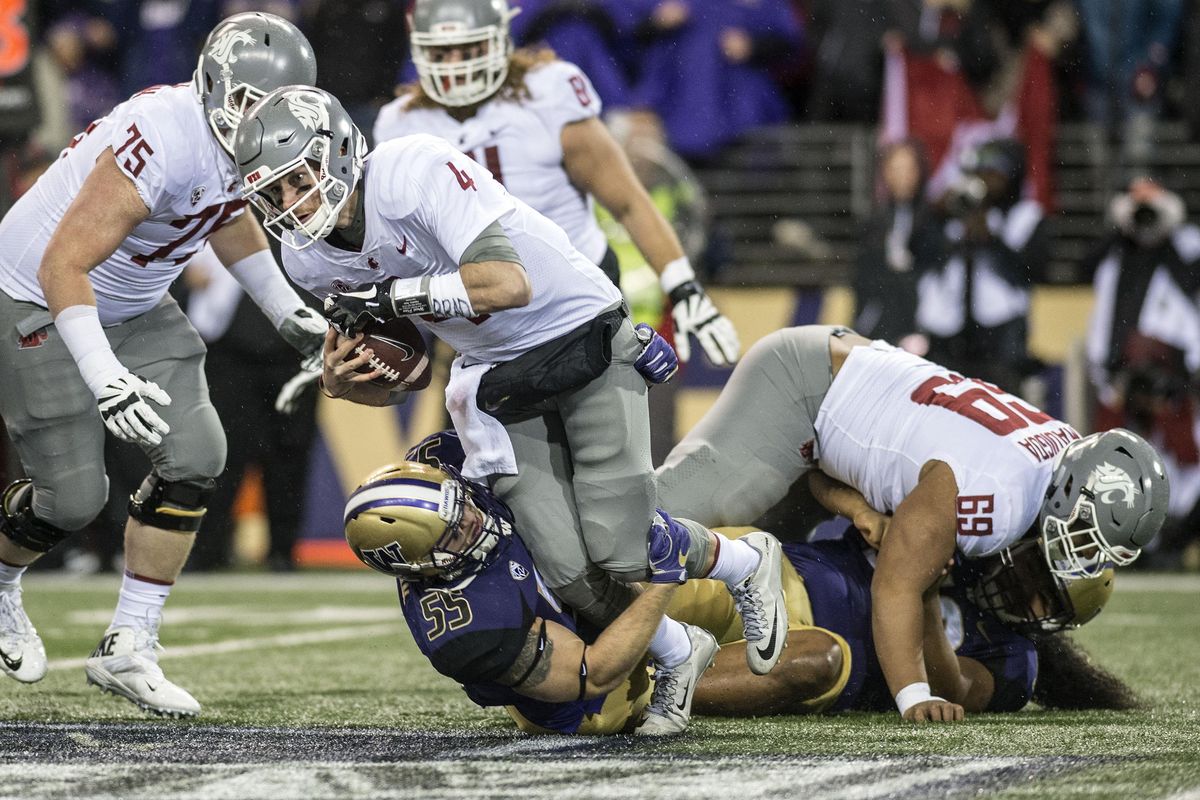 WSU QB Luke Falk is sacked in the first quarter by U of W Ryan Bowman (55) during the Apple Cup in Husky Stadium, Saturday, Nov. 25, 2017, in Seattle, Wash. (Dan Pelle / The Spokesman-Review)
SEATTLE – While we were all still chuckling at Mike Leach's oh-so-original and comical thoughts on weddings and his incisive theories into the College Football Playoff over the past couple of weeks, his Washington State football team was losing another Apple Cup, 141-14.
Just an estimate. Stopped paying attention at halftime, or shortly after the Cougars did, apparently.
Do we see a trend here?
Man, what's Leach using for the pregame speech? A collection of his tweets on sovereign immunity?
We know what he's using for the postgame explanation.
"We were trying to do too much," he said at one point.
Where have we heard that before? Oh, pretty much after any Cougars loss, but particularly the previous four Apple Cups. Now after Saturday's – have to check the box score here – 41-14 drubbing at the hands of the Washington Huskies, the Cougars have been outscored 162-54 in the past five meetings.
And this was the worst – not by actual point differential, but by actual humiliation.
The Cougars were in a position, by winning, to go to their first Pac-12 championship game – to assert themselves on Washington's home field in a game that mattered for the first time in 20 years and declare the rivalry open for business again. The Huskies were in a position to do nothing more than spoil that dream.
Which they did. Emphatically.
OK, maybe it was a mutual undertaking. The Huskies contributed the quicksilver running of Myles Gaskin that turned Wazzu's "Speed D" into the Bleed D, the havoc of indomitable defensive tackle Vita Vea and their general unflappable demeanor. The Cougars contributed four turnovers by quarterback Luke Falk, tackling cribbed from a kids' socker bopper and more feckless play from an offensive line that's too rarely played up to its reputation this season.
That was taken to extremes this night as the Huskies got by almost exclusively with a three-man rush and still battered Falk at will. Between the five sacks and Leach's thorough disdain of the run – against a defense constantly dropping eight men into coverage – WSU set an Apple Cup record with minus-24 rushing yards.
This is why Leach was never really moved to yank Falk as he did on a couple of other occasions this season.
"I could have stuck (Tyler) Hilinski in there and had the (UW) D-line massacre him, too," Leach said.
Still, Leach did acknowledge that for the longest time Saturday the Falk he was watching was "a complete stranger." The three interceptions and his fumble should have made him eligible for Miami's turnover chain, but only if it came with a padlock.
"I have to give my team a chance," he admitted.
But, yes, it was a collective meltdown.
"We played anxious, we played frantic, we overran things," Leach said. "Overpursued things, overtried, overextended – all the overs."
Except overachieve.
Leach has been scolded here before for not making as much of the Apple Cup as everyone else seems to, or to accept that the game demands more urgency just by its very nature. He almost got in the neighborhood Saturday night when he suggested that "there's a little bit of the overemphasis of the thing that I think Washington is a lot more comfortable with because they've had success in the past."
Or because they just embrace it.
But the one thing these Apple Cup paddlings seem to bring out in the coach is something close to a shrug – that Washington wins because the Huskies are supposed to. The gritty underdog mentality that he and former athletic director Bill Moos were supposed to bury somehow gets resurrected.
"One thing that's true about us, we're very thin," he insisted. "Our margin of error is not what everybody else's is that's at that elite level. If we aren't in synch at a high level, we get normal quicker than some teams do."
And while he contended UW didn't have any particular whammy on the Cougs, he seemed resigned to a certain second-bananaism.
"Attack us? They attack a lot of teams this way," he said. "I kind of do get a kick out of it. They'll rank them as one of the nation's top recruiting classes and ours comes in whatever you rank that and then if we don't beat Washington, then you're stunned. How'd this happen?"
OK. Except here's who's beaten the Huskies since Chris Petersen took the reins at Montlake: Arizona, Arizona State, Cal, Oregon, Stanford, UCLA, USC and Utah.
Mike Leach and his Cougs have only been close once.
Since Moos took flight to Nebraska, the buzz has started to swirl about Leach moving on, too – either there, where Moos fired his head coach on Saturday, or elsewhere, Tennessee being the rumor du jour. He issued a stock nondenial Saturday, saying, "I can't speak to rumors I know nothing about."
But the notion has to hold a certain intrigue.
After all, he wouldn't have to try to beat Washington there.
Local journalism is essential.
Give directly to The Spokesman-Review's Northwest Passages community forums series -- which helps to offset the costs of several reporter and editor positions at the newspaper -- by using the easy options below. Gifts processed in this system are not tax deductible, but are predominately used to help meet the local financial requirements needed to receive national matching-grant funds.
Subscribe to the Cougs newsletter
Get the latest Cougs headlines delivered to your inbox as they happen.
---