Sports
From New Hampshire, to Wyoming, to Washington State, Alex Grinch and Derek Sage have built an unbreakable bond
Oct. 5, 2017 Updated Fri., Oct. 6, 2017 at 1:38 a.m.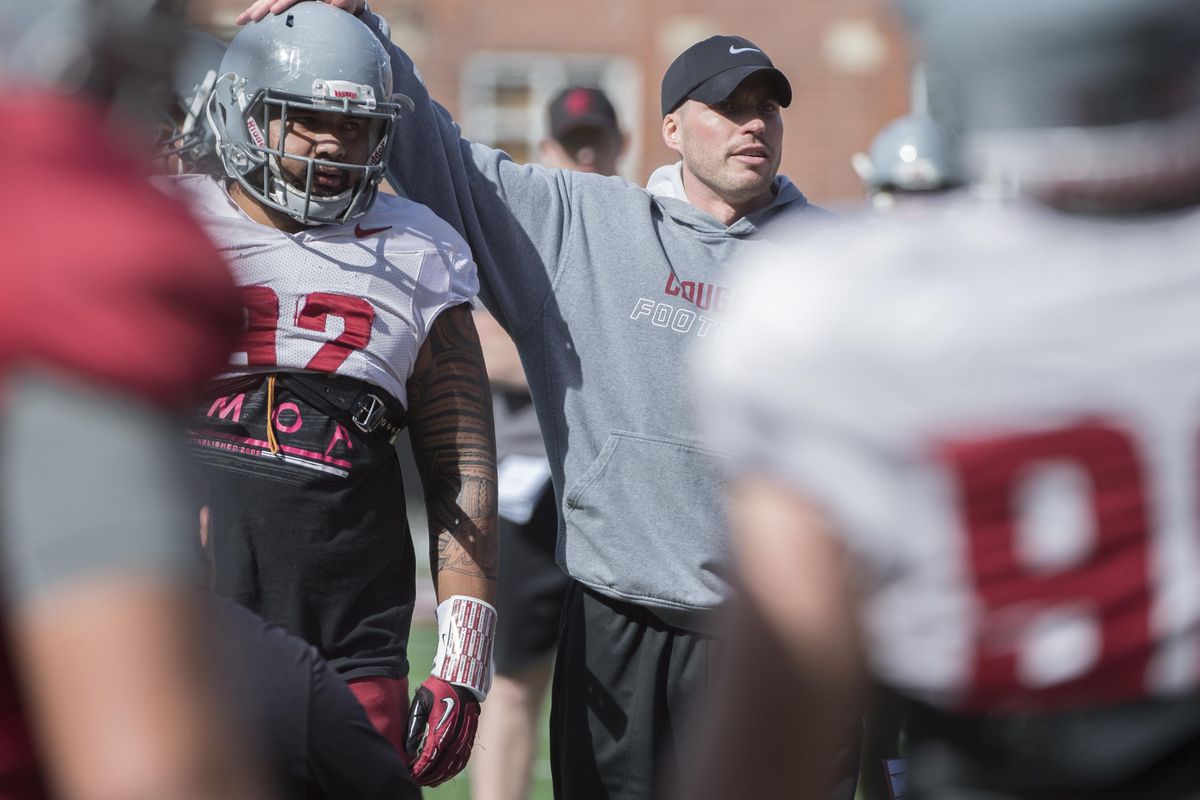 WSU defensive coordinator Alex Grinch coaches up his players on Thursday, March 31, 2016, at Martin Stadium in Pullman, Wash. TYLER TJOMSLAND tylert@spokesman.com (Tyler Tjomsland / The Spokesman-Review)
PULLMAN – Alex Grinch and Derek Sage were in their mid-20's, trying to establish rank in the coaching world and unequivocally willing to do whatever was necessary to make that happen.
Here's an idea of what that looked like at the University of New Hampshire in 2005.
If the Wildcats were playing at home, Grinch, Sage and the other UNH assistants were responsible for transporting hefty propane tanks to the booster tailgate – it had an official name, the "Cat Club" – hours before anyone arrived to the games in Durham, New Hampshire.
Eventually they'd return to their normal game day checklist: make their final tune-ups, convene with the coaching staff, meet with the players, take the team through its warm-up period and then face the challenge the day presented.
But before all of that, the "Cat Club" needed its propane tanks.
"That took five minutes, but it was just, all right, we've got to wheel the propane tanks up on a cart out to the Cat Club where nobody's at just quite yet," Sage recalled. "… That's what that level and your first job is all about. Doing the little things on game day."
Grinch and Sage now have the jobs their 25-year-old selves would've coveted.
The third-year defensive coordinator at Washington State, Grinch is responsible for overhauling a unit that was conceding more than 38 points per game before he arrived. He re-branded WSU's defense – it's strictly known as the "Speed D" now – and gave it a dramatic facelift that's been most evident this season. The Cougars are giving up just 20 points per game and rank 11th in the FBS in total defense.
When Mike Leach needed a second receivers coach this offseason, Grinch had just the guy in mind. He and Sage not only moved propane tanks together at New Hampshire, but reconnected at the University of Wyoming, where both were hired to work on Dave Christiansen's staff. So when Leach hired Sage in January to coach the inside receivers – he's since flipped to the outside receivers – it was fortuitous not only for the Cougars, but also for Grinch.
And it wasn't completely random, either.
"The one thing I will say is, we both have other friends in the profession that they may not be the first ones that come to mind when there's a job opportunity at the school you're at that you're going to make a recommendation for," Grinch said. "As close as we are, we're sitting here together because we've got a respect for each other for football, and that trumps all."
Roshambo for internet cord
Grinch and Sage were usually buried by recruiting duties, film study or some other form of some game-planning, but in hindsight, they wish they would've come up for air more often during their brief stay on the Atlantic coast.
Autumn colors come to life in Durham, New Hampshire, and folks are willing to make the drive and pay the highway tolls just to see the yellow and orange hues that engulf New England's forests this time of year.
"You forget that our drive into work, people pay to go up and down that freeway that fall," Sage said. "And (Grinch) lived on the beach. They had a nice little apartment on the beach … what beach was it?"
"Hampton Beach," Grinch said.
There wasn't much time to look up as a young, aspiring football coach running on fumes every day to win games and gain notoriety among colleagues.
So Grinch and Sage can't tell you much about the white-sand beaches or lush treescapes, but they sure can paint a vivid picture of the small, air-tight coaching office at UNH.
Four assistants had to share it and there was always rush to see who'd get the internet cord first. Yep, just one internet cord.
"Younger coaches, you're in charge of the scouting report and printing it off and every Monday night," Sage said. "… So if I needed to print off the red zone coverage by formation and he had to print off the goal line runs, or whatever it was he was responsible for, I couldn't print it off to send it to the printer without getting the cord. And same goes for the other two guys in the room. 'Hey, I've got to print mine off.' 'All right here you go, here's the cord.'"
Added Grinch: "The room was wired for a single office and we had four guys."
"And the thing came out from the ceiling," Sage said. "It was crazy."
There wasn't anything glorious about the gig, really. An assistant football coach at UNH earned a salary of $10,000 and Wildcat Stadium was only a set of end-zone bleachers better than most high school venues.
"But it was an opportunity to coach your own position and recruit," said Grinch, who was previously a graduate assistant, while Sage came from Nevada, also as a GA. "And it was the necessary right next step career-wise and everything else."
Oh, and Chip Kelly was there.
'The smartest football mind I've ever been around'
This Saturday, Grinch, Sage and the Cougars will travel into the Willamette Valley, where you can still find at least some residue from Oregon's not-so-distant golden era.
LaMichael James and Marcus Mariota aren't around anymore and the Ducks aren't blitzing opponents like they once did, but the bread-and-butter concepts of Kelly's system – tempo, tempo and more tempo – are still at the core of what Oregon is doing under first-year coach Willie Taggart.
Kelly was responsible for one of the game's major revolutions. In his four seasons at Oregon, the Ducks amassed a 46-7 record, appeared in two Rose Bowls and went to the school's first national championship game. His successor, Mark Helfrich, used Kelly's blueprint to get UO to another national title game two years after Kelly left for the NFL.
The Ducks played at warp speed. They muddled opponents with the zone read. They went for two after scoring touchdowns … just because.
Kelly's innovation put Oregon on the cutting edge of college football, but Grinch and Sage knew what he was up to long before most did. Kelly was the Wildcats' offensive coordinator from 1999-2006 and spent two years walking the same hallways as Grinch and Sage, who arrived in 2005.
Immediately, they were blown away by Kelly's intellect.
"After the first meeting I called my dad and said, 'This is the smartest football mind I've ever been around.' After one meeting," Sage said. "Then right on par with anything else my dad would say, he said, 'Well, you better start taking a notebook because you're going to use some of that stuff.'"
There was no telling how the Wildcats would fare, but if they lost, the offense probably wasn't the unit to blame.
"I can literally remember calling, texting my brother being like, 'I don't know how good we are, but I know we're going to score a lot of points,'" Grinch said. "And it was the speed, the tempo that everybody now knows about. But at that point, that was unique."
The defense did well, though – as well as a defense needed to do when the offense was hanging 41 points per game. The Wildcats scored 50 or more six times during the 2005 season and posted an 11-2 record. They averaged 35 ppg the following season and went 9-4.
Game days became glorified walk-throughs for Grinch's defensive backs, who'd adjusted to playing football on fast-forward because of Kelly's high-tempo practices.
"They'd kind of come together, do an 11-on-11 drill for instance. Go 1,000 miles an hour. We wouldn't script defensively because there wasn't time to look at a script to get the call to them," Grinch said. "So you'd yell a coaching point out, then on to the next play."
Sage never missed an opportunity to scribble down a note in his two years under Kelly's tutelage. At that point, he'd also started following the work of another bright coaching mind who'd change the way offensive football was played.
There was a guy in Lubbock, Texas…
"It's not lip service, but I had drill tapes of coach Leach going back to when I was a GA because I just wanted to study offense," Sage said. "… It's awesome learning from both (Leach and Kelly)."
From Durham, to Laramie, to Pullman
Grinch and Sage both met their wives in Durham, New Hampshire. They had their children in Laramie, Wyoming. They're raising their families in Pullman, Washington.
The WSU coaches aren't fighting for internet cords anymore and they certainly aren't rolling propane containers to booster barbecues. But the strain of the profession they chose hasn't changed – perhaps it's even intensified – and that isn't always conducive for home life.
So Grinch and Sage are fortunate to have each other – more importantly, their wives and children are fortunate to have each other.
Grinch was part of the recruiting effort that brought Sage to Pullman, so Sage's children, Piper and Casen, lit up when they got the news they'd be moving closer to Tyler and Corbi Grinch.
"I know my wife was ecstatic," Sage said. "My kids, too. I can go drop the kids off there, go handle this over here. That's the part that people don't see that makes it way more comfortable. They're all within one year of each other in school."
Added Grinch of the bond he's forged with his longtime colleague.
"That's the great part of it, somebody you trust, someone you'd stand up for, someone you've seen coach the elite to be their best and you've also seen a guy coach someone that probably shouldn't have the career they've had but because he's coached them to play above their ability," he said. "Combine that with a guy you do respect and family and all that stuff, so that is by no stretch of the imagination, that's a rare thing to be a part of."
Local journalism is essential.
Give directly to The Spokesman-Review's Northwest Passages community forums series -- which helps to offset the costs of several reporter and editor positions at the newspaper -- by using the easy options below. Gifts processed in this system are not tax deductible, but are predominately used to help meet the local financial requirements needed to receive national matching-grant funds.
Subscribe to the sports newsletter
Get the day's top sports headlines and breaking news delivered to your inbox by subscribing here.
---